Resources for the Future: The VALUABLES Consortium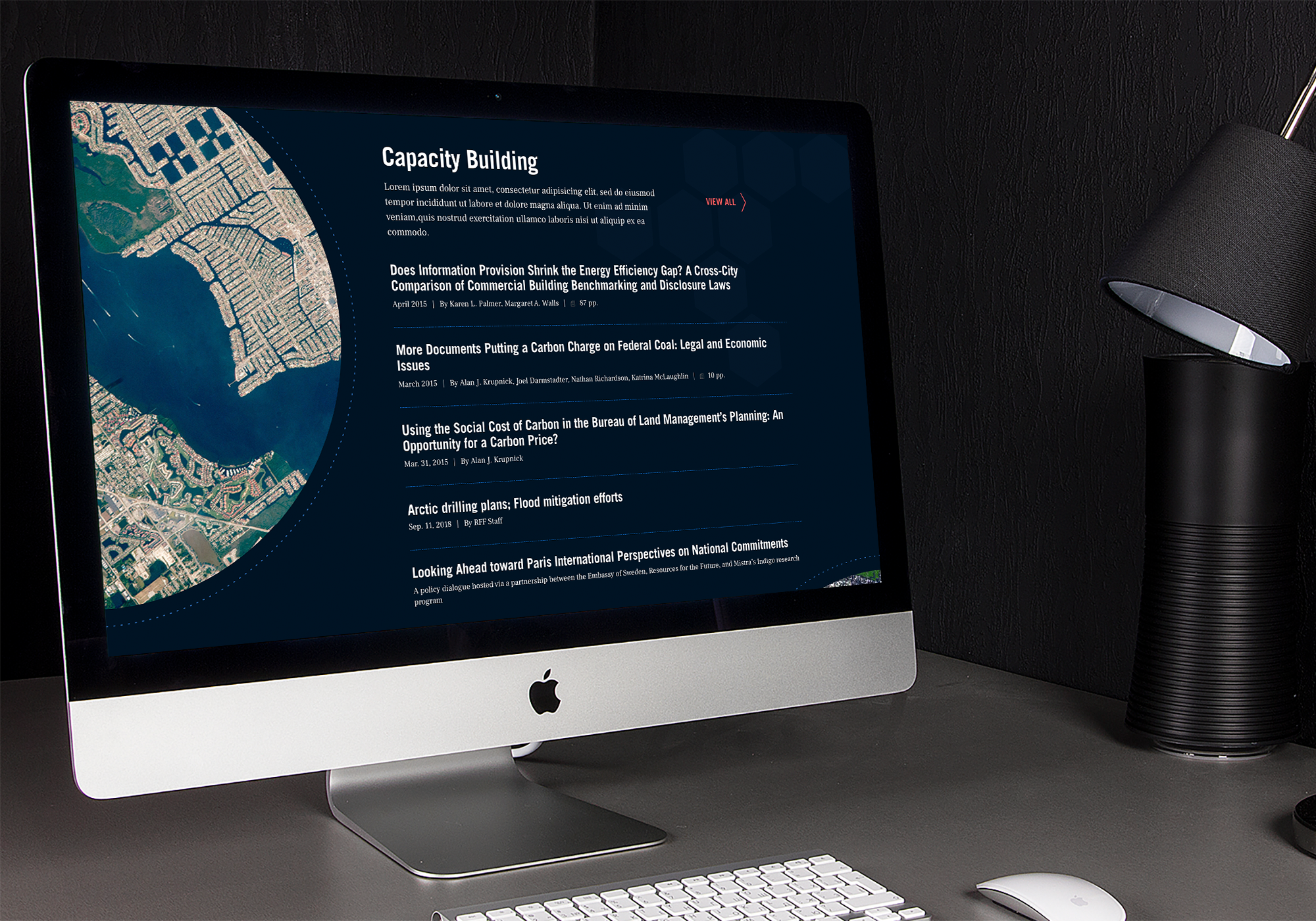 brandt
Fri, 10/26/2018 – 12:05
Utilizing an existing Drupal platform to measure the socio-economic benefits of satellite data.
rff.org/valuables
Measuring the socio-economic benefits of satellite data
On
Since the first satellite was launched into space in 1957, satellites have been sent into orbit for a wide array of purposes: they're used to make star maps, relay television and radio signals, provide navigation, and gather information about Earth. But have you ever wondered why satellite data is important to society?
Like all types of information, the information that satellites gather about our planet is valuable because it can help us make decisions that lead to better outcomes for people and the environment. At the same time, it is challenging to measure this value in terms that are socioeconomically meaningful, like lives saved, increases in revenue, or acres of forest protected. In 2016, Resources for the Future (RFF) created the Consortium for the Valuation of Applications Benefits Linked with Earth Science (VALUABLES) to help address this challenge.
The VALUABLES Consortium

RFF is an independent, nonprofit research institution working to improve environmental, energy, and natural resource decisions through impartial economic research and policy engagement. The VALUABLES Consortium is a cooperative agreement between RFF and the National Aeronautics and Space Administration (NASA) that is building a community of Earth and social scientists committed to quantifying the socioeconomic benefits of Earth observations.
The consortium's work focuses on two types of activities:
Conducting case studies, known as impact assessments, that measure the socioeconomic benefits that satellite information provides when people use it to make decisions
Developing educational materials and activities designed to support the Earth science community in quantifying the societal value of its work.
Creating a Place on the Web to Share Resources

To amplify the consortium's work, RFF wanted to create a place on the web where the VALUABLES Consortium could share the results of its impact assessments and provide Earth scientists with access to resources about quantifying the societal value of their work.
Palantir's Approach

Palantir originally partnered with RFF back in 2015 when we helped them redesign their website to showcase their unique content in a way that accurately reflected their core values. We built them a solid Drupal 7 codebase that they could extend and adapt to changing business needs over time.
For the VALUABLES project, Palantir determined we could easily leverage that carefully built platform to quickly create a new set of templates which would align the entire web presence while addressing new needs.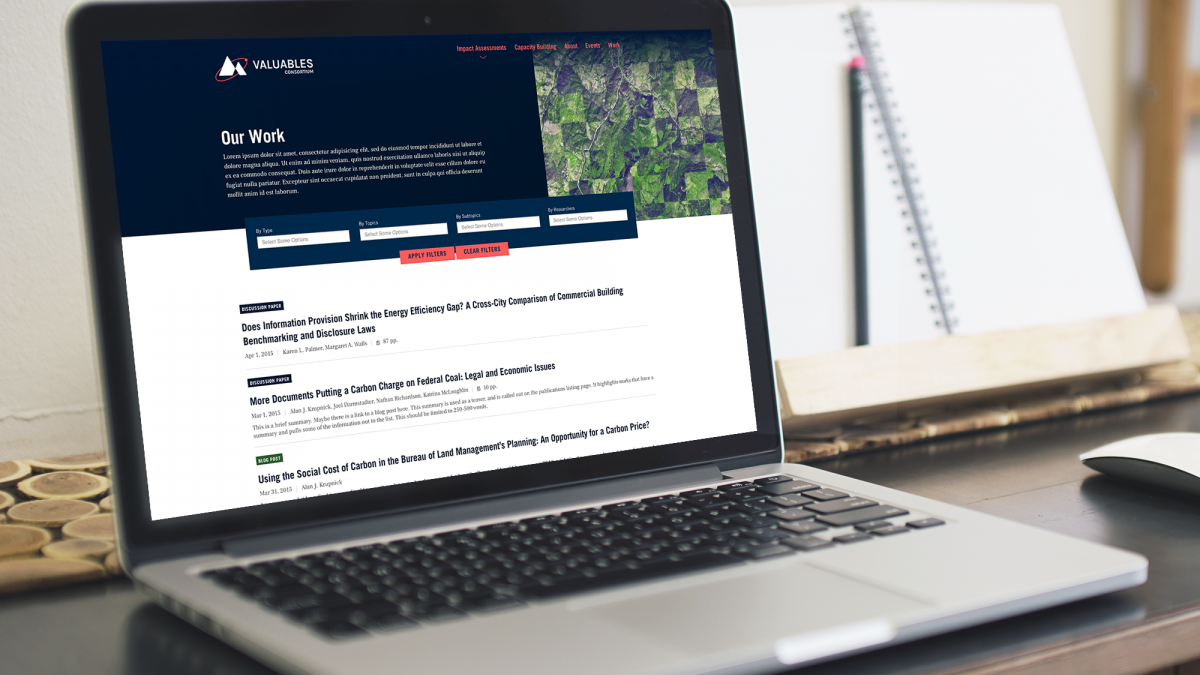 To create the VALUABLES section of the site, Palantir built on RFF's existing Drupal 7 theme with the creation of some new VALUABLES-specific components.
These included:
Building on the existing theme and implementing subtle design changes to existing components allowed us to give the VALUABLES sub-section of the RFF site a unique (yet cohesive) look, without needing to build everything from scratch.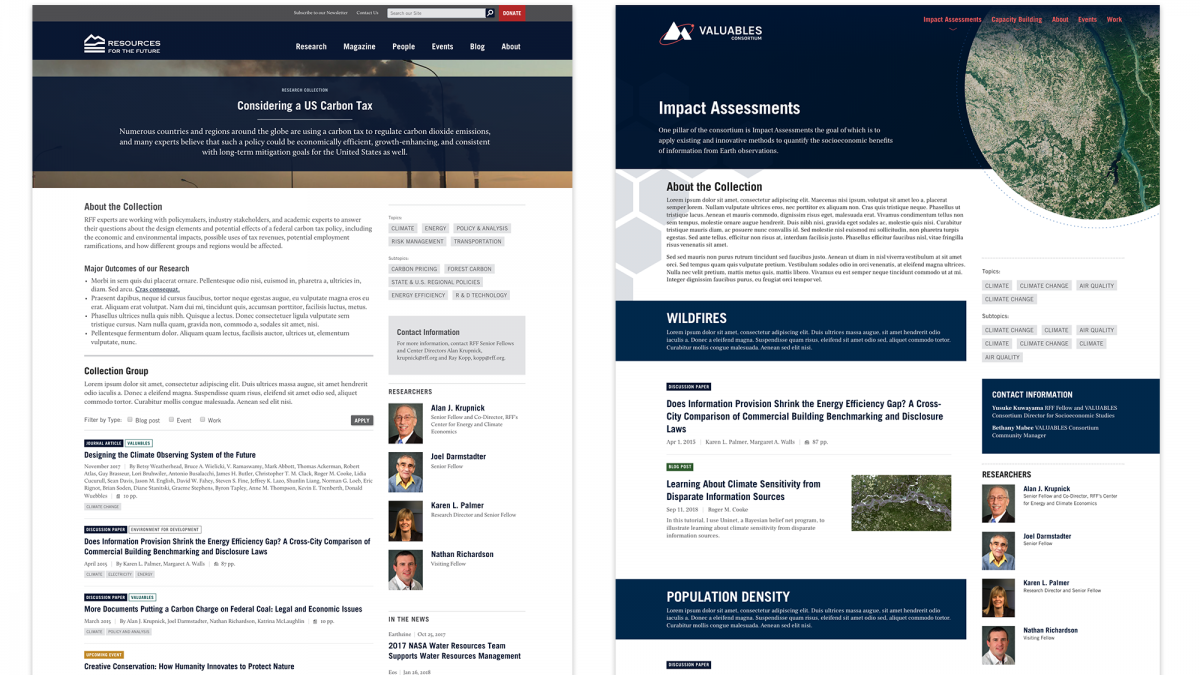 Extending the existing platform also ensured the VALUABLES section would have a layout consistent with the rest of the RFF site.
What Does Future Success Look Like?

RFF will be measuring the success of the consortium's website by looking at factors like how the site's audience grows over time. They hope that the VALUABLES community will use the platform to learn more about the consortium's activities, access information about the case studies the consortium is completing, and share the tools it is building.
RFF takes an economic lens toward environmental and energy-based issues, highlighting how decisions affect both our environment and our economy. Historically, RFF has played an important role in environmental economics by developing the methods and studies that help policymakers understand the value of things that are hard to value, like clean air and clean water. Now, a few decades later, RFF is working with NASA on this initiative to value information. Work to quantify the societal benefits of Earth observations is important for a number of reasons. For example, it can help demonstrate return on investments in satellites. It can also provide Earth scientists with an effective way to communicate the value of satellite remote sensing work to policymakers and the public.
This project has been nominated as a "Working Toward a Better Tomorrow" category finalist in the 2018 Acquia Engage Awards.