Read our Roadmap to understand how this work falls into priorities set by the Drupal Association with direction and collaboration from the Board and community.
DrupalCon
Give thanks with your Drupal Family at DrupalCon
What better way to connect with your Drupal family and give thanks for Drupal's impact than at DrupalCon? Still need to register? Coming on your own? Now's a great time to lock in a good price.
If your organization is sponsoring your trip, consider investing those end of year budgets in your registration… and invest in Drupal's success while you do it. Your team can also sign up for or renew your Supporting Partnership for steep discounts on ticket prices.
The schedule is available now; check out the specialty sessions and register before prices go up!
Kicking off planning for DrupalCon Amsterdam
Members of the Drupal Association team traveled to Europe to meet with Kuoni Congress and, the DrupalCon Europe advisory committee do a kick-off meeting and deep dive on the event planning for DrupalCon Amsterdam. This was our opportunity to dive deep into the event with the team, and it was a tremendously productive 2-day session.
More news about Amsterdam will be coming soon, so check back at https://events.drupal.org/amsterdam2019 soon!
(Image courtesy of Baddy Breidert)
Drupal.org Updates
New telemetry data about Drupal usage
In November we also re-architected the way we parse data from sites that call back to Drupal.org for updates. This allowed us to learn more about how Drupal is used in the wild. This graph shows the current distribution of PHP versions for Drupal 8 sites. Notably only about 20% of Drupal 8 sites are still using PHP 5, so the migration effort for the community may not be as big as some expected when PHP 5 reaches end of life.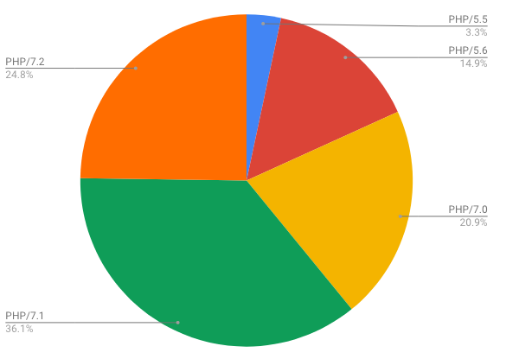 Finding a new Technical Program Manager
As Tim has stepped into the role of interim executive director, we've been looking to bring a new team member onboard to backfill some of his technical responsibilities. In November we interviewed candidates for our Technical Program Manager position. We're excited to have our new team member join in the new year!
The changes outlined to the Drupal.org community home page that we outlined in our October update are now live. This new entry point to the Drupal community addresses the many different needs that a new member of our community might have, and the different personas that they might represent. The home of the community will continue to evolve over time, so expect to see more updates soon, and please offer your feedback here.
Drupal Association Updates
Executive search firm selected
As you know, we've begun the process of looking for our next Executive Director. In November we interviewed executive search firms to help us with this process, and in early December we announced that we've selected Lehman Associates to help us with our search. If you would like to read the candidate profile, or contact Lehman Associates to offer candidate suggestions or provide other feedback, please use the button below.
———
As always, we'd like to say thanks to all the volunteers who work with us, and to the Drupal Association Supporters, who make it possible for us to work on these projects. In particular, we want to thank:
If you would like to support our work as an individual or an organization, consider becoming a member of the Drupal Association.
Follow us on Twitter for regular updates: @drupal_org, @drupal_infra