Changing Businesses Using Artificial Intelligence and Drupal
Shankar
Thu, 04/18/2019 – 07:17
Advancements in artificial intelligence (AI) are opening up a plenitude of possibilities in different industries. Efforts like Robotics at Google, for instance, are showing the world the way forward. Google is working on machines that may not be as eye-catching as humanoid robots but will have subtly more advanced technology inside them. The idea is to let them learn skills on their own and sort through a bin of unfamiliar objects or navigate a warehouse that is filled with unexpected obstacles. And in the healthcare sector, while the doctors are already using AI for diagnosing and treating medical conditions, Dr. Eric Topol, in his book called Deep Medicine, says that AI can do much more than that. AI can save doctors from performing tasks like jotting down notes and reading scans and allow them to spend more time connecting with their patients. The AI's influence in different fields will make for an endless list.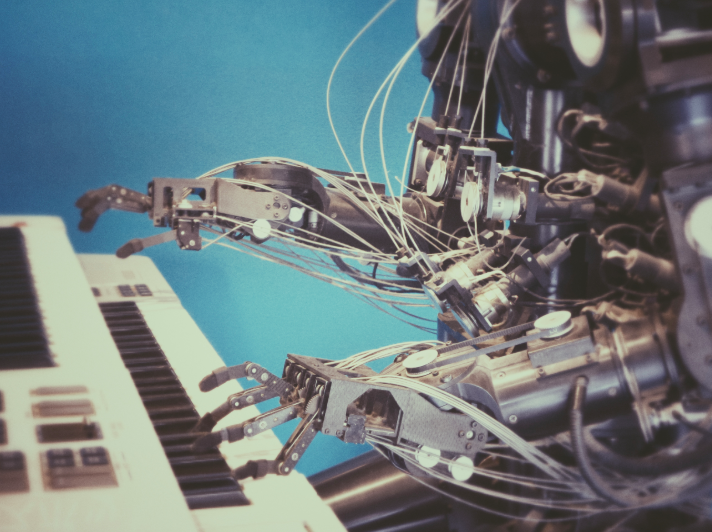 It is true that AI is growing at a fast clip. But, currently, it is still dependable on human intelligence. Nevertheless, AI is here to stay and will only get better with time.
In the web landscape, too, AI has the provision for a superabundance of use cases. Drupal, as one of the leading content management frameworks, has been a pioneer when it comes to giving a push to digital innovation. Drupal, replete with modules for implementing AI, can lay the groundwork for a more AI-centric future for your digital business.
Unwrapping artificial intelligence
The term 'Artificial Intelligence' was coined by Dartmouth professor John McCarthy in the summer of 1956 when he invited a small group to spend some weeks musing on how to enable machines to do things like use language. He pinned high hopes on the breakthrough of human-level machines. Since then, artificial intelligence has come a long way and will undergo a lot of research and development in the coming years.
AI can emulate human performance by learning from it.
Gartner states that "AI applies advanced analysis and logic-based techniques, including machine learning, to interpret events, support and automate decisions, and take actions". Commonly, definitions of AI emphasise on automation. But AI can emulate human performance by learning from it. This can come very handy as it gives a plethora of opportunities to IT and business leaders.
Adopting AI in businesses
When it comes to adoption of AI in the business workflow, organisations need a well-planned strategy to measure their firm against the AI maturity model, states Gartner.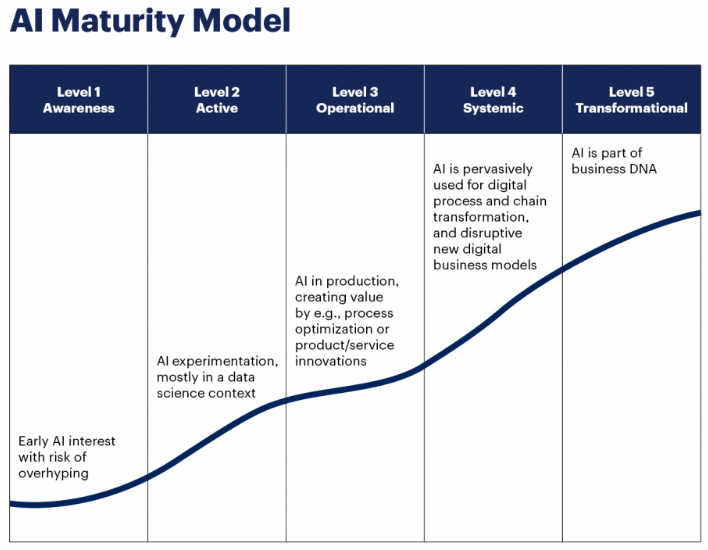 AI maturity model can help in identifying where your firm is on the potential growth curve and decide what steps should be taken by discussing it with the management. Some organisations can be doing conversations about AI and are in an Awareness stage. There can be firms in the Active stage who may be including AI in proofs of concept and pilot projects. Organisations can be termed to be in the Operational stage when at least one of their AI projects has moved to production. Business organisations can be said to be in the Systematic stage when they, at least, start considering AI for all of their new digital projects. Once you figure out what stage you are in, you can aim for reaching the Transformational stage and make AI a part of your DNA with the help of top-notch, adaptive strategy and by giving more room for experimentation.
 
As you start implementing AI in your business, it is important to identify the right use cases i.e. the key business hurdles that can be resolved by the capabilities of AI. And there is no dearth of what AI has to offer as can be seen in the figure below.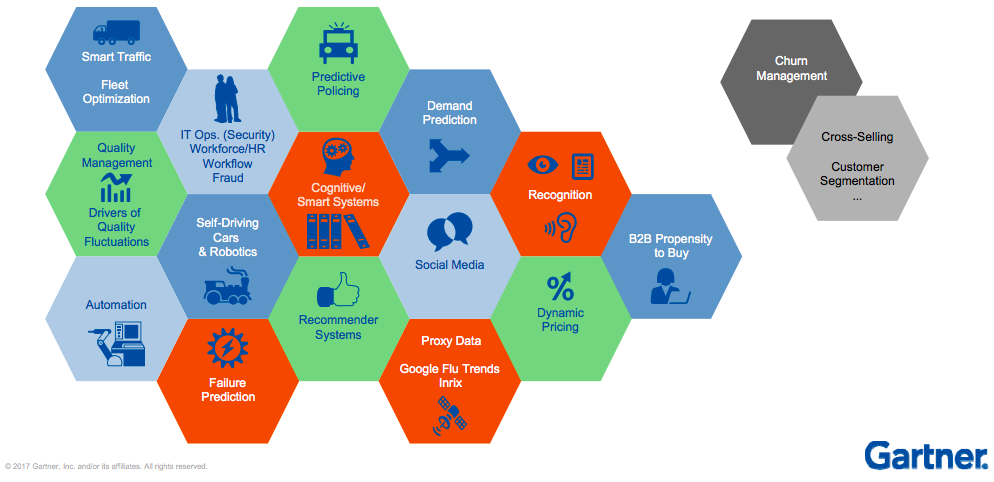 A combo of AI and Drupal
AI has made its foray into different industries and has opened up new opportunities for improving business workflow. Web development is one of the areas where artificial intelligence can be leveraged to a great extent. Some of the examples of how Drupal can be of great use to leverage artificial intelligence are:
Chatbots
Artificial intelligence can be of great help in imbibing cognitive computing abilities, that simulates human thought processes in a computerised model, in a website. This can be done in the form of chatbots. Drupal's Chatbot API module can offer fantastic conversational experiences. Chatbot API gives you a common flexible additional layer that comes in between Drupal, your Natural Language Processing (NLP) and your several chatbots and personal assistants thereby making your website chatbot-friendly. This assists in avoiding the need for writing new code whenever you have to translate conversational experience from one interface to another.
Web personalisation
Personalisation of the web content is done on the basis of a person's digital persona. Content can be recommended to the users based on their profile or past activities. For instance, if they are searching for a blue shirt, something like this would work – "Here are more blue shirts". Or, if a user is reading about futuristic technologies, then something like this may work – "Read more articles like this". Artificial intelligence can improve even further.
A session at DrupalCon Baltimore 2017 talked about personalising web content using machine learning (a subset of AI). They demonstrated Deep Feeling, a proof-of-concept project, that leverages machine learning techniques to enhance content recommendations to the users. They utilised Instagram API for accessing a user's stream-of-consciousness and filtered their feeds via a computer vision API. This was, then, used to detect and learn subtle themes about the user's predilections. On getting a notion about the sort of experiences the user thinks are worth sharing, user's characteristics were matched against their own databases. The proof-of-concept involved Acquia lift service and Drupal 8.
Multilingual platform
"In keeping with our deep integrations to Web Content Management, Content Management Systems, and Marketing Automation platforms, our Drupal 8 connector is the latest example of Cloudwords building integrations that speed and scale a company's global marketing engagements with personalized experiences in any language", said Richard Harpham, former CEO at Cloudwords Inc.
 
Cloudwords for Multilingual Drupal module offers a superfast and efficacious way of governing the process of making your site multilingual. On installing this module, your content can be served in multiple languages to the market. Its powerful workflow automation and project management capabilities enable you to choose the content that you want to localise and the rest of the process is taken care of by Cloudwords. Its CAT tool utilises artificial intelligence and machine learning for enhancing productivity.
Deriving insights from your images
Google's artificial intelligence capabilities can be applied for solving the obstacles of content management at scale. A session held at Badcamp 2018 exhibited how can content editors keep up with reviews during a continuous stream of content submissions.
For this, Google Cloud Vision API was utilised. Google Vision API offers image labelling as it detects an object automatically and even provides data about objects such as its position within the image. It can also detect text within the images. It can assess your image and identify if it contains adult content, violence and so on. Google Cloud Vision API can be configured with Drupal via the Drupal module. This enables you o automatically add metadata to uploaded media and allow explicit content detection on image fields.
Conclusion
We can do so much with artificial intelligence just as there is much that we have done with the wheel. But to consider AI as an outright replacement for human intelligence is not the right thing to do. AI can improve our lives and it is important to figure how to leverage it for our betterment.
 
Drupal, a catalyst giving importance to digital innovation and emerging technologies, can be used in combination with AI to build futuristic solutions.
 
We have been working towards the provision of better digital experience and offer a suite of services. Let us know at hello@opensenselabs.com how you want us to be part of your digital transformation endeavours.
blog image