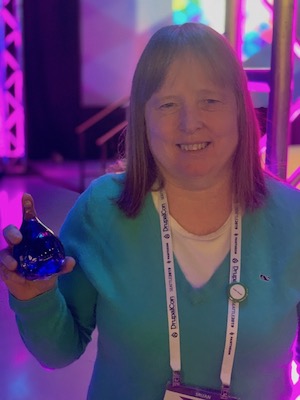 During the opening plenary at DrupalCon Seattle, the members of the Drupal Community Working Group announced the winner of the 2019 Aaron Winborn Award, Leslie Glynn (leslieg).
The award is named after a long-time Drupal contributor who lost his battle with ALS in 2015. This award recognizes an individual who, like Aaron, demonstrates personal integrity, kindness, and an above-and-beyond commitment to the Drupal project and community. Previous winners of the award are Cathy Theys, Gabór Hojtsy, Nikki Stevens, and Kevin Thull. Current CWG members, along with previous winners, selected the winner based on nominations submitted by Drupal community members.
This year, there were 18 individuals nominated for the award. In the coming weeks, the CWG will be contacting all nominees to let them know of their nomination and thank them for their continued work in the community.
In addition to the physical award presented to Leslie during the announcement, Leslie was also provided with a free ticket to DrupalCon Seattle as well as travel expenses. 
Leslie has over 30 years experience in the software development field and has been working with Drupal since 2011. She has been involved in Drupal project management, site building, and client support. She has organized and mentored Drupal sprints, has offered trainings at Drupal camps and DrupalCons, and has volunteered at – as well as help organize – many camps across the United States especially in New England.
Multiple people nominated Leslie for this award. One of them wrote, "If you have ever attended a North American Drupalcon, BADCamp, NYCCamp, NEDCamp, Design4Drupal, or any other major North American Drupal event, then you have seen Leslie. She is a constant inspiration of how our community, and each one of us, should work and act."
Another one of her nominators wrote, "Leslie is a dependable, passionate, kind, and giving individual and the Drupal community is extremely fortunate to have her."
Nominations for the 2020 award will open in early 2020.