Drupal creates growth of local communities when training events inspire new Drupalers to grow their skills and get involved in the project. This June, events occurred in Sydney, Brisbane, Tokyo, New York City, Nuevo León, and online. Here's the summary from a few of the host trainers:
Kazu Hodota (kazu.hodota), in Tokyo:
"We had Drupal Global Training Day Tokyo on June 29, 2019 and this is a short report. 10 people registered, and 8 people with 1 Skype user joined GTD Tokyo. One person is a Drupal end user, seven are Web business SI, which included three first time Drupalers. Two were evaluating Drupal API functions, for example importing JSON data to Drupal content types, IoT system of digital signage applications with JavaScript Server side applications with Drupal.
I think API application user will be growing near future!"
Drupal global training day Tokyo 2019 June 29 start now @cmslabo #drupal #drupalGTD #learningdrupal pic.twitter.com/4fLqoB678L

— cmslabo (@cmslabo) June 29, 2019
Angel GHR (angel.garza), in Monterrey:
"The Drupal Global Training Days event in Monterrey, Mexico was hosted inside UANL FIME for two days. On June 28, we had conferences starting with Drupal Introduction and all the way to Reacting Drupal, receiving a little over 30 people in the conference and 15 presenters.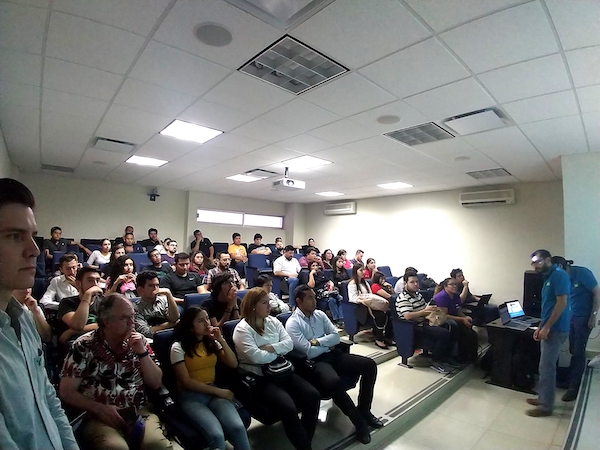 Learning Drupal in Monterrey. Photo by Angel Garza.
On June 29, we had two concurrent workshops, the basic one where we presented Drupal from the basic installation, configuration and walkthrough the platform, this workshop had 7 people in it and 6 presenters and the advanced one where we presented Progressively Decoupled Drupal 8 with React and Gatsby and had 6 people in the workshop and 6 presenters.We got a really positive feedback by both the participants and the school in which we hosted the event, getting people interested in future events and open to learn more about Drupal."
David Needham (davidneedham), online training for Pantheon:
"We had a great turnout at the Getting Started with Drupal 8 workshop Pantheon ran on June 28th of Global Training Day with around 200 students attending at once. We recorded the training last time we ran it and published it (feel free to run through it yourself or pass it along to others). This is material that we regularly run in-person at camps and online for GTD. Want to run it at your next event in your own community? Reach out to me directly for more information or fill out the form at https://pantheon.io/trainers."
Interested in helping in the Global Training Days initiative?
We are looking for more volunteers across the Drupal community to organize more GTD events and more local training events. Do reach out to the GTD group / Slack and join a community of passionate training organizers across the world. You would find resources and other people who can help you with organizing your training event. You can also reach out to Anoop John (anoopjohn) if you have questions.
To get involved in Global Training Days, visit the group's event list and add your event.