Spirit of new beginnings: Drupal India Association
Shankar
Wed, 09/25/2019 – 16:35
"Drupal is here to stay, it's only getting bigger with the scale of engagements we are in, our wish is for India to Choose to Lead." – Drupal India Association
"What is the most resilient parasite? Bacteria? A virus? An intestinal worm? An idea. Resilient… highly contagious. Once an idea has taken hold of the brain it's almost impossible to eradicate. An idea that is fully formed – fully understood – that sticks; right in there somewhere." This is a dialogue from Christopher Nolan's Inception (2010) that is congruous with different scenarios of life where you are looking forward to new beginnings and working towards that. An idea can make you ponder over a plethora of options to make something great happen. Drupal India Association (DIA) is also a result of the work of brilliant people and their visionary ideas.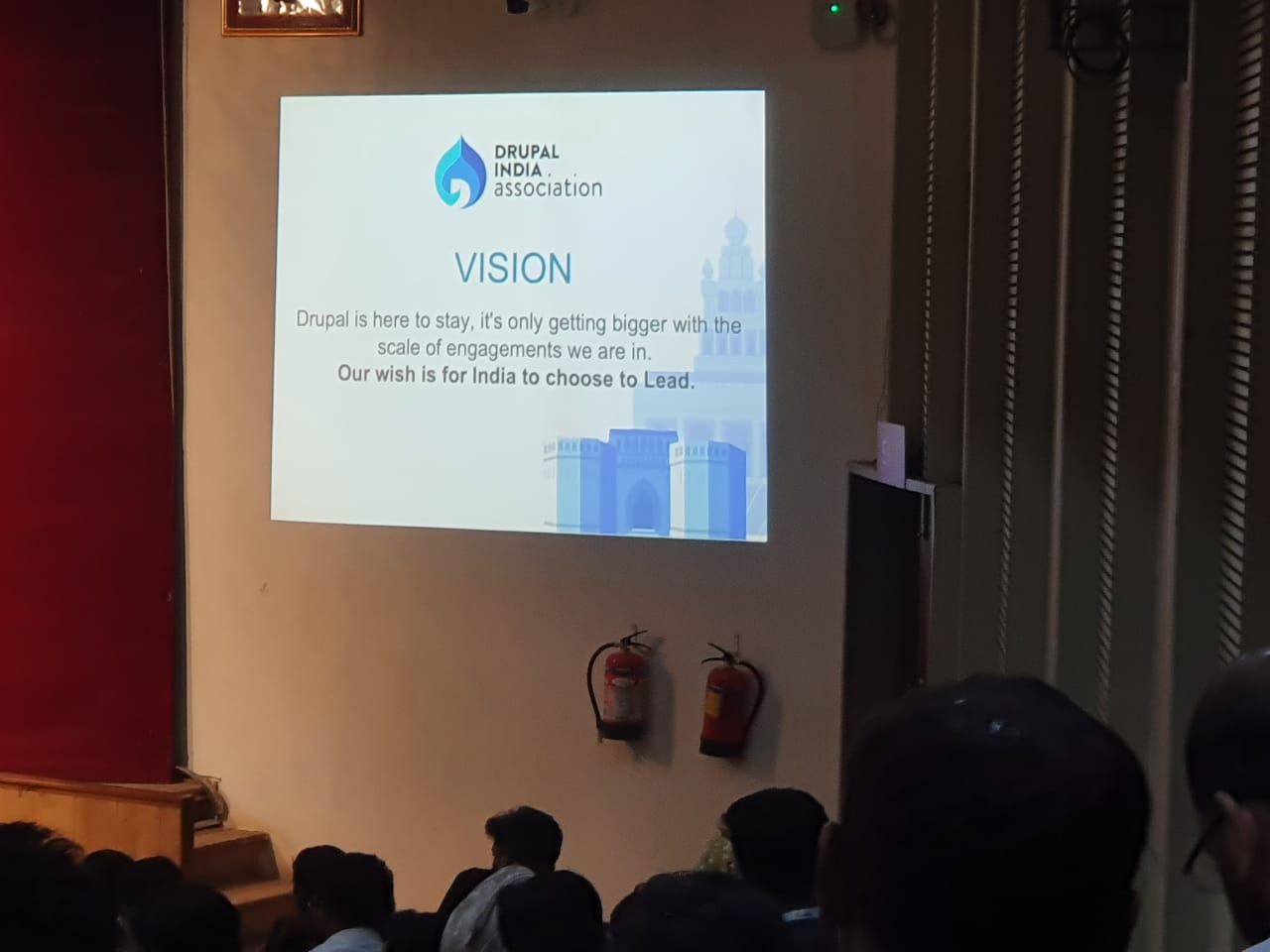 Like Drupal Association, which helps the Drupal community across the globe to build, secure and promote Drupal in addition to the funding, online collaboration, infrastructure and education, there was definitely a great value seen in forming a national level association in India. Channelising funds for events or act as a bank of thought leaders or prevention of scheduling conflict would all require a central body. This is exactly what led to the formation of Drupal India Association.
Floating an idea: How DIA came to fruition
The idea was to have a central organisation that has an India-wide presence and recognition

The discussions on forming DIA were happening as early as 2012. The idea was to have a central organisation that has an India-wide presence and recognition. The key areas that such a central body would address are:
Promotion: Whether you need to organise Drupal-related events (DrupalCamps, DrupalCon, Drupal Training etc.) in India or want to know where should you advertise the events, it can all be streamlined with the presence of a central organisation. You will have access to a wonderful group of thought leaders from the Drupal community of India who can answer your questions related to Drupal promotion. In short, this will be essential to engage the open-source community within India and help the Drupal community in India grow even bigger.
Funding: Such a central body can also help simplify the funding process that is imperative to organise large Drupal-related events.
Schedule: The window for different Drupal-related events to be scheduled can be easily decided. The question of two or more Drupal events happening concurrently is nullified.
It was only in 2018 when the resolve to plan for a regional chapter strengthened. This was the time when the Drupal community in India came together to chalk out the action plan.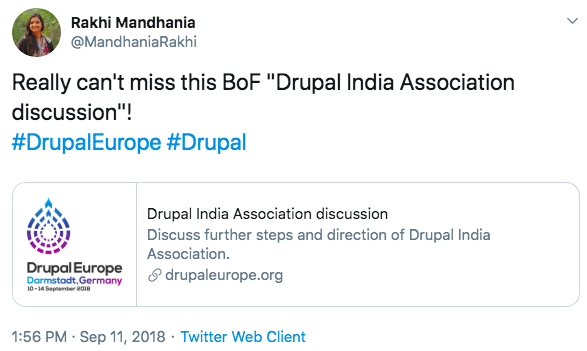 The interest among the Drupal community members in India was palpable.

Efforts started bearing fruits in 2019 when everything fell in place. At Drupalcamp Delhi 2019, the announcement of Drupal India Association as the newly formed organisation was made.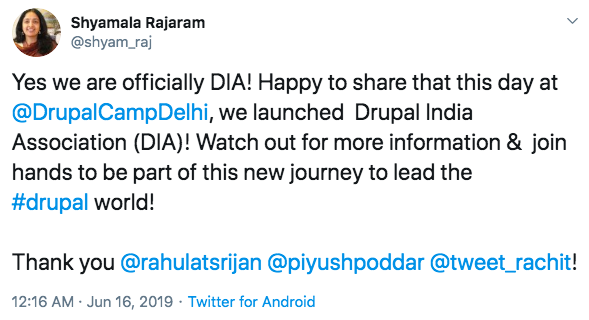 The synergy has developed among the different thought leaders from various agencies, including Vidhatanand (Chief Engagement Officer at OpenSense Labs).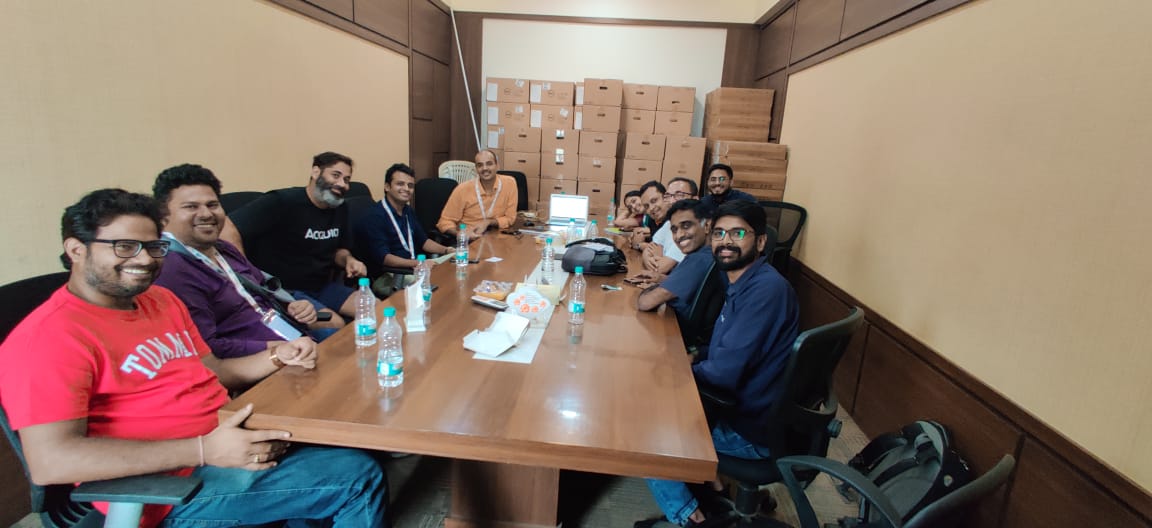 There is a hope that Drupal India Association will inspire more such local chapters to be formed. And the Drupal Community is already looking forward to many more associations on similar lines.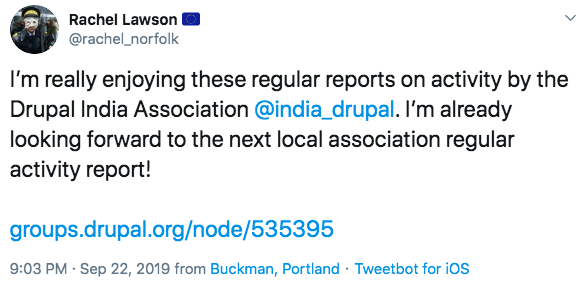 The Vision
After all the brainstorming and insightful discussions, DIA is finally here and is here with a mission. Be it the marketers, the agencies or the developers, it has something to offer for everyone.
Agencies
The primary vision of Drupal India Association is to provide value for the member organisations and the Drupal Community in India. DIA's emphasis will be on boosting digital innovation using Drupal and enabling more agencies to innovate using Drupal. DIA will be steadfast in its goals of identifying tech events where it can participate and hire a big booth where every member organisation can take part.
Marketers
Popularising Drupal in India and setting an example to the rest of the world is one of the objectives of DIA. With the help of DIA, marketers will be able to change the way people look at India when it comes to Drupal development and its role in it. DIA will also pave way for India to have a colossal influence over the Gulf and ASEAN (Association of Southeast Asian Nations) regions. Cities in India that were never on the radar of the Drupal community will now be holding Drupal camps and meetups. DIA will be responsible for preparing a calendar of events with the aim of promoting Drupal across different cities in India.
Developers
Drupal India Association's objective is to proliferate Drupal contributions coming from India and will keep working towards it to make a huge impact.
Conclusion
From being just an idea in the incipient stages to being a central body, Drupal India Association has come a long way. It still has a lot to look forward to. A massive country like India shows a lot of promise to make impactful contributions when it comes to increasing adoption of Drupal by more agencies, make Drupal even stronger, and lead the way. Drupal India Association is committed to making it all happen.
Ping us at hello@opensenselabs.com to know more about Drupal, its remarkable merits and how you can make your invaluable contributions to the growth of Drupal.
blog image