This blog has been re-posted and edited with permission from OneShoe's blog. The following are results from the 2019 Drupal Business Survey conducted by One Shoe and Exove, in partnership with the Drupal Association.
The annual Drupal Business Survey is an initiative of Drupal agencies One Shoe and Exove, and was published in 2016 for the first time. The survey aims to gather valuable insights from Drupal business leaders to identify opportunities and challenges for the Drupal market. This year, the survey asked Drupal business leaders from all over the world about their experiences with selling Drupal projects, their vision on community contributions and their expectations toward Drupal 9.
In total, 118 C-level Drupal agency leaders participated in the 2019 edition of the Drupal Business Survey. These leaders have a total of 118 offices, of which the majority (72 offices) are located in Europe and 36 in the United States.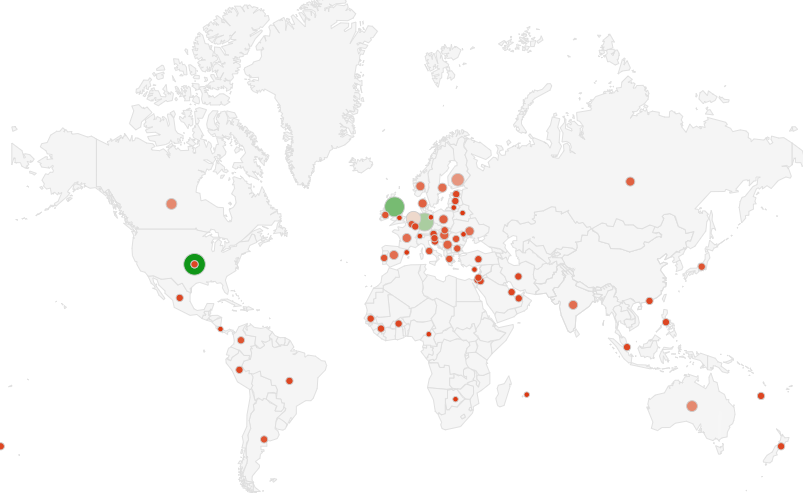 43% of the respondents are CEOs and 35.6% of the respondents are founders of Drupal businesses, mostly working at mid-size Drupal agencies with between 11 and 50 employees (33.9%). The majority of the companies have been in business for more than four years (89.8%).
How is Drupal business doing?
The news is positive for business – the Drupal project pipeline has grown or stayed at the same level as the previous year whilst the average deal size has increased. Drupal project win rates have stayed roughly at the same level and future of Drupal project pipeline is predicted steady based on this year's responses.
Each year the respondents are asked about their Drupal project pipeline, average deal size and project win rate, as well as their expectations for next year. Half of the respondents said that their Drupal project pipeline grew and when compared to last years results, even more than expected. One third of the business leaders responded that their pipeline has stayed approximately the same and only 16.9% stated that their project pipeline shrank.
Average deal size has also grown, according to majority of the respondents (65%), and only about 7% answered that their deal size shrunk in 2018.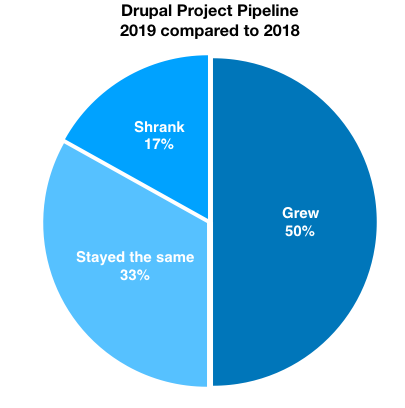 Popular industries for Drupal projects
Drupal is used for endless types of digital solutions: from easy-to-manage sites to large-scale portals and platforms. As a result, you can find Drupal projects in all kinds of industries. Each year the respondents of the Drupal Business Survey are asked about the type of projects they completed in the past year, and industries in which they use Drupal to create digital experiences.
Interestingly, this year the category 'Education' is added for the first time after respondents in the previous edition indicated they missed this category. Education is the most popular industry in which Drupal projects are implemented this year.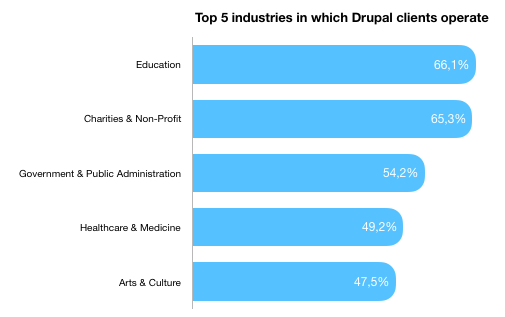 We asked this question also in previous years and when comparing results, we see some differences. Travel & Tourism became a more popular industry in Drupal project implementation with 330% growth when compared to the 2018 Drupal Business Survey results. Furthermore, Telecom, Sports and Logistics & Support grew their popularity whilst Consumer Electronics, Consultancy and Construction decreased popularity in Drupal projects implementation according to the survey data.
Top 3 industries which became more popular compared to 2018:
Travel & Tourism (+330%)
Telecom (+77.78%)
Sports (+77.78%)
Logistics & Support (+72.73%)
Top 3 industries with fewer Drupal projects compared to 2018:
Consumer Electronics (-59.09%)
Consultancy (-37.74%)
Construction (-37.50%)
'Contributing to Drupal should be a no-brainer'
One of the distinguishing factors and forces behind Drupal's success is the large and active community. For a long time, the slogan for Drupal has been "Come for the software, stay for the community." Dries Buytaert each year publishes the 'Who sponsors Drupal development?' report. According to the 2018–2019 edition, small-to-medium-sized Drupal businesses (fewer than 100 employees) contribute frequently, while larger full-service agencies are not actively contributing to Drupal.
According to the Drupal Business Survey, 111 out of the 118 businesses contribute to Drupal and only 7 businesses don't. What's the vision of Drupal's agency leaders about the subject of contributing to Drupal? How do they contribute, and why (not)?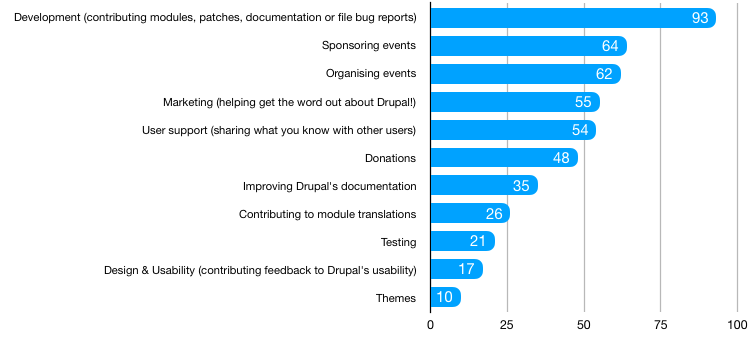 The Drupal businesses from the survey contribute in many different ways. It varies from non-technical contributions, like sponsoring events and organising events such as MeetUps and DrupalCamps, to improving Drupal's documentation or development (contributing modules and patches). Reasons for contributing are, among others, because it feels like 'the right thing to do', because of branding and marketing reasons, or in order to give the developers a sense of the community:
"Drupal has given a lot to our company, so it is only fair to give back. Also, we see that the Drupal business community is not that well served, so it is an easy choice for us to contribute to (besides technical stuff)."
"Without contributions, the Drupal project wouldn't exist. It should be a no-brainer.",
" I wouldn't have made a career in Drupal if others wouldn't have contributed before; it's a give and take and everyone should do so."
I believe in supporting the community that supports me and provides the basis for my income. Also, there are side-benefits to contributing. My contributions have helped me win clients."
Limited time and resources
Even though the vast majority of agencies are aware of the importance of contributing to Drupal, they also face difficulties combining the pro-bono contributions with their day-to-day business. The analysis shows that those who don't contribute are either sole entrepreneurs or are working at a Drupal company with more than 100 employees. Almost all respondents saying that their business doesn't contribute, explain that the reason is that they don't have the time and resources to do so: "In a resource limited business, contribution is difficult to balance with the bottom line. We do what we can. However, the teams are all encouraged to be vocal advocates of Drupal on all Social Media platforms, challenging misconceptions wherever they occur." Someone else suggests: "Maybe introduce paid development for updating, testing and maintaining core and most used contributed modules."
Does size matter?
When we compare the size of the Drupal companies with the kind of Drupal contributions, we see that:
The larger the Drupal business is in terms of employees, the more often they financially support the Drupal project by – for example – sponsoring an event and/or making donations.
Also, larger Drupal businesses tend to contribute to developing (contributing modules, patches, documentation or bug reports) more than smaller ones.
The smaller the business, the more often they share knowledge with other users (User Support).
Except that, there is no significant difference between the size of the Drupal companies and other types of contributions they make to the Drupal project. All different sizes of organisations contribute in the form of translations, marketing, testing, and contributing to design & usability.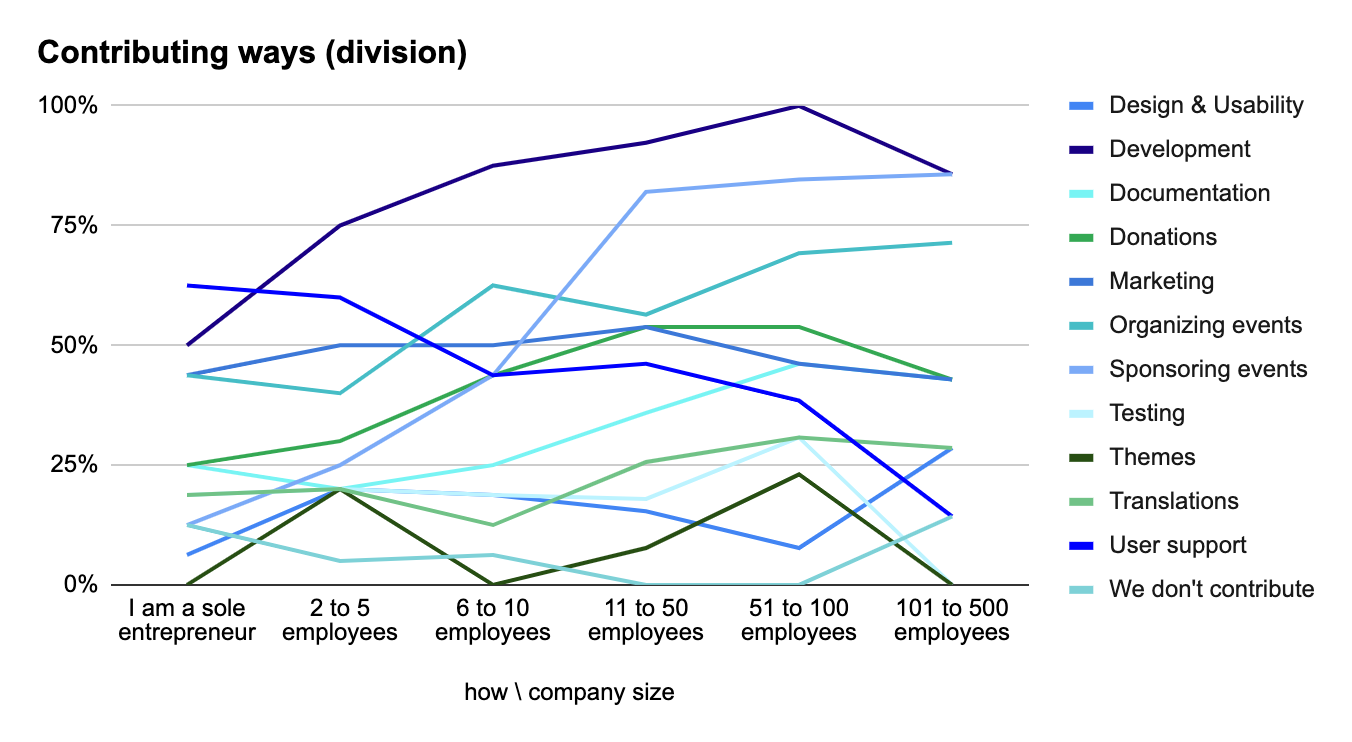 Businesses expect easier Drupal upgrades starting with D9
Drupal 9 is targeted for release in June 2020. We asked the Drupal business leaders what their expectations are toward Drupal 9. The general trend among companies is 'Finally no hard upgrade path anymore!' One respondent says: 'We hope the upgrade path will be smooth, and it will be easier to justify the investment of upgrading.'
"[I expect] it will become easier to do the operation things, as update core, modules etc. Better media handling and user interface, that it doesn't have this large jumps on functionality changes from one version to another – so the upgrades from 8 to 9, 9 to 10 and so on can go much much smoother than before."
"[I expect] that we don't have to reimplement all our customers solutions the way we had to from earlier solutions. I expect that when we have upgraded all our solutions to the latest version of Drupal 8.X, the upgrade to Drupal 9 needs to be smooth and without any major rewriting of code. When upgrading our ecommerce solutions from D6 -> D7 and D7 -> D8, it almost killed our business. We had to basically reimplement the solutions (not upgrade them) and the clients were not willing to pay the actual cost. So we had to invest a lot of money into those upgraded. We are not willing to do the same for D8 -> D9."
Business leaders also express their desire for a better interface and a UX enhancements: 'I hope that D8 will provide a better admin UI and UX, and an improved preview mode.' Another one says: 'I hope for focus on the end user experience.'
The Drupal community has noted the user experience needs and there is a specific Admin UI modernisation strategic initiative going on – for more information, see https://www.drupal.org/about/strategic-initiatives/admin-ui-js
However, a number of owners also express their doubts. One respondent states:
"Many clients are still on Drupal 7 without a plan (or desire) for Drupal 8, there is some surprise that Drupal 9 is already on the way. Some may be waiting for Drupal 9 before moving anyway. The D7-D8 move is seen as such a big one that projects may come to a natural end or move away from Drupal before clients ever get to D8 or D9."
"We think it will be hard to convince people to migrate from Drupal7 to Drupal9. On the other hand we think that project size will continue to grow."
The comments about Drupal 7 show that the system is still in wide use and there is a threshold for the clients to upgrade to later versions. The updates have been laborious projects in the past, and now businesses expect this issue will be mitigated with the new release cycle and the release of Drupal 9.
More ease of use of Drupal
We asked the Drupal business leaders what developments they hope to see in the coming years regarding Drupal in general.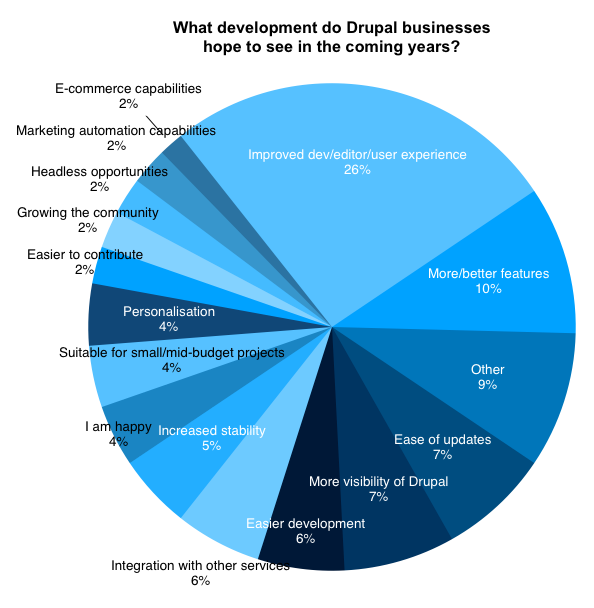 The answers given by the respondents were varied, ranging from making Drupal development easier to making Drupal more suitable (again) for small and mid-size projects. However, most of the answers were about the user-friendliness of Drupal: 26% of all the answers had to do with Drupal's user experience for developers as well as administrators, editors, content managers and end users. Or, as one respondent stated it: "Continued ease-of-use for both semi-technicals/semi-professionals as well as professional developers and UX and UI designers."
"A better out-of-the box user experience (in terms of design, media handling & editing, for example). Improved admin experience – e.g. react-based admin interface."
"I hope that Drupal is going to have a better and more modern UI/UX for the clients, ease to integrate Drupal as API first/headless, from a DX perspective continue to use OOP and modern methods. Ease to do functional tests. Ease to update modules/core with automatic process."
The Drupal Business Survey results indicate that businesses are eagerly waiting for the first versions with a radically improved admin user interface. This is something that has already been taken into account; see the Drupal community's strategic initiative.
The second thing that the respondents mention is that they hope the features and capabilities of Drupal will continue to improve or expand (10% of the answers):
"Continue to develop more content-friendly toolkits/features, expand upon configuration management processes/workflows"
"We see more out of the box features in the platform and more tools suited for enterprises."
"Closer to a microservices CMS, allowing me to pick the bits I need/want."
Conclusion
The survey shows that Drupal business is doing well, with slight growth in project pipeline and more substantial growth in average deal size. Drupal is used for various types of digital solutions. However the most popular industry for Drupal project implementation is Education based on this year's survey results. Other top industries include Charities & Non-profit and Government & Public Administration. The fastest growing industry in terms of the number of Drupal implementations this year is Travel & Tourism, with a growth of 330%, followed by Telecom (+77,78%), Sports (+77,78%) and Logistics & Support (+72,73%).
Contributions to Drupal have remained active, as 111 out of the 118 businesses taking part in the survey report that they contribute to Drupal. The most common ways of contributing include development as well as sponsoring and organising events. The report shows that those who cannot contribute to Drupal are either sole entrepreneurs or are working at a company with over 100 employees, facing challenges in combining pro bono work with day-to-day business.
Drupal business leaders share various hopes on the development of Drupal. The most common ones include improved dev/editor/user experience, more/better features and ease of updates. Expectations towards the upgrade to Drupal 9 are mostly optimistic, the only thing that businesses shared was their concerns that customers may want to move away from Drupal because of the difficult upgrade from 7 to 8.
As one of the business leaders states: "Agency leaders play a key role in growing the Drupal community. This survey provides a great way for us to start working together. Next, we need to take the results and come up with strategies for growth!" The findings of this survey – and possible strategies for growth – were discussed at the Drupal CEO Dinner during DrupalCon Amsterdam 2019, where more than 60 Drupal Business leaders from all over the world came together.
—–
For more information, please contact Janne Kalliola (jannekalliola) or Michel van Velde (michel-van-velde).
About Exove
Exove delivers digital growth. We help our clients to grow their digital business by designing and building solutions with agile manner, service design methodologies, and open technologies. Our clients include Sanoma, Fiskars, Neste, Informa, Trimble, and Finnlines. We serve also start-up companies, unions and public sector. Exove has offices in Helsinki, Oulu and Tampere, Finland; Tallinn, Estonia; and London, United Kingdom. For more information, please visit www.exove.com.
About One Shoe
One Shoe is an integrated advertising and digital agency with more than 10 years experience in Drupal. With more than 40 specialists, One Shoe combines strategy, UX, design, advertising, web and mobile development to deliver unique results for international clients like DHL, Shell, Sanofi, LeasePlan, MedaPharma and many more. For more information, please visit www.oneshoe.com.
About the Drupal Association
The Drupal Association is the not-for-profit organization dedicated to fostering and supporting the Drupal project, the community and its growth. The Drupal Association helps the global Drupal community with funding, infrastructure, education, promotion, distribution and online collaboration at Drupal.org. For more information, please visit drupal.org/association.