Drupal 2019: Year In Review
Shankar
Thu, 01/02/2020 – 14:14
A magnificent year has gone by! 2019 saw Drupal evolving by leaps and bounds. As the year comes to an end, here is a look at some of the significant moments from the Drupal world that happened during this time.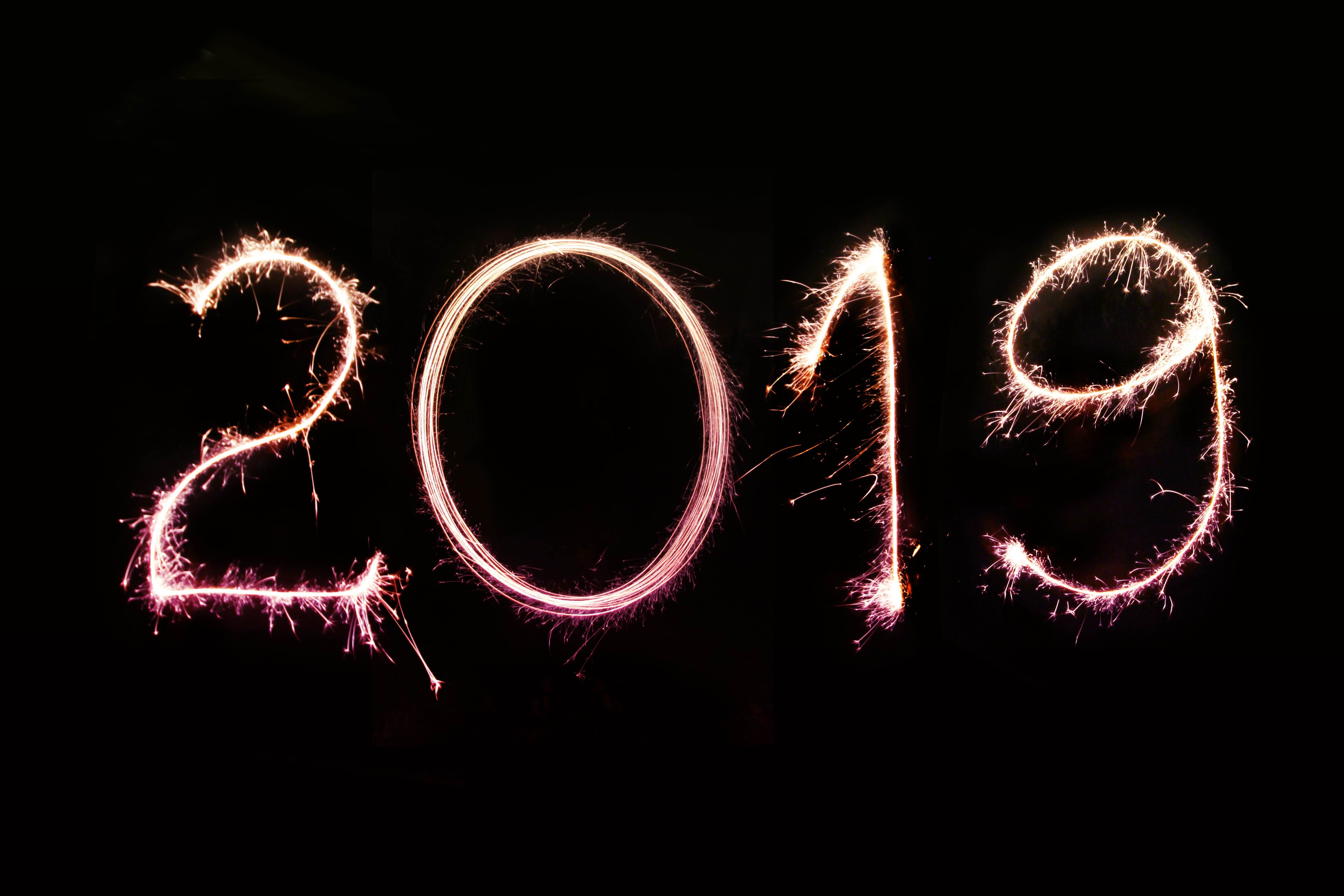 18 years old: Drupal is no longer a kid!
It was on 15th January 2001 when the world saw Drupal burst onto the scene. Drupal 1.0.0 was released on this date. Since then, with the support from thousands of open source enthusiasts and contributors, it is today one of the market leaders in the CMS segment. Drupal turned 18 in 2019 and Drupal Community revelled in its success with much mirth.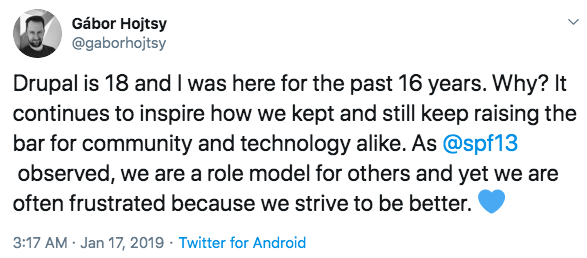 New Drupal releases
As per Drupal's 6-month release cycle, the Drupal fraternity witnessed two new Drupal versions being released in 2019 – Drupal 8.7.0 and Drupal 8.8.0.
Drupal 8.7 was one step closer to a better future. It came packed with much-needed features, particularly the stable JSON:API core module and the stable Layout Builder module. With JSON:API support being included as a core feature, displaying your Drupal content in decoupled websites, mobile applications and others would be a downhill task.
After being introduced as an experimental module in Drupal 8.5, the announcement of a stable and production-ready version of the Layout Builder module in Drupal 8.7 was huge news. Its provision for state-of-the-art content management solution with features like drag and drop management for content blocks and the quicker process of creating layout templates for content is a massive improvement.
Drupal 8.8, that released on 4 December 2019, is the last normal feature release of Drupal 8. It came with a stable version of the Media Library module that was previously added as a beta experimental module in the core. Media Library streamlines the reuse of images, documents, videos and other assets across the website.
Claro, a new experimental administration theme, was also introduced in Drupal 8.8. Its intuitive features like touch-friendly administration pages and more accessible colour combination and contrasts will definitely enthral website handlers.
Drupal 8.8 also introduced a new experimental Help Topics module for further enhancement of in-Drupal help.
The Composer Initiative yielded great results as Drupal 8.8 became the first release that included native Composer support.
From the vantage point of businesses
With Drupal 9 set to be released in June 2020, the Drupal business leaders, as stated by Drupal Business Survey 2019, were eagerly looking forward to it. The survey revealed that the thought leaders from the Drupal circle had a lot of anticipations from Drupal 9.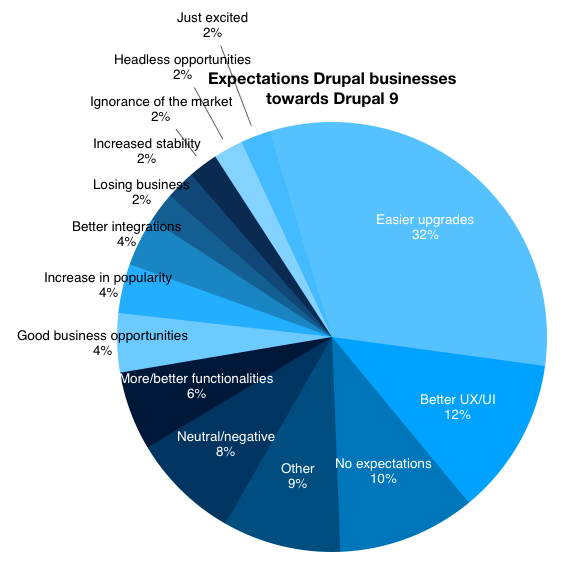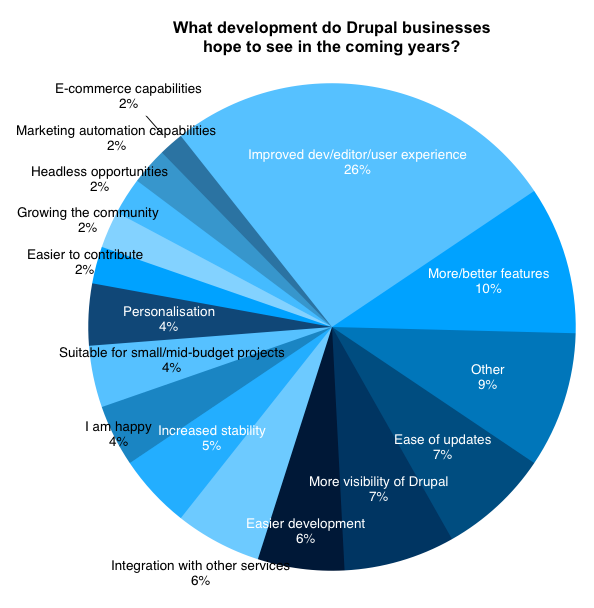 Majorly, these were the key results from the survey that showed what Drupal business leaders are excited about:
Streamlined upgrade path from Drupal 8 to Drupal 9
Ease of update. No large jumps on functionality changes when moving from one version to another
Better interface and improved user experience for developers as well as administrators, content editors and end-users.
The possibility of Drupal development becoming more simpler and a go-to option for not only the enterprises but also small and mid-size projects.
Drupal getting more powerful as an API-first CMS.
The survey did show that there are apprehensions about the migration from Drupal 7 to Drupal 8 or even from Drupal 7 to Drupal 9. It is perceived as a business-critical decision and the one that may be very intricate.
A clear picture: Drupal 9 upgrade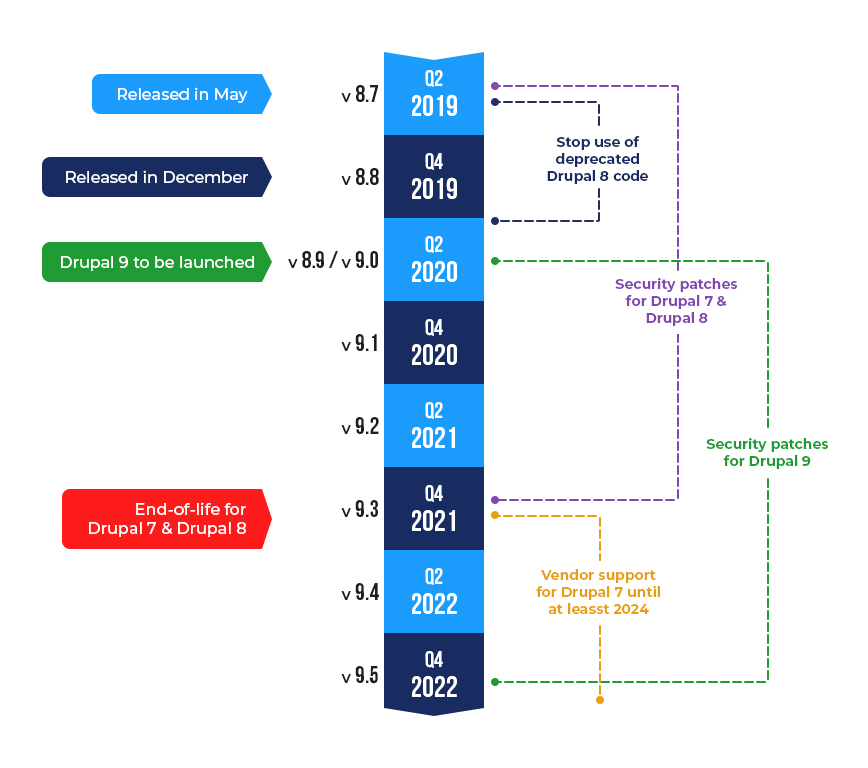 By the end of 2018 and in the entire 2019, Drupal Community began to see the clarity with the state of Drupal 7, Drupal 8 and Drupal 9. In DrupalCon Seattle 2019, the Driesnote presentation clarified that Drupal 7 will be fully supported by the community till November 2021 in addition to receiving security patches. From thereon, until at least November 2024, vendor support will continue.
It further stated that the Drupal 7 to Drupal 8 upgrade can be an uphill task for large sites in particular but nevertheless, once done, its advantages outranks the challenges.
Driesnote presentation in DrupalCon Amsterdam 2019 showed that the progress on Drupal 8's Automated Updates Initiative has been spectacular last year.
Symfony 3, which Drupal 8 is highly dependent upon, has an End-Of-Life date towards the end of 2021. That means Drupal 8 will be End-Of-Life by November 2021. Essentially, by the time Drupal 8 reaches End-Of-Life, every Drupal site should have upgraded to Drupal 9. Driesnote in DrupalCon Amsterdam also stated that the upgrade from Drupal 8 to Drupal 9 will be extremely easy. Consistently checking for and removing the use of deprecated code would make the migration from Drupal 8 to Drupal 9 a very simple one.
Rather than working on Drupal 9 in a separate codebase, it is being built in Drupal 8. Therefore, the new features and functionalities are being added as backwards-compatible code and experimental features. As the code attains stability, old functionalities will be deprecated.
Drupal project pipeline
Drupal adoption rate saw a palpable growth last year.


When it comes to the experience that the business leaders had selling Drupal projects, according to Drupal Business Survey 2019, it has been fantastic. While the Drupal project pipeline has grown or remained at the same level, the average deal size has proliferated. Future of the Drupal project line is predicted to remain steady.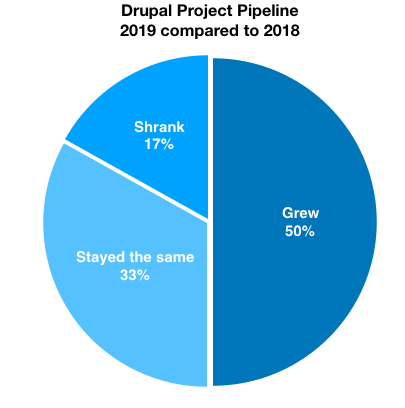 When asked about the type of projects that the respondents completed in 2018 and the industries in which they implemented Drupal projects for providing ambitious digital experience, 'Education' turned out to be the most popular industry. Industries like 'Travel and Tourism', 'Sports', 'Telecommunications', and 'Logistics and Support' also witnessed an increase in the implementation of Drupal projects.
Contributions
On examining Drupal.org's contribution data in a 2018-2019 report, it was found that the number of contributors and contributions have increased to a great extent. There was an 8% rise in the number of Drupal.org projects that received contributions when compared to 2017-2018 period. More than half of the contributions were done on contributed modules. Interestingly, the big jump in non-product credits was discernible. This includes activities like organising different Drupal conferences, promoting Drupal, and community working groups.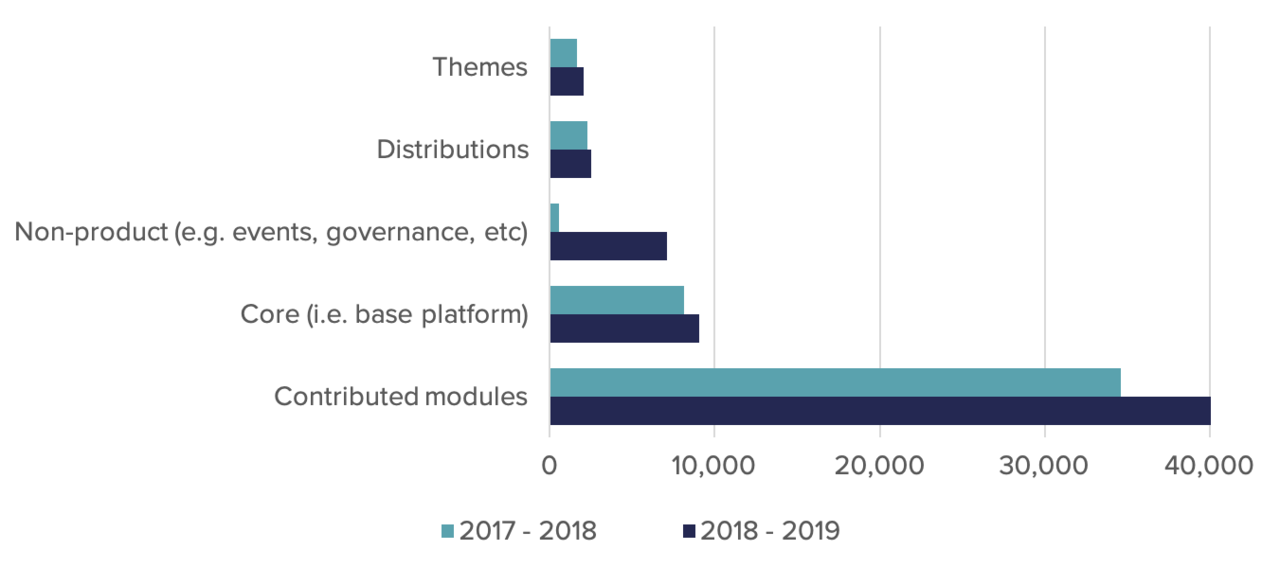 There was a noticeable increase in the number of contributions that the Drupal.org's credit system received. The top 30 contributors (the top 0.4%) accounted for 19% of credits. (Our very own Drupal architect Gaurav Kapoor was amongst them.)
It was also found that most of the contributions were sponsored. Even though sponsored contributions remained on the higher side when compared to volunteer contributions, the latter is significant to Drupal's growth and success as an open-source CMS.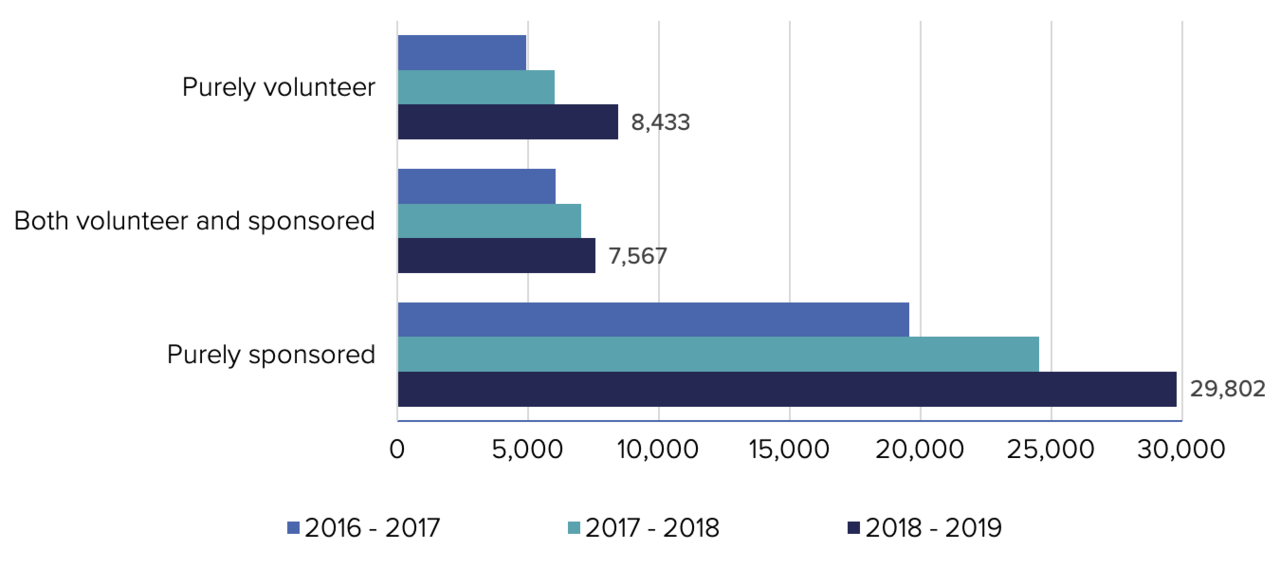 Drupal Business Survey 2019 shows that 111 out of 118 businesses contributed to Drupal. The survey delineated that the businesses have been contributing in multiple ways that ensure good health of Drupal. Whether it's the contribution to modules, themes and distributions, or improvement of Drupal's documentation, or sponsoring and organising events, businesses have been helping Drupal grow in their own ways. Some of the businesses, unable to contribute, cited lack of time and resources as the reason.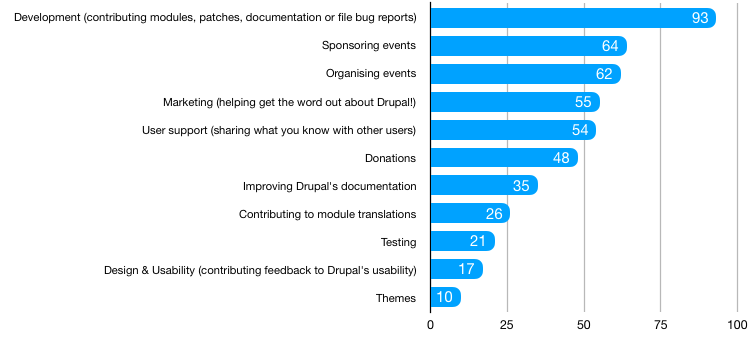 Decoupled approach
Since the time when Dries Buytaert, founder and project lead of Drupal, talked about RESTful Drupal and later about the future of Decoupled Drupal, this approach has evolved into something more exciting and attained new heights.
The two ways of decoupling Drupal include progressive decoupling and fully decoupling. But, as 2018 neared its end and 2019 began to unfurl, the fully decoupled approach branched into two methods. It was due to ever-increasing convolutions of JavaScript development that, in addition to existing fully decoupled application, it also took the form of a fully decoupled static site. The popularity of JAMstack and its reputation of rendering high performance, top-notch security and fewer complexities during the development gave wings to approach of building fully decoupled static sites.
Most importantly, API-first Initiative made great progress and strengthened Drupal's capabilities as headless or decoupled solution. Not only has Drupal core started offering out-of-the-box JSON:API implementation with JSON:API module landing in core since the launch of Drupal 8.7, but several new improvements to JSON:API support in the contributed space were seen. (For instance, an interactive query builder called JSON:API Explorer.)
Diversity and inclusion
Although Drupal's contributors were found to have become more diverse in Drupal.org's contribution data studied between 2018-2019, more effort needs to be put in to fill the gaps.
For instance, in this report, some interesting facts emerged when gender diversity and geographical diversity of Drupal.org contributors were studied. Even though the contributions made by persons who do not identify as male increased by one percent in 2018-2019 period, the gender imbalance in Drupal is still a worry. Non-male contributors accounted for only 8%.

When it comes to geographical diversity, Europe and North America continued to dominate the contributions space. While the United States topped among the countries, India remained the second-largest contributor. Overall, the contributions from Asia were on the decline (particularly India in spite of it being the second-largest contributor).
Drupal Community understands the need to foster diversity and inclusion. Several efforts have been taken in 2019 to show its strong will to diversify its community and be more inclusive.
Drupal Association, like in 2018, changed its logo to show its support for LGBTQ+ community for the whole month of June (Pride Month).

Listening to a more diverse group of people can be an inspiration to new contributors from all gender identities, races, religious groups, geographies, ethnicities and more. There were significant efforts made to help more people from underrepresented groups speak at Drupal conferences and workshops. For instance, Drupal Diversity and Inclusion group hosted a speaker diversity training workshop in September.
In their resolve to diversify the leadership group, Drupal Association decided to elevate a diverse group of leaders. The nominations for community elected board position were open for all.
Climate change
It was also the year when a teenager took the world by storm. An unlikely teenager somehow got the world's attention. Greta Thunberg inspired millions of people to join the global climate strike in September which turned out to be the largest climate demonstration in human history.

Drupal.org, along with thousands of websites across the globe, posted a banner message declaring that it has opted for a global digital climate strike.
End thoughts
2019 proved to be remarkable for Drupal. It reached new avenues. It kept getting bigger. It realised where it lacked and showed strong resolve to improve.
Drupal 8 isn't done yet. It's gonna be here for a while and will continue to offer enriching digital experiences all over the world. But, eventually, Drupal 9 will take over. It's going to be released in a few months from now and Drupal Community is very excited to welcome it. A lot of interesting things are lined up for Drupal in 2020 and it will be amazing to see them all happening.
Happy New Year to all the Drupalists! Grow Drupal, grow with Drupal.
blog image