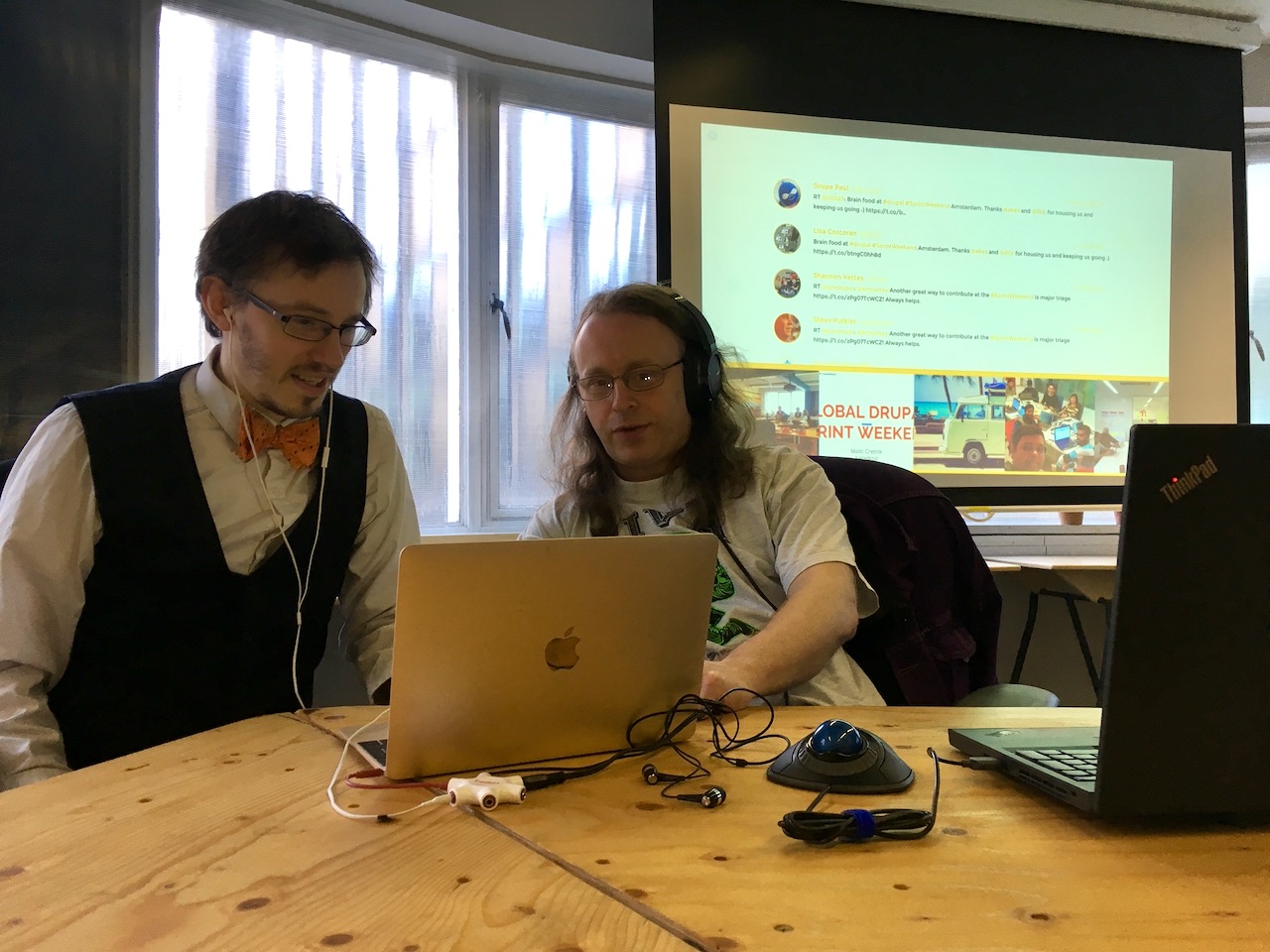 John Cook and Andrew MacPherson at a previous Drupal Global Contribution Weekend event.
Since 2013, Drupal Global Contribution Weekend (DGCW) has been held on the last weekend of January.
People more-or-less close to Drupal and its community join for this worldwide event where everyone can participate: site builders, testers, designers, project managers, translators, marketers, writers, and, of course, developers.
You are all welcome to contribute to make Drupal better.
Contribution is at the core of any open source software project and this event is the perfect opportunity for you to be a maker.
January 24-26
This year, DGCW is from Friday to Sunday, January 24-26.
Where to participate
It's worldwide! You can check this year's DGCW page to see a list of local events participating in the initiative.
At the moment of writing there are events in India, Pakistan, Russia, Belgium, Germany, Switzerland, Ukraine, United Kingdom, USA and Canada.
Keep watching that space as new events may popup, including Virtual Meetups where you can join online events like last year's Contribute to accessibility and Contribute to Gender Field Module.
Interesting, but there isn't anything close to me.
Oh, this is a great opportunity then! If you would love to participate, you can create your own event.
Find a venue
The first step is finding a place to hold your event. It's likely that the first time only a few people may join. Reserving a table in a local pub/bar/cafe can do the job. Or if you have a company who can provide or sponsor a better place, even better. Sometimes nonprofit organisations are more than happy to provide spaces to these kinds of initiatives.
Find a comfortable place with these things:
It's a safe environment for everyone, physically and mentally
It has WiFi and power sockets
It doesn't have accessibility barriers
Bonus: provide or plan breakfast, refreshments and/or lunch.
Plan the day
It may seem like the scariest bit, but it is not! The Drupal Community has created a series of tools and guides facilitating the hosting of these kinds of events. From the DGCW landing page:
No events close to you? Why don't you host one! Have a look at the information on how to become a host and when you are ready add your event in the list (see Example code for adding a sprint below).
The minimum you'll need:
A page people can visit, and possibly subscribe (groups.drupal.org/ helps)
Be ready to great your guests on the day
Use Drupal Ladder platform (http://drupalladder.org/ or https://drupalize.me/series/learn-drupal-ladder)
Encourage guests create a Drupal.org user account. It's a must-to-have for contributors, besides they can benefit from subscribing to awesome drupal-related newsletter (weekly bulletin from Drupal Association, Security updates, etc.).
Explain the issue queue. See Getting started in the issue queue Drupal Ladder section for a good introduction.
Point them to the Novice issues queue, and the Novice code contribution guide if they need more step-to-step info.
Set expectations. The first interaction may be no more than a comment in an issue. And that's OK!
Am I up for this challenge?
Yes! Every single event organiser has worries when planning events. And we're here to help. You can reach most of them on these channels:
Drupal Slack #community-organizers and local channels, and if becoming a mentor, join #mentoring.
You can get in touch directly with me, Lizz, or Rachel and we will be more than happy to help.
Is not just Drupal and its community that needs you to act. It's your neighbours, and people living in your community which want to participate more in contributing and don't know how to do it.
We are always alone, until we call.