There's much to reflect on from 2019 as the Drupal Association (DA) accomplished many organizational goals while also welcoming big leadership changes and supporting the evolution of Drupal as a product and project.
We draw our strength from a global community of Drupal enthusiasts and are proud of the progress, innovation and momentum that encompassed 2019.
"We are grateful to have a wide variety of Drupal Association members and advocates — government, nonprofit, education, corporate, and individuals — who support our mission, and in turn the Drupal project," says Heather Rocker, Executive Director of the Drupal Association. "We spent a great deal of time in 2019 focused on how we can best collaborate with current and potential stakeholders. Partnerships and collaborations create an atmosphere where Drupal is growing and better recognized, which is a win-win situation."
Last year, the DA continued to support the global Drupal ecosystem via special events, marketing and outreach, engineering, technical and corporate partnerships, and open source advocacy.
This is an overview of these bodies of work, as well as a glimpse of the roadmap for the continuation of projects, goals, outreach and involvement.
High-level accomplishments
Much of our time and resources were allocated to producing multiple DrupalCons. First, in an unprecedented fashion, we announced the next four years of DrupalCon North America locations and dates.
In April, we hosted DrupalCon Seattle, which included tailored experiences for Content & Digital Marketers, Agency Leaders and Drupal End Users. High attendance reflected the interest in this approach of uniting those who use Drupal in different capacities. We awarded 10 scholarships and 12 grants — more than ever before — in order to have a cross-section of contributors in attendance, from nearly every continent. In conjunction with DrupalCon Seattle and DrupalCon Amsterdam was the International Splash Awards, recognizing the best uses of Drupal. The Splash Awards were spearheaded by a steering committee out of Europe. This Committee continues to share thought leadership and expand the reach of Splash Awards to local events and camps throughout the world.
The DA, to better support the international community, established a partnership with the European firm Kuoni Congress and together — with a powerhouse team of volunteers — hosted DrupalCon Europe in Amsterdam, with 1,500 attendees October 29-31, 2019. The DA team was onsite attending sessions, connecting with the community, and signing up new members! Following the success of the event, the partnership with Kuoni was renewed. 2020 will feature DrupalCon Europe in Barcelona, September 14-17.
Before looking to September, mark your calendars and buy tickets for DrupalCon Minneapolis, May 18-22, 2020. It's a robust event in the making, with record-setting scholarship applications and awards; more than 750 session proposal submissions, more than 90 volunteers assisting with program development, industry summits, trainings to assist with migrations, and access to content not often found at local camps. Register before the rate increase on March 31, 2020.
DrupalCon is one of the more visible activities the Drupal Association champions each year, but it is far from the only. Another key responsibility is to maintain the home of the community: Drupal.org — and to keep it thriving.
We achieved a major 2019 milestone in our partnership with GitLab, migrating all of the backend git repository and code viewing tools. We know the community has been waiting on merge requests, a feature which should be coming in the first half of 2020.
To serve our community, we have to have insight and understanding, which is why we undertook several initiatives to improve our data and visualization. At DrupalCon Seattle we shared demographic information about our community, which we use to track our success on diversity, equity and inclusion efforts. We also updated the project usage visualizations on Drupal.org to provide more insight about versions of Drupal core and contrib modules.
At the DA, we can't forget that the vast majority of users we serve are the anonymous visitors to Drupal.org who aren't yet fully engaged with our community, and might be learning about and evaluating Drupal for the first time. As such, we spent some time refreshing the tools for Drupal case studies, and created new Drupal Feature pages to tell the best stories of Drupal's successes. All this content, and the tremendous content created by the community participants in the Promote Drupal initiative, helps evaluators understand how Drupal can solve their unique business needs, and grows our community.
Throughout 2019, we worked with the Drupal core maintainers. Each month we meet to collaborate on infrastructural needs and key initiatives, and to support outreach for programs like the Minor Release Beta Testing program. As Drupal itself becomes more tightly integrated with cloud services that the Drupal Association maintains — like the updates system, the translation service, and Composer endpoints — our collaboration with the Drupal core team has been closer than ever. This culminated in the completion of the Composer Initiative, improving Composer-readiness for all users of Drupal in version 8.8 and above.
In fact, it's not just collaboration with Core, but with the whole Drupal community and beyond that drives our work.
With the contributions of the community we were able to make small but powerful enhancements to the tools the community uses every day: from automatically generating a table of contents on each Documentation Page to allowing users to specify their pronouns, primary language, and location next to their issue comments — promoting greater empathy and understanding. That gave us something to be proud of, when the Drupal Association celebrated Pride Month with a rainbow logo, blog post and social media posts.

In collaboration with the Security Working Group and the Drupal Security Team, we continued to build out the structure of the new Drupal Steward program, an initiative we hope to see come to fruition in 2020.
Perhaps our most significant collaboration of the year was with the European Commission. Because the EC is a major user of Drupal to serve the member states of the European Union, and a strong contributor to the Drupal project already, we were thrilled they chose to sponsor the Automatic Updates Initiative for Drupal. Phase one of that initiative was completed in December, and we're excited to see who we can collaborate with on the next phase in 2020.
Drupal has always been a community-driven project, and the work above illustrates how Drupal Association initiatives are no different. That's partly why we ended 2019 by announcing the formation of a Contribution Recognition Committee; to help us improve the ways we recognize both individual and organizational contributions to the project.
Changes to Drupal Association Leadership
In 2019 the Board of Directors took the important step of appointing a new DA Executive Director, Heather Rocker, who began in May. The annual community election resulted in appointment of Leslie Glynn as at-large member of the board, and four additional board members were appointed: Grace Francisco, Lo Li, Owen Lansbury, and Ryan Szrama.
"We're excited to have these individuals join us in our efforts to broaden our reach into diverse communities and to grow Drupal adoption. They bring a range of experiences and expertise to the Association that will enhance our opportunities to reach new audiences, support the Drupal community, and elevate the Drupal project around the world," said Adam Goodman, DA Board Chair. We also thank board members completing their board service in 2019, including Jacob Redding, Mike Lamb, and Annie Miller.
Achievements and "Firsts"
Community outreach is a cornerstone of the DA. In 2019, the DA supported creation of the Event Organizers' Working Group, with the mission of supporting community-led teams to grow Drupal through local events. Local Drupal Associations around the world formed, iincluding: Colombia, Burkina Faso, India and the beginnings of one in the United Kingdom. DA staff led meetings at Drupal events to unite volunteer groups, such as the resulting Drupal Pitch Deck team.
The DA also awarded member-funded grants to facilitate events, including the inaugural Flyover Camp 2019 and DrupalCamp Goa.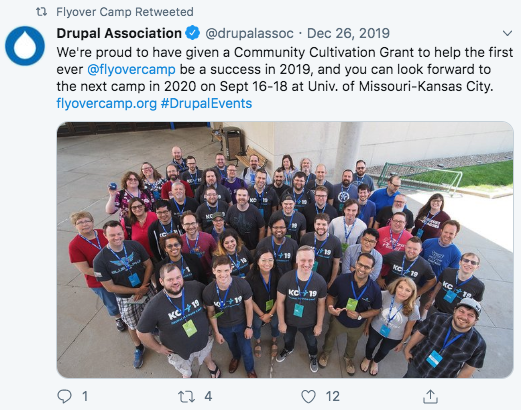 Drupal Association staff members were featured speakers at multiple events, including: Rachel Lawson at DrupalCamp Goa – India, hosting the keynote panel at Drupal Mountain Camp in Switzerland, and Heart of Clojure in Belgium; Neil Drumm at DrupalSouth in Australia; and Heather Rocker at DrupalCamp Atlanta. Staff also engaged with attendees at GovCon and OSCON.
The Drupal Association expanded its network of Supporting Partners, adding 15 new organizations and renewing 110 annual supporting organizations. As Supporting Partners, organizations that benefit from Drupal have the opportunity to financially support the ongoing maintenance and acceleration of the project. Not only do they fund the work mentioned above, they receive exclusive benefits that increase their visibility and support their bottom line. Benefits include: DrupalCon discounts, featured content on Drupal.org, access to exclusive roundtables/summits, and positioning as trusted thought leaders and good citizens of the Drupal community. In 2019, Drupal Association Supporting Partners stayed up to date on important project news and collaborated with the DA and peers through quarterly informative webcasts, as well as roundtable meetings at DrupalCons.
2019 also saw a refreshed focus on Individual Membership in the Association—and pride in membership, as seen in the interactive campaign: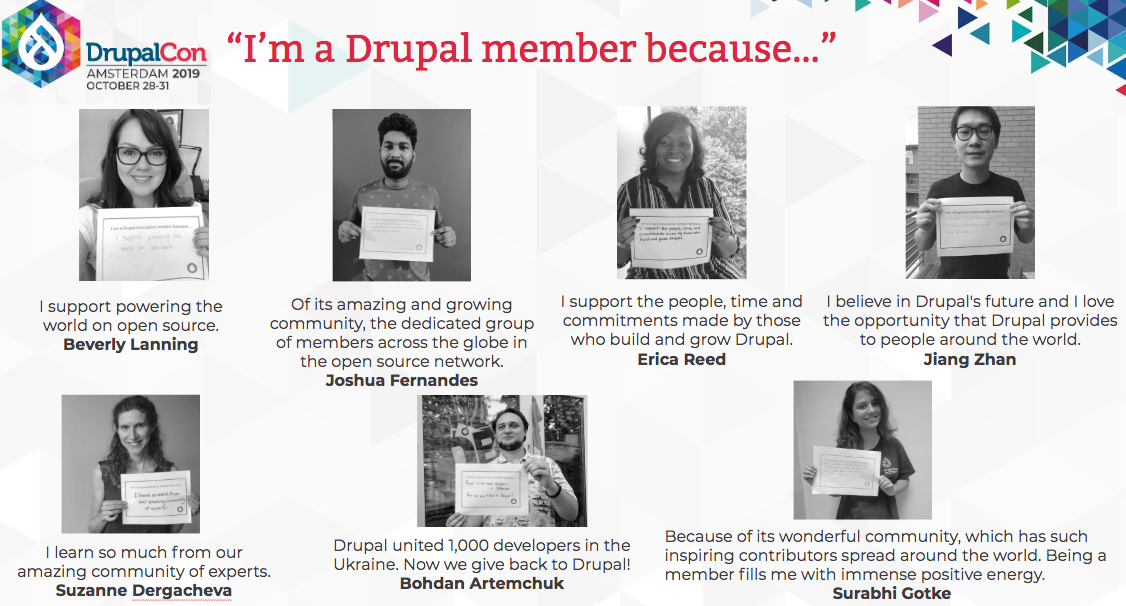 Drupal Jobs is the official jobs site of the Drupal Project and Drupal.org. In 2019, the DA added more value for employers looking to hire Drupal Talent; in addition to the listing on the Drupal Jobs site, we began maximizing visibility with job posts across our social media channels — a combined audience of 100,000+ followers.
There were several DA promotional "firsts" as well:
First participation in National Digital Inclusion Week Social Media campaign
First 'Giving Tuesday' participation & custom trivia challenge
First Educational Opportunities newsletter delivered quarterly
Looking ahead
The journey continues with much of the DA's focus in 2020 on the release of Drupal 9. Now that Drupal itself is 19 years old(!), we are uniquely positioned to celebrate this release as a significant step forward in the CMS landscape for Drupal.
The last 5 years of Drupal 8 have been transformative to the project, and the risks taken and the changes made in how Drupal is built have all culminated in what is shaping up to be an incredible Drupal 9 release.
With Drupal 8, the project switched to semantic versioning and a rapid, six-month cycle of new feature releases. Our new guidelines around backwards compatibility and code deprecations have made Drupal continually relevant, yet ensured that it remains stable and well-supported. And best of all, these changes together mean that the upgrade to Drupal 9 will be a simple one.
That's the story we're telling in 2020; the best way to get ready for Drupal 9 is simply to keep up with the latest releases of Drupal 8. This next major release will be easier for every stakeholder — and for site owners, upgrading to Drupal 9 will require far less effort than upgrading to Drupal 8, which is the true celebration!
There are other engineering initiatives underway in 2020 as well. We want to enable merge requests for Drupal code repositories. We're also hoping to continue the work we did on the Automatic Updates Initiative, and are seeking new partners to help move that forward. And we're always collaborating with the community, making small tweaks and usability improvements.
In 2020 the DA is striving to make diversity, equity, and inclusion a focus in our work. Staff will participate in an internal equity assessment of our systems and programs resulting in a DE+I workplan, as well as ongoing education on diversity, equity, and inclusion. Additionally, DA's leadership team will begin to develop external programs with the goal of welcoming more people from underrepresented groups into the Drupalsphere.
Thanks to so many individuals & organizations
We extend a hearty thanks worldwide to all the volunteers who work with us in so many capacities, and to the Drupal Association Supporters, who make it possible for us to work on all the aforementioned projects and plans. We are grateful to have a community centered around education, collaboration, and action.
Thank you all for being an essential part of our collective journey! Dries recently said this about the DA, and we believe it extends to our members:
"I've been impressed with how the Drupal Association keeps growing in its role and its impact on the Drupal project. You're working on so many important projects at the same time, and you do it with such passion, commitment and a big heart."