Carrie Lacina, the Drupal Association's Director of Fund Development, provides an update on fundraising efforts and program enhancements.
Hello! I'm Carrie Lacina, I've been at the Drupal Association for over 5 years in various Fund Development roles. I worked in the digital media and advertising space for 12 years before making the jump to the nonprofit open source world. At the Drupal Association, I enjoy engaging with a global community of organizations using or connecting with Drupal, partnering to solve their business needs while supporting the financial sustainability of the Drupal Association.
You may have read recent #DrupalCares updates from my teammates including Frequently asked questions, answered by Angie Sabin and Sustaining the DA through the COVID-19 crisis by Tim Lehnen. Today I'd like to build on their updates by providing information on new or enhanced fundraising program elements along with a general update on our progress.
But first, I'd like to say THANK YOU! I am overwhelmed by the outpouring of activity from individuals and organizations offering financial support for the Drupal Association. You have proven what I've known all along: Drupal is strong and together we thrive.
Why support the Drupal Association?
You probably know that Drupal will be fine and that open source projects, including Drupal, survive and even thrive during economic downturns. But the Drupal Association may not. Why does that matter? I appreciate how Matt Westgate framed it in the latest Lullabot Podcast:
Drupal the software will survive, that's the 'engine.' We will always have that and will continue to work on it. The Drupal Association is the 'car,' the vehicle to which we put the engine in, to make things move, with doors that open to include and invite other people into the project."

-Matt Westage, CEO, Lullabot
From an organizational perspective, open source contribution is essential to any business that relies on the project. The Drupal Association provides the tools to drive that success, but we need financial support to execute on our mission. By participating in Drupal Association programs, you directly support the Drupal Project, serve the global community and support its velocity and growth. Your support allows us to:
Maintain Drupal.org and expand how individuals and organizations can contribute and achieve recognition
Keep Drupal secure with advisories, documentation and releases
Drive initiatives for diversity, equity, and inclusion
Help the community follow the same path by bringing people together in person and online to collaborate and celebrate their Drupal successes
#DrupalCares Fundraising Update
We launched the #DrupalCares campaign in early April. It's incredible how quickly the community rallied to make a huge impact on our financial outlook:
26 DrupalCon Minneapolis sponsors have pledged to keep their marketing dollars intact with the Drupal Association in 2020
28 organizations have joined or upgraded their Drupal Association Supporting Partner program
More than 800 members have joined or upgraded their individual memberships
We've raised $228,000 in donations and matching challenges from Dries and Vanessa Buyteart and the Drupal business community, with a full week left to go.
We've made so much progress, and we're only $24,000 away from reaching our #DrupalCares Match Challenge! Please consider donating today to help us reach our goal. Any individual donations, increased memberships, or new memberships through the end of April will receive a 3:1 matching contribution to the #DrupalCares program, up to $100,000, for a total match potential of $300,000.
Drupal Association Program Updates and Enhancements
In addition to the $500,000 gap we are facing from the loss of DrupalCon Minneapolis net revenue, we anticipate a drop in our non-conference related revenue during an economic downturn. The Drupal Association has been working diligently to diversify funding while weaving in program changes and enhancements that continue to provide value and make it easier for organizations and individuals to invest in our mission.
Individual Memberships
Thank you to the new and renewing Drupal Association individual members! We've had an outpouring of support through this program and have heard your suggestions for how we can improve our membership options. Our team recently rolled out improvements to make it easier than ever to support Drupal as an Individual Member. In the last few weeks we have:
Implemented monthly recurring payment option for memberships, since it's often easier to give smaller monthly amounts rather than a lump annual sum
Enabled early renewals for recurring members who want to make an impact sooner
Added new tiers for individuals who have the capacity and desire to give more
Provided marketplace credit to organizations for each member of staff who has a membership
Please stay tuned for even more feature improvements, like:
Creating a mechanism to allow organizations to purchase memberships on behalf of their staff
Updating payment tools to support more currency types
Offering lower tiers for regions of the world that can't easily support the current levels of member pricing
Supporting Partner Program
The Drupal Association Supporting Partner program offers organizations a way to financially support our mission which includes Drupal.org. Thank you to our supporting partners, technology supporters, and hosting supporters – your continued support and generosity is crucial to the Drupal ecosystem.
Often seen as an infrastructure investment for organizations that make significant cost-savings by using a CMS with no licensing fees, the Supporting Partner Program has evolved over the years to offer even more benefits. From thought leadership, accreditation, networking opportunities, talent support and industry visibility – there's something to meet every organization's needs.
In an effort to grow participation from all types of organizations, we've launched two new Supporting Partner tiers. The "Community" Supporting Partnership is geared towards small businesses with fewer than 5 employees, while the "Enterprise" tier was designed with a focus on large organizations and their unique business needs. We've also added new benefits including complimentary Individual Memberships for staff and additional marketing opportunities on Drupal.org. You can learn more about the new tiers and benefits here.
Drupal.org Advertising & Sponsorships
We've heard your input about diversifying revenue away from DrupalCon even further. We are exploring additional advertising and sponsorships opportunities on Drupal.org over the next few weeks, please stay tuned for updates on our advertising programs soon.
DrupalCon North America shifts for 2020
You may have seen the recent news that DrupalCon Minneapolis was officially canceled due to COVID-19. Visit https://events.drupal.org/global2020/ to learn more about the cancellation and the launch of our first virtual DrupalCon Global event.
Thank you to the DrupalCon Minneapolis sponsors that have pledged to keep their dollars intact, regardless of the outcome of the event. Now that we have officially gone virtual, we are working on translating DrupalCon Minneapolis sponsorship benefits to DrupalCon Global 2020. We are weaving sponsor plans into our platform selection and program updates, which will be finalized at the end of the month. Stay tuned for updates in May!
Community Driven Fundraising Efforts
In closing, we'd like to thank and celebrate a few of the unique individual fundraisers happening throughout the community.
Gábor Hojtsy opened the individual community fundraising efforts with an offer to donate €9 for each module the community update to be compatible with the upcoming Drupal 9 release. The offer has been so successful that, after only a few days, the €900 Gábor put into the fund was running out and the fund was boosted to €2250 by donations from Ron Northcutt and Ofer Shaal.
Jeff Geerling was clearly inspired to create a video telling the world how important the Drupal project has been to his life, how helping the Drupal Association helps Drupal and making a generous offer to donate $1 for every person who watches and likes his video, up to $1000. Of course, now that donation will be tripled.
Kevin Kaland (that's Kevin with the amazing wizard's hat we all see at Drupal events) is the maintainer of the FillPDF module project and has a patreon page to sustain work on the module. He has pledged that, if you join his patreon page, he will donate double your subscription to the Drupal Association.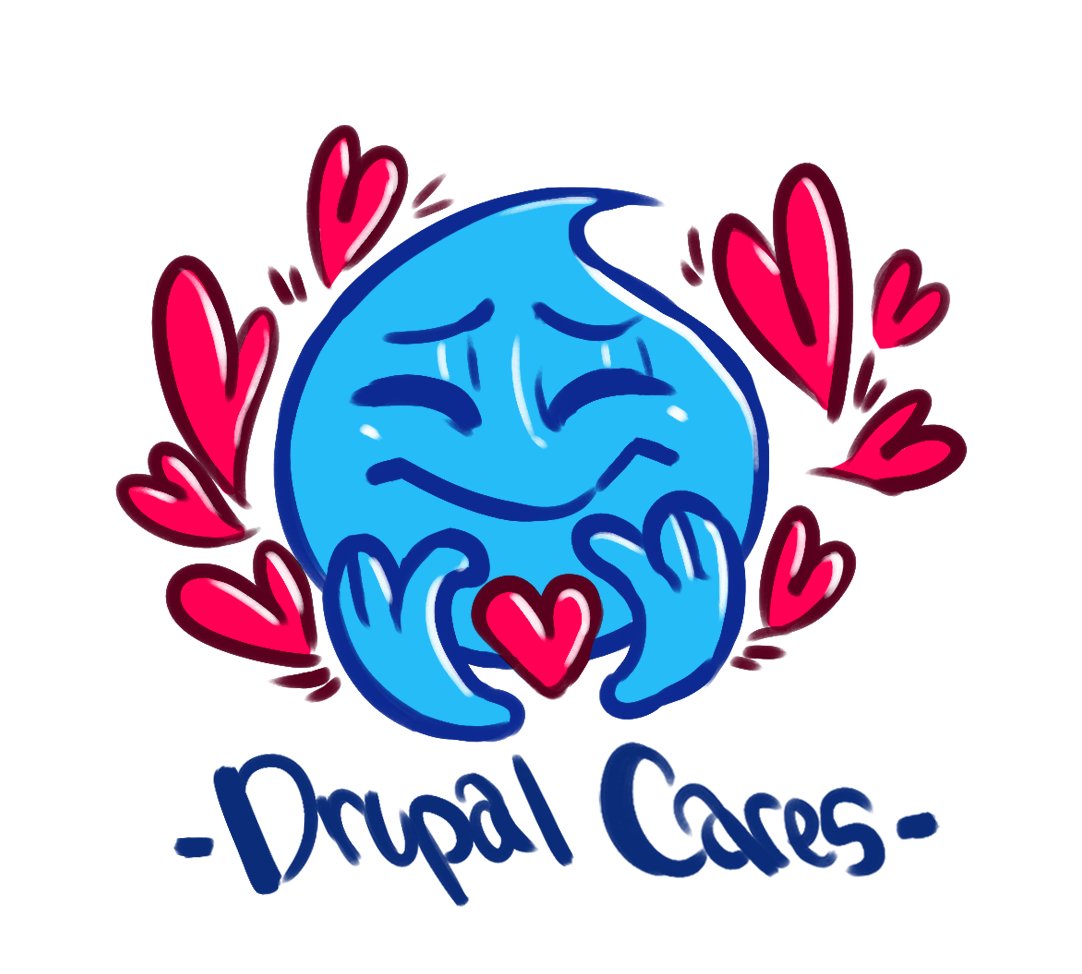 Finally, the community have helped in many other creative ways and these initiatives are still coming in. We were delighted to see that Kirsten Pol's son (who has his own d.o account, of course) made a special #DrupalCares mascot that we absolutely love!
And as a reminder, here are the ways you can help too!
DrupalCon Sponsors…
… can commit to pledging your full sponsorship to the Association, regardless of what shape DrupalCon takes this year. This will prevent the gap from getting wider.
Drupal Businesses…
… Can join the supporting partner program, or increase your partner level. Organizations can also make tax deductible donations above and beyond their partnership tier.
Individuals…
… Can join or renew the Drupal Association membership program, or make tax deductible individual donations.
Everyone…
… can help us get the word out! The Drupal Association has deep, deep roots within the community, and tight relationships with those of you who build your livelihoods on Drupal. Unfortunately, there are 10 times as many end-users of Drupal out there who may not even know that the Association exists. Would you leverage your networks to help us reach them?