Diversity, Inclusion and Drupal: A triangle of great relevance
Shankar
Sun, 05/03/2020 – 16:38
Time and again, we are reminded of the adage: "There's unity in diversity." Contemplating this deeply would make one realise the vastness of this statement. Depending on the region of the world you operate in, diversity may connote issues of religion, race, nationality, ethnicity, class, gender, age, sexual orientation or physical ability. It may constitute all of these or none of them. To formulate a perfect diversity and inclusion (D&I) strategy that is really global in nature, one has to understand the culture, politics, economics and relevant legislation within the regions. Taking diversity and inclusion global is not about the distribution of certain programs but about creating a movement that holds D&I as a fundamental tenet.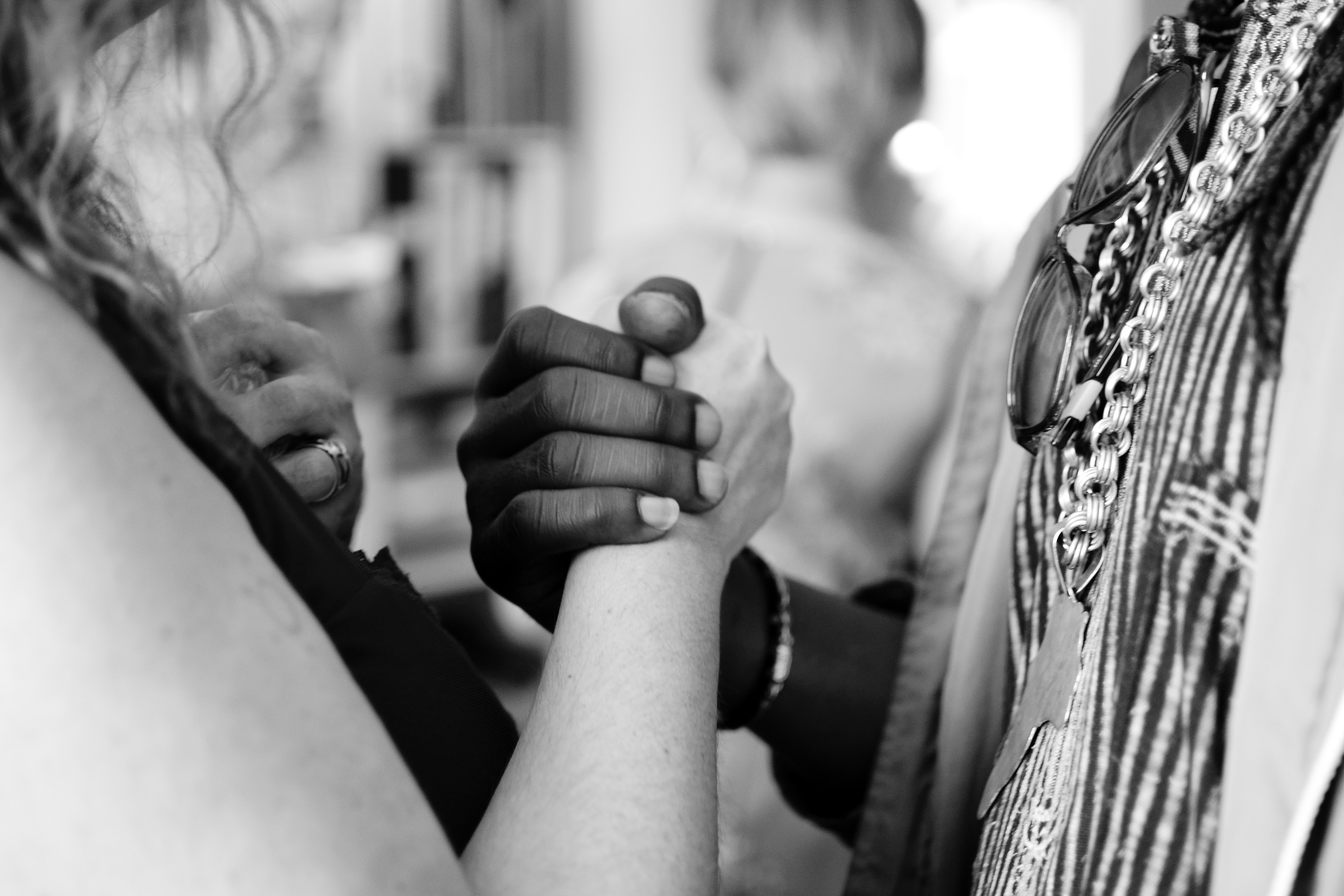 Defining, leveraging, and measuring diversity and inclusion is of great relevance. More than ever, businesses, governments, nonprofits and other institutions have been putting a lot of emphasis on the adoption of a global mindset in order to remain viable and relevant in the global marketplace of this day and age. Diversity and inclusion practitioners have been perpetually engaged in assisting people from all backgrounds to hear and be heard, understand and be understood, and work in unison with higher levels of productivity.
Open source communities have been at the forefront of this work. Building a diverse and inclusive community is increasingly becoming a top priority of open source enthusiasts. Drupal, one of the market leaders in the world of open source content management systems, is also backed by a strong and growing community that embraces the principles of D&I. From workplaces to open source communities, the D&I factor has been very impactful. To understand how the open source community, the world over (Drupal, in particular), is grabbing the plate full of diversity and inclusion strategies with both hands, we need to look deep into its immense necessity and importance.
Richness of diversity and inclusion
Diversity is a powerful term and calls for empowering people. It emboldens the idea of respecting and appreciating what makes a person different from another. Exploring the differences in a secure, positive and nurturing ecosystem is the basic principle of diversity.
When you talk about inclusion, you talk about a sense of belonging that a person, no matter what socioeconomic status or ethnicity or race or any other criteria he or she belongs to, feels in a community. People feel valued and respected which makes them put their best put forward and lend immaculate performances.

It's the leadership group that can make a massive impact. Every individual leader, both intellectually and emotionally, needs to buy into the value of belonging. In other words, you can call it empathetic leadership. It's a critical starting point. It makes a person, who is part of the leadership group, remember the times when they were excluded, shamed, or interrupted. Tuning into empathy can make a person understand the feeling of being excluded or making others feel excluded. When you have a strong leader, who embraces D&I principles, practices them, and enables others to choose this path, you can expect behavioural changes to kick in and culture reset to happen. According to Deloitte, following characteristics, interrelated and mutually reinforcing, defines a good leader.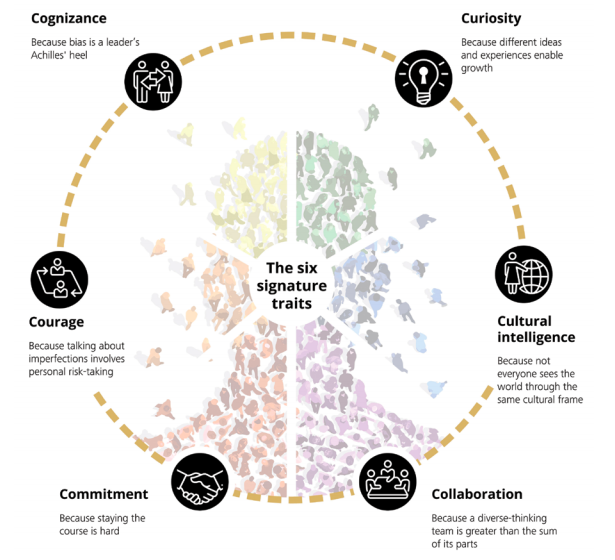 The importance of diversity and inclusion at the workplace has already been realised by top companies and necessary steps have been taken. If you look at the financial sector, for example, D&I remains a higher priority according to a global CEO survey. This, they believe, would eventually pave the way for newer talents.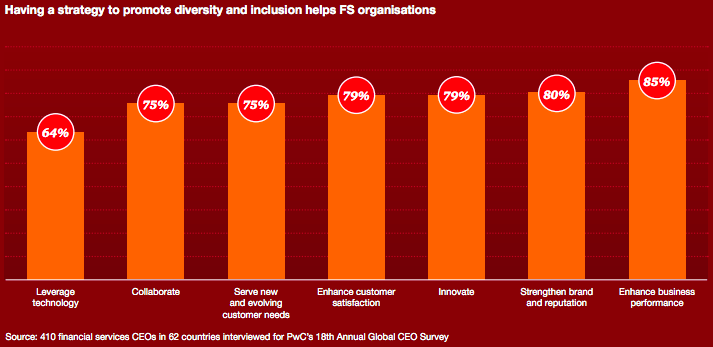 As one of the largest media networks, BBC has chalked out a clear-cut plan of making diverse thinking and inclusive action as its elemental parts.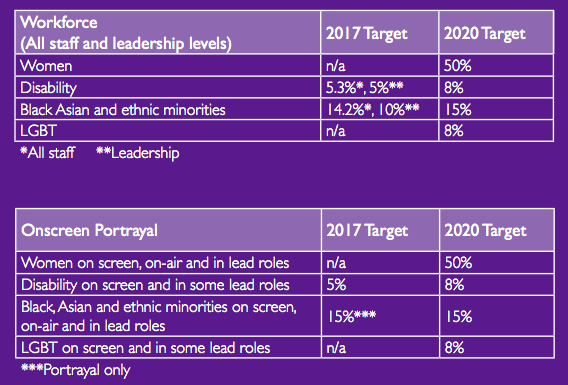 Another industry giant, Nestlé, has also made discernible commitment to embed diversity and inclusion across everything that it does with a primary focus on culture, innovation and society. Action plans for creating a gender balance, promoting cultural agility, empowering different generations at the workplace, supporting people with disabilities, tackling discrimination against LGBTQ+ community, and so forth, have been increasingly emphasised upon and put to work.
Open source communities embracing D&I
Technology that has taken birth with the help of homogenous groups has shown to be negatively impacting the women in the past. Amazon had to scrap an AI recruiting tool as it showed bias against women. Back in 2014, menstruation was not included as a health metric in Apple's health tracking app. And, a story on Vice stated how the prospect of fully artificial heart implants seemed exciting for men and not for women as they were not designed to fit women. Therefore, while building open source software, diverse participation can ensure equitable outcomes.
While building open source software, diverse participation can ensure equitable outcomes.
The importance of diversity and inclusion has been coming to realisation and large organisations have already been trying to make sweeping changes to make their workspaces more diverse and inclusive. 78% of organisations, according to a report on ZDNet, are running all part of their businesses with open source software. So, in addition to organisations, open source communities need to imbibe the principles of D&I.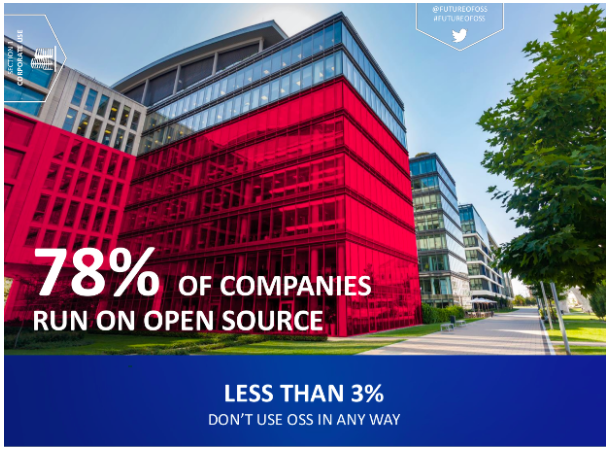 It's true that anyone who wishes to license an open source project has to agree, among other things, to not get involved in any discriminatory action. However, it is easier said than done. For example, in a GitHub survey, which is the world's leading repository of open source code, over thousands of open source users and developers across the globe were asked questions on a range of topics. Of that randomly selected cohort, 95% of the respondents were found to be male, 3% as female and 1% as non-binary.
Let's put it this way: Only the scanty vestiges of the day have come in through the open door. In spite of a faint shimmer of light in the hall, the doorway yawns impenetrably black. Open source has work to do. A lot needs to be done because the obstacles faced by the under-represented groups in the open source fraternity are piling up. The position, they are finding themselves in, can't be addressed through a single lens or strategy.
In spite of a faint shimmer of light in the hall, the doorway yawns impenetrably black.
The positive sign is that the open source world has shown tremendous improvement and has been proving their commitment to D&I. To start with, there's a collective of people called Open Source Diversity that is working on driving more D&I initiatives in free and open source software communities. It has laid down the basics that can help make an open source project more friendly and inclusive. For instance, the Open Source Diversity prescribes the usage of the Contributor Covenant. This is a code of conduct for open source projects that is created to overtly welcome everyone to contribute to open source software.
Mozilla, in 2018, to promote D&I within their ranks and their work, prepared an action plan for making the code review process more egalitarian and subvert unconscious gender bias.
The Linux Foundation takes a lot of pride in being an open, friendly, and accessible community for new participants and doesn't leave any stone unturned to show the world the proof of that.

Open source meritocracy, where there is recognition and decision-making on the basis of work or talent that a person can contribute to the project, is something that Tor firmly believes in and likes to put to practice. This is why it started the Global South Initiative to improve diversity, inclusion and equity in the work that it was doing and get more people from the 'global south' to be involved in the Tor community.
GitHub, to cultivate a culture of inclusion, provided training to its managers on the best practices of promoting inclusivity and established a recurring dialogue between its Leadership Team and its Inclusion Advisory Council.
The Apache Software Foundation has ambitious plans too. It wants to become the most equitable open source foundation in the world.
In a bid to promote nonprofits that are dedicated to education, inclusiveness and skill-building for under-represented groups, IBM even awarded $50,000 to Girls Who Code for the latter's terrific work on increasing the number of women working in computer science.
Drupal's contribution to promoting diversity and inclusion
It's more strategic than arbitrary when it comes to the efforts of the Drupal Community to promote D&I. There has been a year-on-year statistics aggregation happening to check how Drupal's development is being sponsored.
In an in-depth analysis report of 2018-2019 edition, characteristics like gender diversity and geographic diversity were analysed. The data showed discernible gender imbalance in Drupal and underscored the need to continue fostering D&I in our community.

When measuring geographic diversity, it was seen that Europe and North America continued to contribute more and more to Drupal but the contributions from Asia were declining year over year.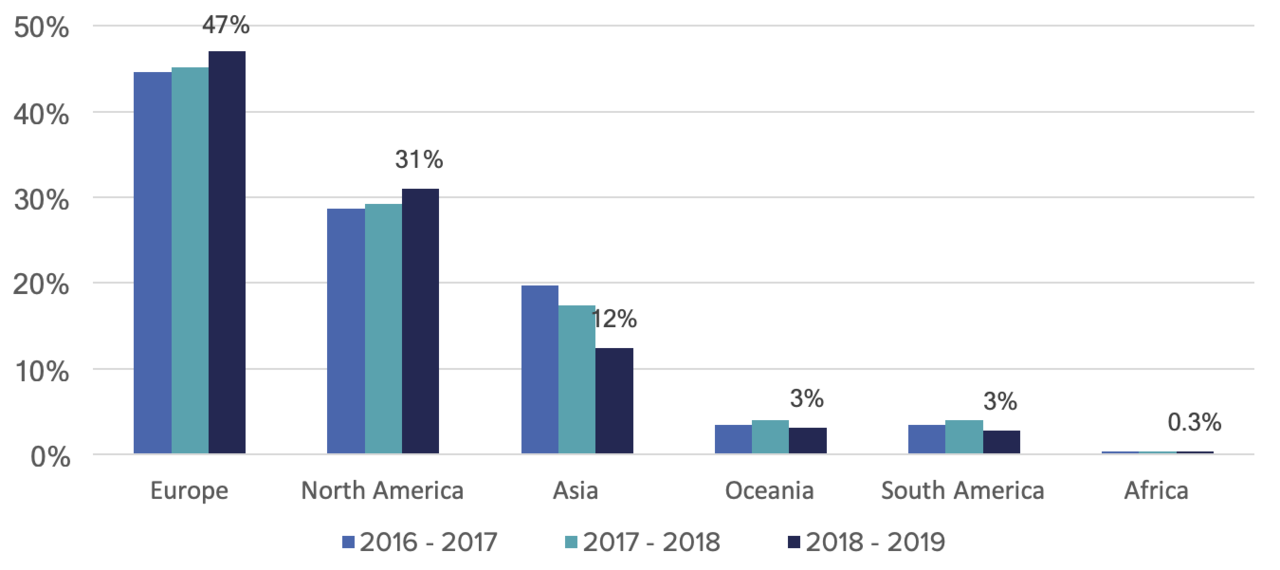 Before exploring Drupal and its various efforts of creating a sense of belonging among its community members, let's go across the pond and check out WordPress Community's efforts.
With a clear hegemony over the market share, WordPress, as an open source CMS, is powering the most number websites around the world. (Drupal wins on the security front.) It's the big players in the open source CMS market, like WordPress and Drupal, who need to show the way forward. WordPress has been working on making its community more diverse by driving some splendid initiatives. They have developed a workshop, for example, that trains women and other people from traditionally underrepresented groups in technology. They help them out to present sessions at conferences. The sole aim is to see more underrepresented groups as speakers and bring about a real change in the speaker roster for their annual conferences. WordPress has also been very supportive of its LGBTQ+ community and has been celebrating Pride Month every year. In short, WordPress is doing great work.
There's a reason why we talked about WordPress (a competitor to Drupal). When it comes to the question of diversity and inclusion, open source communities work together to increase the number of participants and contributions from marginalised and underrepresented groups. Jill Binder, who has been at the forefront of major speaker diversity improvement programs within the WordPress community, helped the Drupal Diversity and Inclusion Contribution Team with its efforts.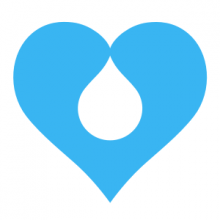 DDI is an independent collective within the Drupal Community that champions a number of initiatives to foster a welcoming and inclusive culture everywhere Drupal exists – from events to online meetups to workplaces. Jill helped DDI organise a speaker diversity workshop in September 2019 to help people from underrepresented groups to prepare for submitting talks to global events.
To make sure prospective and existing community members are treated with respect, Drupal has instituted a community-wide code of conduct. Drupal's Community Working Group's documentation includes clear guidelines for:
Handling the conflict between you and another contributor
Escalating the conflicts to this Community Working Group if an issue feels unresolvable
Reporting the cases of harassment no matter if you are the victim or an observer of it
To make the Drupal project accessible to a diverse user base, it has a Core Accessibility Gate which has to be passed before any patch can be shipped.
With a majority of demographic surveys requiring users to conform to restrictive identity fields and alienating underrepresented groups, the Open Demographics Initiative wanted to develop forms that are more inclusive. In addition, it wanted to give people more authority over the data they think is right to be revealed. Therefore, the Drupal Association planned to implement Open Demographics Initiative's recommendations on Drupal.org. It collaborated with the Open Demographics team for adding the recommendations to the user registration process on Drupal.org.
Dries Buytaert, the founder and project lead of Drupal, firmly believes that "everyone deserves the opportunity to contribute". He encourages Drupalists to inspire and enable a new, diverse group of people to contribute to Drupal through Drupal Core Mentoring. He also advises leveraging the Drupal Apprentice Initiative by TalentPath that can help businesses in building a diverse talent pipeline through apprenticeships.
Major events like DrupalCons and DrupalCamps gather a range of citizens of the Drupal ecosystem to learn, share and collaborate together. The perspectives, vigour and diversity of experiences these participants share make these conferences invaluable. These Drupal events ensure that everyone, no matter who they are or where they are from, is invited to attend.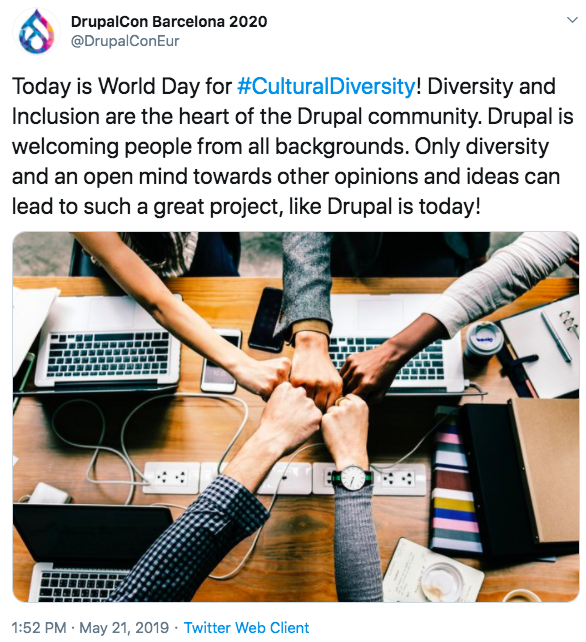 These Drupal events have made it a priority to include D&I as an important element to be tracked, measured and improved. For instance, DrupalCon Seattle 2019 saw an increase in the number of sessions submitted from underrepresented groups.


Final note
Open source community carries a great potential to transform society for the better. The more diverse and inclusive an open source community is, the stronger, vibrant and ambitious it is in its approaches. Drupal is making giant strides. A lot of positive signs have emerged in the recent past to make the Drupal project better.
Drupalists have to constantly work on making the Drupal ecosystem a place where people from all walks of life can participate and contribute their knowledge and skills.
OpenSense Labs embraces the principles of diversity and inclusion and ensures that it sets an example of an organisational culture eloquent of wonderful diversity at the workplace. Ping us at hello@opensenselabs.com to explore the wonders of promoting and embracing D&I.
blog image