Read our roadmap to understand how this work falls into priorities set by the Drupal Association with direction and collaboration from the Board and community. You can also review the Drupal project roadmap.
Project News
Drupal 9 will be released on June 3rd, 2020
Despite the disruption of a global pandemic, the Drupal community has beaten the odds and Drupal 9.0 is on time for it's scheduled release window on June 3rd, 2020.
Drupal 9 represents the culmination of all of the features developed over the course of the Drupal 8 lifecycle, as well as the realization of the project's commitment to easy upgrades.
Drupal 9 beta 3 is available now, and the first release candidate will be available soon. We encourage you to participate in the Drupal beta test program, to help us ensure a smooth release.
Drupal 9 porting weekend from May 22-23
With the release of Drupal 9 only a couple weeks away, the community is coming together to support the effort to get modules ready for Drupal 9. After a successful Drupal 9 porting on April 28th, nearly 75% of the top 200 most used modules are already Drupal 9 compatible. Never before has so much of the contributed module ecosystem been ready even before the new release.
If you'd like to join in on the Drupal 9 module porting weekend, community member @kristen_pol has written a guide to the event.
New Drupal Brand assets available
The Drupal Association was very pleased to announce a new evergreen Drupal brand in time for the release of Drupal 9.
What does 'evergreen' mean?
The new branding is evergreen in the sense that it is no longer tied to a specific major version of Drupal. Whether for Drupal 9, Drupal 10, and beyond this new brand can remain the consistent identity for Drupal. This parallels the Drupal project's own development philosophy, where major version upgrades should no longer be a difficult process for end users.
With these new brand materials we hope to be able to unify the presentation of Drupal throughout the ecosystem, and help reintroduce Drupal to the world when the project inevitably gains more attention during Drupal 9's release.
We encourage you to begin using the new brand within your own materials as well – to support this effort.
Automated Deprecation Patches to port your module to Drupal 9
The Drupal Association is working together with the Drupal Rector team from Palantir and contributor Tedbow from Acquia to provide automatically generated Drupal Rector patches for all the projects on Drupal.org.
As of April, these patches are already available through DrupalCI. In May we hope to begin having a bot automatically post these fix patches to Drupal.org issues
More Drupal 9 Readiness tools
Drupal.org Updates
Events listing feature on Drupal.org
As we spoke about in last month's update, we've been working on a Event Listing Content Type on Drupal.org to help replace the aging Groups.Drupal.org subsite, and to support our global community by providing a central repository of events.
The new event listings are nearly ready for user submissions, and to feed existing community tools like Drupical.com.
If you'd like to add your events, reach out to rachel@association.drupal.org to be added as an early event editor for this new feature.
Respectful Advertising
The COVID pandemic and its impact on DrupalCon has only emphasized the need for the Drupal Association to further diversify its revenue sources. We've made significant strides over the last several years, but as we've heard from many of you, that work must accelerate.
We've made a few changes over the course of April to start accelerating this revenue diversification:
In the most noticeable change, we've partnered with CarbonAds, a network that focuses on advertising to technical audiences, to create placements on Drupal.org.
These placements are hidden for Drupal Association members, so this program also helps promote DA membership as well, and does not put advertising in the workspace of our committed supporters.
Enhanced Membership Options
Speaking of membership – we also made some major overhauls to the Drupal Association membership program during the #DrupalCares campaign. Many members of the community reached out to us asking for more options for supporting the Drupal Association through membership, and we were happy to accommodate those requests.
There are now new membership levels for annual renewal, and we've also added a monthly membership option, which is now the default. We hope to continue to expand the membership program and its benefits to further support our fiscal stability in the future.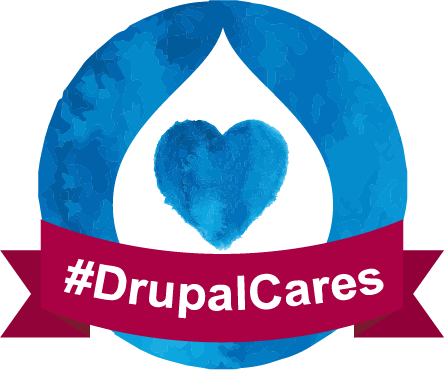 A special thanks
———
As always, we'd like to say thanks to all the volunteers who work with us, and to the Drupal Association Supporters, who make it possible for us to work on these projects. In particular, we want to thank:
If you would like to support our work as an individual or an organization, consider becoming a member of the Drupal Association.
Follow us on Twitter for regular updates: @drupal_org, @drupal_infra