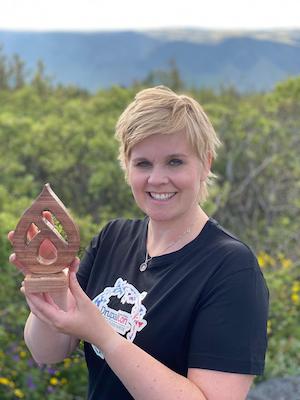 During DrupalCon Global, the members of the Drupal Community Working Group announced the winner of the 2020 Aaron Winborn Award, Baddý Breidert (baddysonja).
The award is named after a long-time Drupal contributor who lost his battle with ALS in 2015. This award recognizes an individual who, like Aaron, demonstrates personal integrity, kindness, and an above-and-beyond commitment to the Drupal project and community. Previous winners of the award are Cathy Theys, Gabór Hojtsy, Nikki Stevens, Kevin Thull, and Leslie Glynn. Current CWG members, along with previous winners, selected the winner based on nominations submitted by Drupal community members.
Baddy has been a member of the Drupal community for over nine years, and is the co-founder of 1xINTERNET based in Germany, Iceland, and Spain. She has been a relentless force for good in the Drupal community as one of the co-organizers of Drupal Europe 2018, Northern Lights and Solstice DrupalCamps (Iceland), local and international Splash Awards, and as an extremely active member of the German Drupal community. She is also currently a member of the Drupal Association Board of Directors.
Multiple people nominated Baddy for this award. Here are some of the things they said:
She has consistently and tirelessly worked for the good of Drupal across event organisation (Drupal Europe), in Drupal Agency life promoting Drupal to wider audiences and running an ethically grounded business (which contributes back in bucket loads).
She has been an amazing force in so many areas to even count. As a community organizer on crucial events like Drupal Europe to [foster] a contribution culture at her company. Then spreading the word about how that makes the best business sense. She cares so much for diversity and inclusion at her company and in the Drupal community as well.
This year, there were 22 individuals nominated for the award. In the coming weeks, the CWG will be contacting all nominees to let them know of their nomination and thank them for their continued work in the community.
In addition to the physical award shipped to Baddy, she was also provided with a free ticket to DrupalCon Global which she graciously donated to Surabhi Gokte. The physical award that was hand-crafted by Drupal community member Bo Shipley (simplyshipley).
Nominations for the 2021 award will open in early 2021.