Visual Design Inspiration: Design Discovery
Shalini Rawat
Mon, 08/17/2020 – 17:31
''Even the most efficient product teams take a moment and ask themselves, are we designing the right thing?''
The world we live in seeks for the most creative and interesting design projects for virtual pleasure. It is often believed that projects are successful when the design is the tip of the spear. Sometimes it is difficult to make good decisions in the middle of a project when so many things are in flux. Therefore, it is usually recommended to perform discovery at the beginning of a project to deeply understand the problem or opportunity that needs to be solved. The Discovery phase of a project is an important step in determining the best path forward for the design as well as to develop the best solutions.
An in-depth discovery is a secret weapon for discovering the real user of the websites. In other words, it allows us to deliver a project that perfectly meets the client's goals and the user's needs. This particular phase reveals the real pain points that people are experiencing, accompanying the thoughts and feelings someone develops as they use a product. Most importantly, the discovery phase unveils the curtain surrounding the how's and why's. 
The article sheds spotlight on the design process that can help you build a strong and reliable design. Further, we will be navigating you on a tour to design discovery and the various ways to strengthen designing. So, without further ado, let's jump right into the article!
Designing Process
Designing isn't easy as it sounds to be and can take a lot to do when it comes to building a strong structure and a clear path to completion. The design process, when applied in the right direction, is the best way to unleash a series of steps or sequences of activities, which can lead you to the predetermined goal. Let's take a look at the phases that can set your team up for success and create great experiences for users.


Discovery phase
First things first, a discovery phase is a research period that has to mark the beginning of each project you embark on. To derive the best outcomes, you need to devote enough time to discovery. To be clear, the more time you invest in discovery, the more and better solution you will find about a problem that you wish to solve. There are two types of discovery: feature/functional discovery and design discovery.
Feature/functional discovery: This discovery is usually conducted by UX analytics. The main objective of this discovery is to collect all requirements for a future product, research the current state of a market to find the competitors, and eventually establish a technological stack for a future product.
Design discovery: Generally, this discovery is conducted by designers. Designers perform research to gather information forming decisions that can be applied to a particular product. The goal during the discovery stage is to connect the information from both discovery processes together and create a robust product design direction. 
Ideation phase
Ideation is the third and often the most exciting phase which aims to generate a large number of ideas that the team can filter and cut down into the best, most practical, or most innovative ones to inspire new and better design solutions and products.
Prototyping
Prototyping is an essential part of the design process which comes right after the ideation phase. Prototyping is an experimental process where design teams implement ideas into tangible forms from paper to digital. With prototypes, you can refine and validate your designs so your brand can release the right products.
Testing
Last but surely not least, the testing phase plays a pivotal role in the designing process. The idea to implement the testing phase is the fact that we are not users and therefore by no means, we can conclude that the product is fit to use by the consumers. No matter how good we are at design, there will still be moments that require additional polishing after a product reaches the market.
Digital projects are long, complex, and thorny issues, where quick fixes, while they look obvious, are rarely the best way forward. Here, the discovery phase acts as a bedrock and plays a major role in solving real user problems. Further design discovery can help you mitigate or erase those sorts of problems, because it focuses on understanding the reality of other relevant stakeholders, rather than assuming that reality. Let's dive a little deeper and discover the design discovery, and why you shouldn't skip this phase.
Design Discovery: In detail
Design discovery isn't something new in the marketplace rather it's something that we have been chewing on for a long time. However, it is also true that to design better and more useful products, we need to stop designing solutions too early and start instead with product discovery, a process that helps us comprehend the problem in a manner that we don't just design things better, but design better things.

The objective undoubtedly revolves around the product design incorporating its features, dependencies, and related priorities, however, it is equally important to close the gaps that exist in our knowledge. And this brings us to the point of discovery wherein we provide us a pool of knowledge, a product definition, and vision, and a starting point with the help of research, talking through ideas and critiquing each other's work. Design discovery is a blend of knowledge that an individual and team produces to derive work. There are six things that discovery leads to:
a problem: what do you want to fix
an objective: what is the solution that you want to achieve
context: what adds constraints to the design process
a big idea: the key idea that ties everything together
rules: principles and guidelines to drive your process
models: representations of the experience to help with inspiration, consideration, and testing
This description of design discovery positions it as a linear process that is governed by the tension between understanding and solving a problem. Furthermore, the process of design discovery can be looked at for the Tools, the Process, and the People. 
Tools
The design gives us tools which further gives us the power to uncover and clarify problems and to explore a direction. We are aware that successful creative endeavors depend on various environmental and psychological factors working together to achieve ideal chemistry. Therefore, it becomes important for us to choose activities that balance these environmental and psychological factors:
Environmental: Activities should allow accidental clashes between ideas, BUT they also should give individuals quiet space to filter those ideas through a group of people.
Psychological: Activities should give people access to exploring lots of ideas, BUT these ideas should be given to critiques to fuel the creative process.
Process
Nowadays, design projects come in all shapes and sizes. Teams are dividing their work in many different ways, chunking into phases or sprints. Discovery is something that can be carried outside the confines of a particular methodology or project structure. In other words, even though the discovery lists down its objectives, it doesn't care how you accomplish them. It only calls for four things:
collecting information you don't currently have
processing that information into context meaningful for your assignment
exploring possible directions based on that information
focusing those explorations to a single direction and plan of execution
People
It can be a strenuous task to convince other people to adopt the Discovery "mindset." On the surface, you're admitting you don't know the solution, don't understand the problem, don't know the right priorities, and aren't sure about the plan, which is not a place people like to be. Ignorance is risky. But people with this attitude don't have to play dumb. On the contrary, you're asking people to be smart, not to be led by the first idea that pops into their head or preconceptions or the highest salary in the room.
The essential Discovery mindset comprises three characteristics:
Skepticism: People who take participation in the process of Discovery are required to question assumptions to ensure that they are not taking anything for granted. And if they do that, it's probably because they have deliberately decided to do so to increase project efficiency.
Curiosity: Discovery demands people who are insatiably curious about the domain and context of their product. Curiosity results in a lot of questions about things that you might think you already understand.
Humility: If you are humble enough, there is no more for fear to ask questions that seem naive or uninformed. Discovery is often fuelled when people become hungry for more information and avoids automatically prioritizing their preconceptions.
Also Read: The significance of writing for designers
Ways to strengthen Design discovery 
Undertaking a designing process is usually a significant investment for most organizations and one that is expected to provide a decent financial return. But as with any investment there comes risk, and as someone responsible for that project, you will want to minimize that risk. Therefore, we have outlined some of the most efficient ways that you can refer to strengthen design thinking.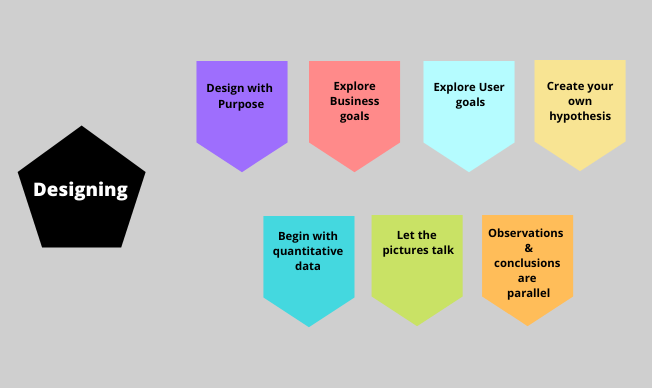 Design with Purpose
There is a reason nearly why every element you're starting right now (on your computer or mobile device), was designed the way it was. In other words, the reason behind the design is to attract or detract the eyeballs, to help click on something or ignore it. Since the purpose is not a new concept and everybody, everywhere—is talking about it, being a designer, it becomes important to consider certain factors before putting any pixels on the canvas:
1. Who are the users we are designing for?
2. What are the prime tasks those users want to accomplish?
Understanding the answers to these questions can help you create your design decisions in a much effective manner. 
Also Read: Importance of gender-inclusive web design
Explore Business goals
There is nothing wrong to say that designing should ensure that adequate time is dedicated to explore and meet business goals. Typically, one of the quickest ways to establish business goals is to host a stakeholder workshop with key project stakeholders. The aim of the workshop is to get the maximum number of participants from across different business functions as possible under a single roof to discuss the vision for the project (Marketing, Finance, Digital, Customer Services, and Sales).
The core purpose of the stakeholder workshop should be:
To uncover the Current State 
To define the Desired Future State 
To align all stakeholders on the Vision for the project.
Explore User goals
Discovery is just not about understanding what the organization wants rather it oscillates between what users actually want and need. Having a clear idea of the consumer needs can help you derive answers to the questions you are looking for. Moreover, it can help you select the right research method as per the available budget. Exploring consumer needs can allow you go into the room with a baseline understanding of the organization and its users and some common pain points. 
Following are the examples that may need to explore:
How many users are interacting with the current product?
How do users think your product compares to a competitor product?
What are the most common friction points within the current product?
How is the current product's performance measured?
Do users struggle to find certain key pieces of information?
Create your own hypothesis
t is not humanly possible to learn everything based on research, analysis, exploration, and planning that takes place within a couple of months. Discovery is practical in nature and there are chances that the concepts that go unexplored, the questions that go unanswered may call for action in the near future. Therefore, it is beneficial for you to give names to these assumptions which can form the base for further research.
Begin with quantitative data
Quantitative data can tell you a lot about user habits, so it's always best to be familiar with the analytics before beginning the qualitative data exercises. Quantitative data is the reflection about how users interact with an existing website or application. Your qualitative findings may validate what you've found in the quantitative data, or it may unfold a whole different explanation.
Let the pictures talk
A picture is worth a thousand words. You can use pictures to disseminate the idea behind your piece of work irrespective of the fact that you are still learning designing. Pictures serve as a great tool that help humans to grasp and understand the problem in a much easier way. Remember discovery is your opportunity to create the tone for the project. Therefore, there is nothing to feel worried about setting untested precedents. Not to mention, design is constant iteration, revising assumptions, and incorporating what you learn.
Observations and conclusions are parallel
The observations you have collected aren't independent in nature; rather they are directly related to the conclusions you have derived from gathering the information and exploring possibilities. As a result, it becomes important to use the observations to remind yourself how you got to a conclusion. The reason being, these connections explain not just where you got it, but why it is important for you.
Also Read: How to build a design system at scale
Conclusion
It's no secret that design discovery is the pillar of any successful company website. That is to say, a well-designed website is capable of driving traffic to the brand, guiding users with targeted content, and acting as a vital tool to engage with the broader community. Not to mention, it is one of the perfect ways to establish your brand identity and grow a loyal following. Certainly, more and more organizations are catching on to the fact that ensuring the website is rich with relevant, interesting, and shareable information, as well as being visually and aesthetically engaging is worth investing the time and money in!
Want to learn more about what makes a great website design? Ping us at hello@opensenselabs.com and our experts will help you discover the same.
blog image