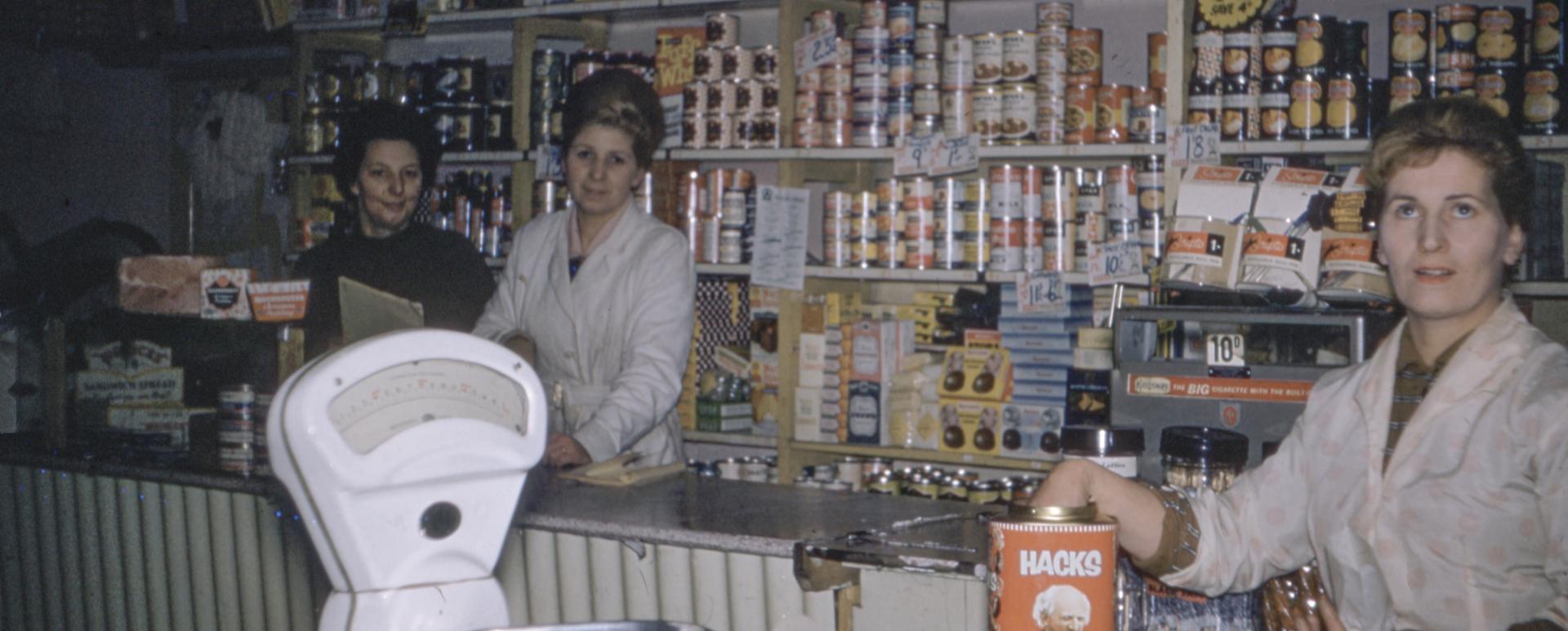 On July 13, we released another version of the Droopler distribution. In version 2.1, we focused on the functionality needed by many companies nowadays – we have added e-commerce. Check out what exactly the new version of Droopler – one of the most popular Drupal distributions – brings. 
Why e-commerce?
Recent months have forced many companies to switch to online sales. Since March 2020, the number of searches for the phrase "e-commerce" in search engines has increased significantly. More and more companies are looking for ready-made solutions that will enable them to conduct sales via the Internet.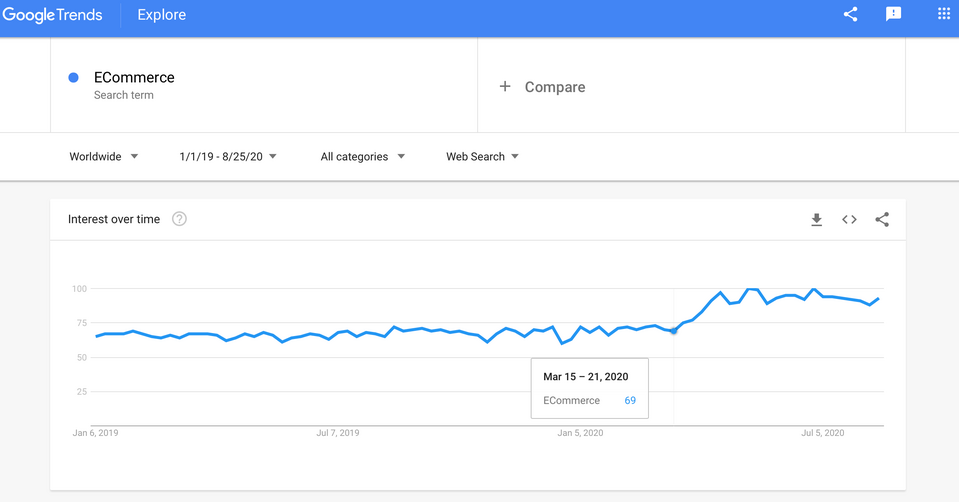 Therefore, at Droptica we have decided to introduce a ready-made e-commerce functionality to the Droopler system. As in previous versions of Droopler, also in the case of e-commerce, our goal was to create a functionality that is nice-looking, easy to manage and ready to use right after installation. 
We provide all this for free and as open source code. 
E-commerce in Droopler
Droopler is a distribution in which we try to use the best Drupal core elements and the best Drupal modules within one system. We combine them into a coherent whole that is convenient to use and add a ready-made template adapted to mobile devices.
That is why in version 2.1 we have used the module  Drupal commerce and we have created a ready-made online store on its basis. We have added one example product type and created a product listing. 
Everything looks very nice right away; you do not have to worry about graphic designs or creating CSS styles. This is already done in Droopler 2.1
Check out the demo version
We have also prepared a new demo version showing the e-commerce capabilities of Droopler. Just go to the website https://droopler-commerce.droptica.com and see it for yourself.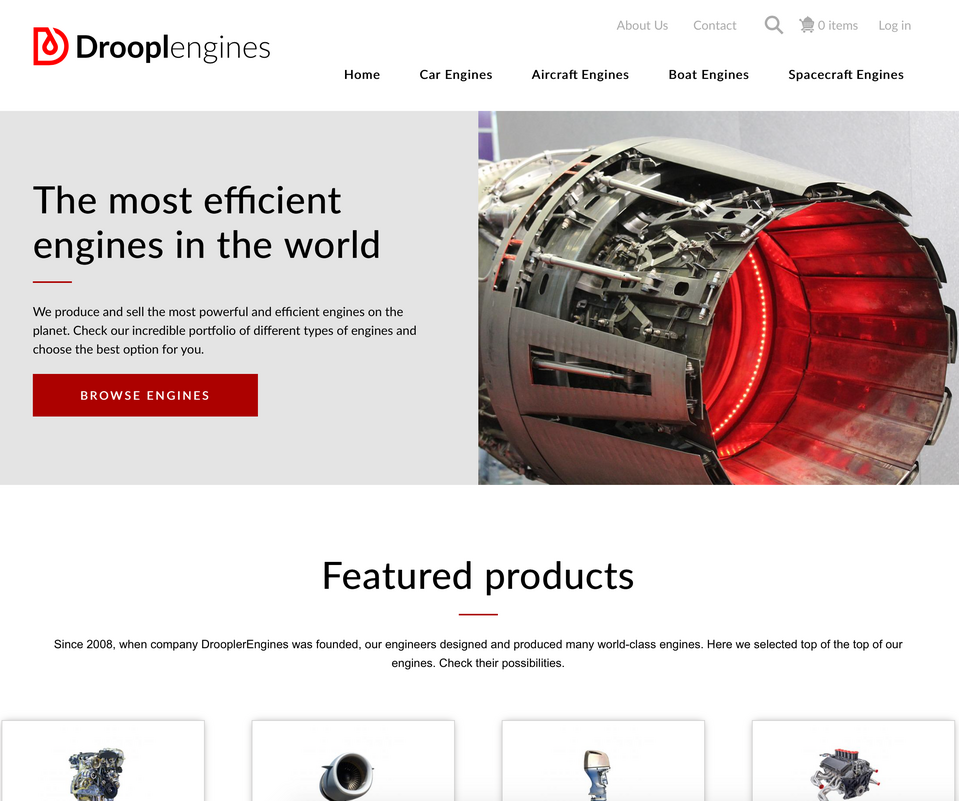 On the home page consisting of paragraphs, you can see selected products. This is one example of how you can promote selected products. 
The list of all products can be found on the website https://droopler-commerce.droptica.com/shop This list is based on the Views and SearchAPI modules. On the left side, you can filter products by category (faceted search). 
Sorting options are available above the product list. The user can change the order of the products being displayed according to their needs.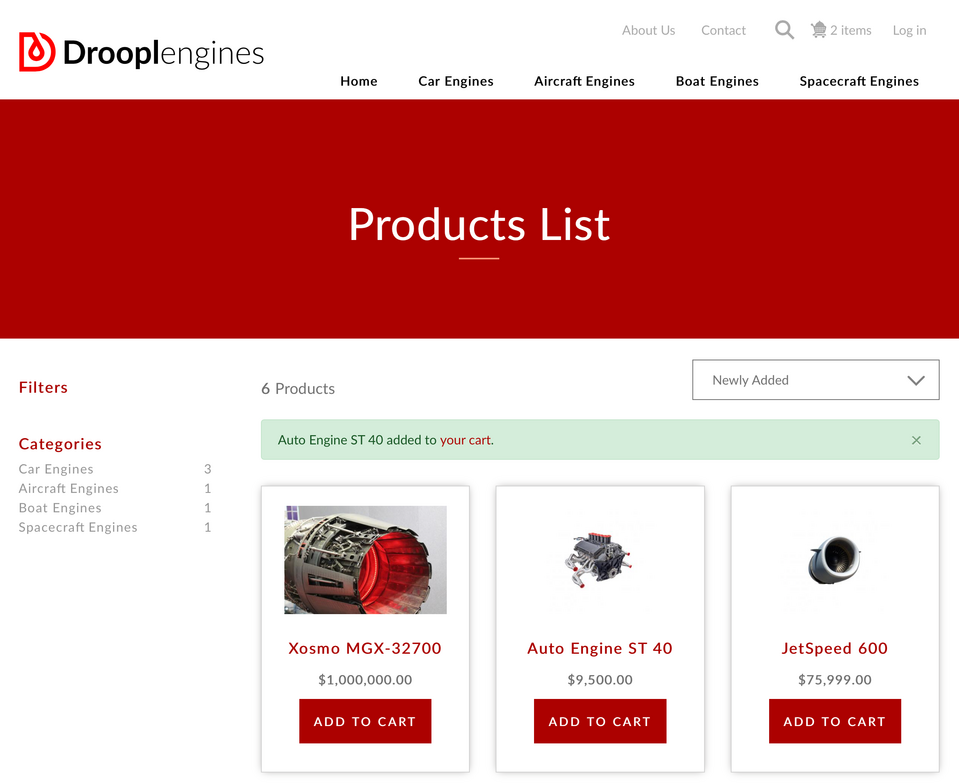 When visiting the page of a given product, you see a photo gallery, the product price, the option to add it to the cart, and its description.
The basis is Droopler, so the editor can add any of the 16 existing paragraphs to the product description and make the product page look very eye-catching.
In the header of the page, the user can see the number of items in the cart. From there, they can go to the purchase page and complete the order.
Purchases can be made as a logged-in user and as a guest. 
You can go ahead and test all the purchase steps by clicking around the demo version. 
Adjust the system to your needs
Droopler is based on Drupal, so you can adjust it to your needs. You can also do this with an e-commerce system built on Droopler.
Do you need an online payment system? No problem – there are over 100 free payment modules.
Do you need dedicated shipping options? You can find an appropriate module for this also.
All modules can be found on the website https://www.drupal.org/project/project_module
While working on version 2.1, we have also prepared new additional modules dedicated to Polish companies:
If you have very uncommon requirements, ask us for help. Droptica is a Drupal agency that helps to adapt Drupal (also Drupal Commerce) and Droopler to the individual needs of its clients.
More information on Droopler
By releasing subsequent versions of Droopler, we want to create a convenient tool for business owners and people from marketing departments. With Droopler, we want to help companies in their marketing and sales activities.
From the very beginning, the system is available for free. Information on how to download it can be found on the website droptica.com/droopler/
We have also built a tips section – "Droopler tutorials" – where we describe how to work with Droopler.
If you need help with Droopler, you have found a bug, or you have an idea for new functionality, please notify us here: https://www.drupal.org/project/issues/search/droopler