Website Redesign Strategy: A Complete Guide
Gurpreet Kaur
Tue, 10/13/2020 – 16:24
The virtual sector has become increasingly prominent today. From trading shares to buying groceries, every single aspect of our life can be fulfilled in the virtual world. And do you know what lies at the heart of this world? Since it is online, you must be thinking that a website has to be at the core. And you are right to think so. A website is the foundation of every online business, from blogs to e-commerce, every virtual service provider needs a website.
Now, just building a fully functional website is not enough. You have to keep updating it every now and then, simply because what was trending two years ago is considered antiquated today, and we do not want your website to be regarded as out of fashion. 
When making the decision of revamping your website, you have to consider something very carefully. And that is the difference between website refresh and website redesign. If you want minor changes to be done in your website, like changes relating to its appearance, you would call it freshening the website. On the other hand, if you want to change your website completely, you would need to redesign it. This would transform the makeup of your website, from the content to the appearance and sometimes even the code. It is like converting a hatchback into a limousine, even though it would be the same car, it would be tremendously different.
So, if you are planning to redesign your website, you have landed in the right place. This article would accentuate everything related to redesigning a website; let us begin with the reasons for the same.
The Need for Website Redesign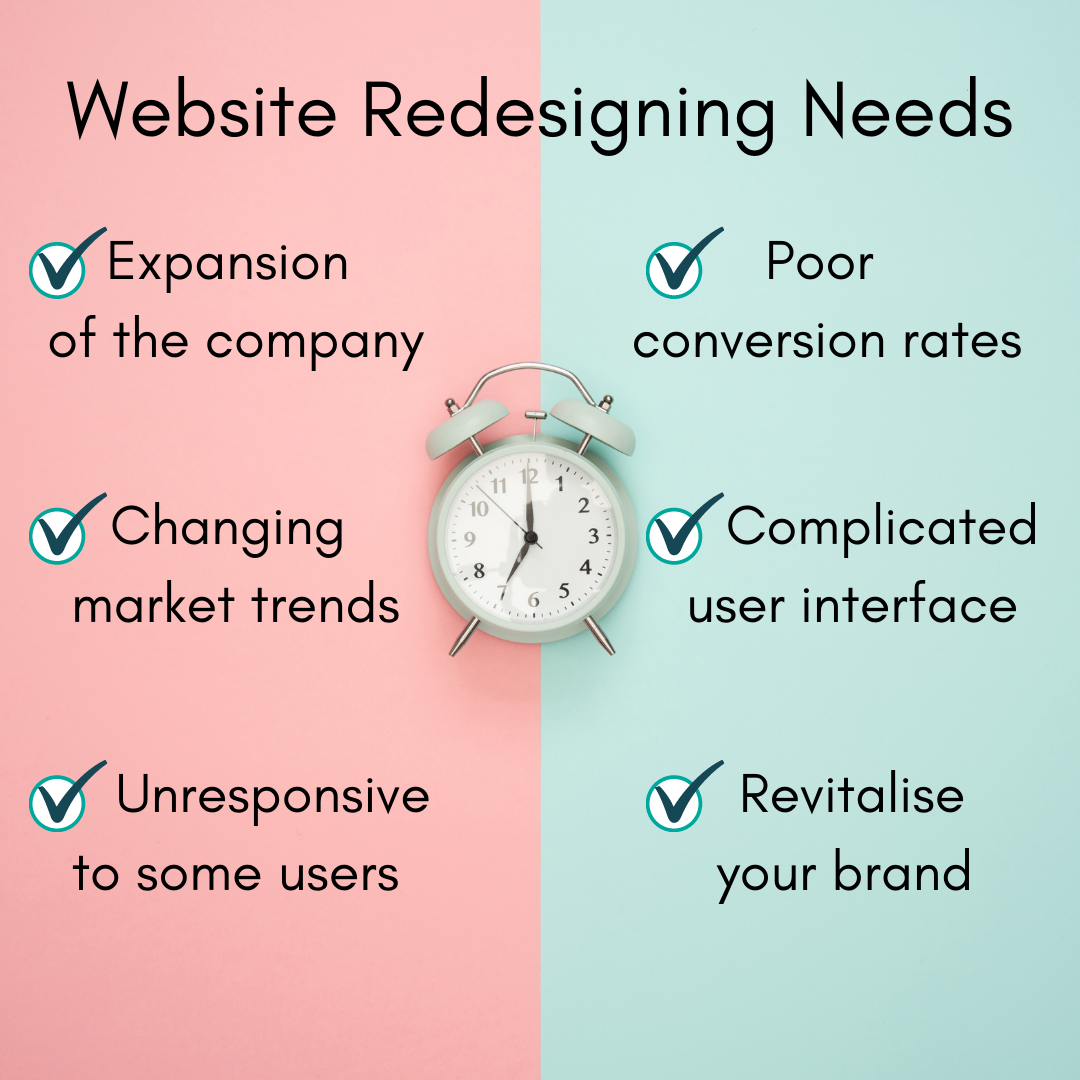 Website redesigning is a giant undertaking that can be both costly and time consuming, so you can't just do it on a whim, there have to be reasons for the same. Understanding those reasons is as important as the actual undertaking. 
I have compiled a list of common issues faced by website developers and operators that have compelled them to overhaul their websites, so that you can get an answer for the important question, that is, when should websites be redesigned. If you are experiencing more than a couple of them, consider it as a sign to say goodbye to your current website. 
Expansion of the company
Every business is in the market for growth. This growth means that they would enhance the products and services that they provide at one point or even start a whole new department. A website is like the gateway for the customer to know your services, and if it isn't doing that, you will potentially lose your customers to your competitors. So, remember that, growth is always followed by your website's redesign.
Changing market trends
If there is one thing that is fickle in this world, that would be the market trends. These change faster than light making your head spin with it. One day the gaudy and eccentric website are all the rage, and the next, minimalists reign online. The point is that your website has to align with the market trends, especially in terms of design. 
Unresponsive to some users 
By responsive, it is meant that your website can easily be accessed through any device, be it a smartphone, a tablet or a desktop. Sadly, there are a number of websites that are inaccessible through a smartphone and that just about destroys your leads. Adaptability or responsiveness can be achieved through redesigning.
Poor conversion rates 
The primary purpose of a website is to generate sales, if it is not doing that, then what is the point? Your customer base is basically decided by your website and how compelling it is for them. The more interest it generates in the customers, the higher the chance is that they would make a purchase. Having too complicated text packed with corporate jargon, not having enough CTAs, lacking in the aesthetic aspect; all of these will contribute to less conversions from your visitors. And the only way to overcome this is redesigning.
Complicated user interface 
A good website is the one that allows the user to easily maneuver around it and get the full experience of what the developers wanted to provide. If that is the case, then your website lacks in the functionality part and everything on it is as good as useless. The solution here is to simplify the user experience and redesigning is the route to go.
Revitalise your brand
Brand image is very crucial because it is how customers would perceive you and your brand. It is up to your brand image to make the customers think happy thoughts or get all woeful. Coca-cola is always associated with happiness and joy, because that is the image they have built. A website helps a great deal in that. Now, if you think that your brand's perception is not aligning with its core, you would need to redesign it to make the alignment happen.
Now, that you know why websites need to be redesigned, let us get into the process of doing it.
The Website Redesign Strategy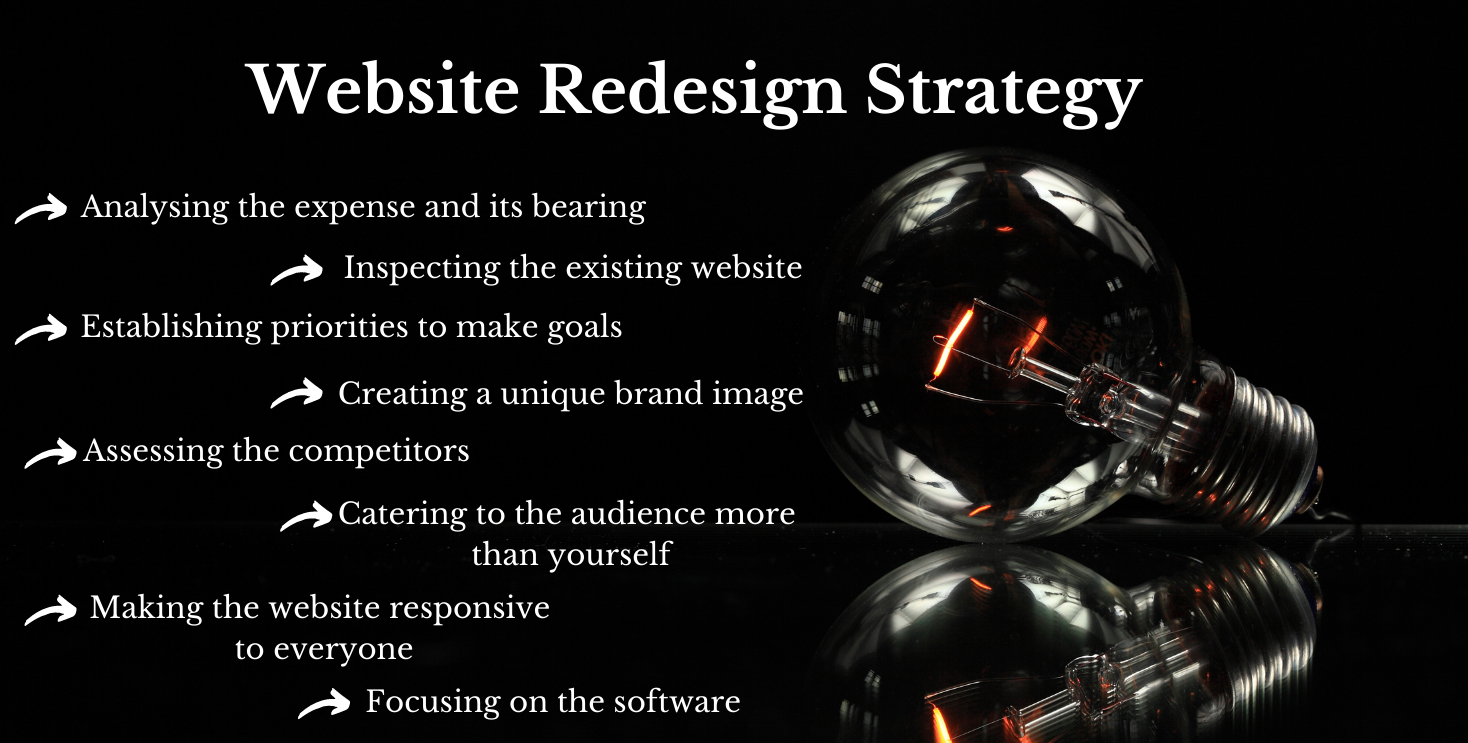 Redesigning a website is not something that will happen in a day. It needs time and resources to be put to good use. The process would be extensive, you would need to be aware about a lot of things, ensure everything works for you and aligns with your vision for the future of the website. Even the slightest of mistakes can become tragic for your website. That is why, a holistic approach has to be taken into consideration and I am here with the website redesign tips you would need for that.
Analyse the expense and its bearing on you 
The first step towards website redesigning commences when the budget for the same has been decided. The financial implications of website redesigning have to be considered, you cannot go wayward with the money; that would not be a wise choice.
Your website will be your first impression on a consumer and you would want it to be impressive. For that to happen, you would need financial resources that are substantial. Don't take up redesigning until you have the resources, because doing a half-hearted job is just going to be a waste and you won't be winning any website awards for that. So, analyse the expenditure, set aside the needed amount and delve right into it.  
Inspect the existing website
Once the money is ready, the process officially commences. And it does so with the past and its inspection. By past, I meant your current website, which would become your past after the redesigning. Your website, as it may be, would have done something for you, that is why you had it for as long as you have had it. 
Micro analyse every CTA, every image, every click that you received and how often that was. From bounce rates to time spent on a page, from the number of visitors to the number of sales, inspect everything and that too thoroughly, do not leave anything uninspected. I am emphasising on everything again, because it is crucial. This is the beginning and a successful beginning results in a successful end result.
If you want help in doing all of that, Google Analytics can sort you out. Once you have done all of this, you need to take note of the things that work and the things that don't. The advantages would move further with the redesigning, while the disadvantages will be worked on until they are no longer a disadvantage. 
You must be wondering why all of this is necessary. Why not just start afresh? The problem with starting from scratch is that you might end up doing the same things again, which would only result in wasted time, effort and money. The inspection of the current website would not only give you a direction and a blueprint of the redesign, but it would also save the extra effort. So, why not?
Establish priorities to make goals
After the inspection is done, you would have a fair idea as to where you stand with your website. Knowing the key areas that are hampering your conversion rates or even your visibility on the web, helps you understand and establish priorities for the redesigning.
For instance, your content could be amazingly good, engaging and informative, however, the way it is presented makes it seem boring at best. Therefore, changing the content should not be a priority, rather its presentation should be. 
So, prioritising the areas that need to be focused on from the get go is an important step in website redesigning. A reason for its importance is that prioritising helps in making the design goals. 
Once you know what you need to focus more on, you could start working on that first and get better results. It is like knowing your weaknesses and working on improving them. I was weak in science in school, pathetic really, so I put in an extra effort by prioritising and started seeing the results. In website redesigning, there won't be any mysterious scientific concepts, but you could endeavour to elevate your visitor count, enhance domain authority or improve your SEO rankings and eventually increase your sales. All of this is achieved by prioritising your goal. You can't simply take on everything at once, you need preparation and this is it.
Create a unique brand image 
If you have a website, you are a brand. The question is whether your brand is appealing enough to customers to pull money out of their pockets and buy from you? The answer lies in the image you create for your brand. A good way to create an impactful persona for your brand is your website and redesigning the same can easily do that. 
The first thing that a customer would see on your website should effectively depict what you are about. The user should not have to decode it, trust me, he would go to your competitors website instead. And do I have to say that we do not want that?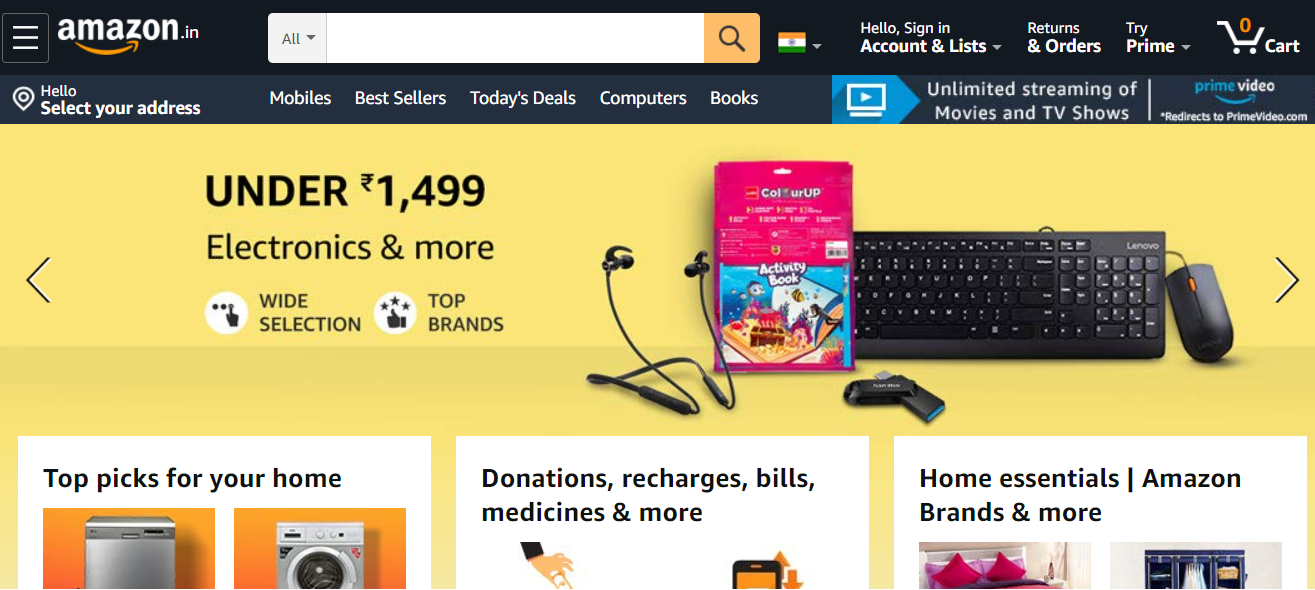 This is Amazon's home page, and it should be considered the benchmark in branding. I would not leave this website until I have scanned through the "Top picks for your home." With so few words Amazon has portrayed all that it is about and engaged the user. 
I know every website cannot be like this, but the conciseness can be achieved, it has to be. That is the core of branding. Your redesign strategy has to ensure that your brand image works in your favour rather than against it, make it unique, make it enticing and make it worthwhile for the customer.
Assess the competitors 
You may be at war with your competitors, but that does not mean that you cannot learn from them. Assessing the ways your competitor's websites look, the kind of services they provide, how functional they are can help you a great deal. You must be wondering why. It is because you and your competitors are in the same market, catering for the same customers, whose needs and wants are the same; apart from this their likes and dislikes would also be the same. So , if they like something that your competitors are providing, you can make a change. What could be the harm here?
Cater to your audience more than yourself 
A website's success entirely depends on its users, they are the ones who can make or break it. So, making a website keeping in mind the end-user's thought process and needs can make a difference between the success and failure of a website. 
Obviously, your website is not going to be for everyone, it has to have a target audience or a buyer persona. Is it meant for the retired or the middle-aged men or maybe the adolescents, you have to decide. 
For instance, an anti-ageing cream's audience is going to be over 25, it could be the working women who stress too much at work that they have developed wrinkles at 30 or it could be the stay-at-home mothers who have very little time for skin care or both. If your website and its design effectively justifies their needs, a conversion is almost guaranteed, and that is all we want. 
Make the website responsive to everyone 
Today, websites are not only accessed through laptops and desktops, people do it from any device that has a screen and an internet connection, especially smartphones. So, seeing something like "this website is incompatible with your device" is not going to generate many leads for you.
Mobile friendliness is crucial for websites, they need to be made responsive to reconfigure itself to the screen size of the device, which is browsing it.
Focus on the software
Up until now, we have covered everything that could be redesigned on your site, now let us talk about the makeup of your website a little as well. A Content Management Software or a CMS is the way to go here. From developing the site to publishing regular content on it, the CMS would do just about anything you could want. Drupal, one of the leading CMSs in the market share, can be a magnificent choice. Be it government websites or private companies or even sports stars wanting to create their online space, Drupal provides for all.
Journalism websites need a lot more flexibility in content than any other category. Since Drupal is the embodiment of flexibility and provides just the right set of core features and contributed modules, choosing it becomes a no brainer. Earth Journalism Network's website is the prime example of remarkable improvements that are possible with website redesigning. OpenSense Labs Team migrated the old site, which was running on a Python-based CMS, to Drupal 8. This ultimately proved to be a remarkable move as creating and managing content turned out to be super efficacious. Access the full case study of Earth Journal Network to know more.
The Website Redesigning Approach: ESR
The web would keep on evolving at a pace that is faster than your redesigning abilities. You might think that is a bad omen, but it isn't, not completely. Yes, the web keeps on evolving, but its evolution does not mean that your website would become completely obsolete. There would be a lot of things still working for you since the last redesign and the things that do not, you can simply update them.
All of this becomes a walk in the park with Evolutionary Site Redesign or ESR. This is an approach that continually tests certain problematic areas of your websites, giving you feedback about their performance.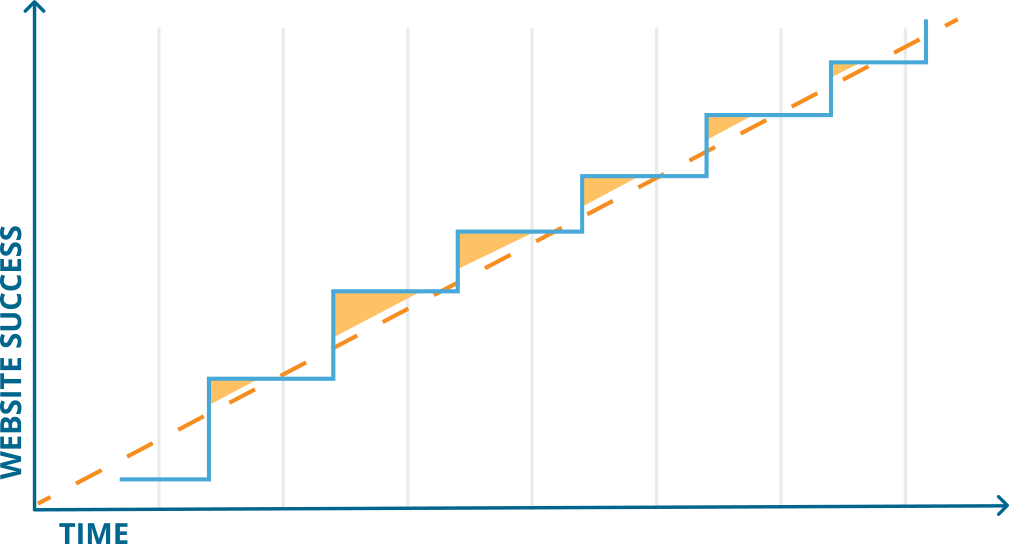 It is not only a faster approach to redesigning, but also becomes extremely helpful in reducing the risk as you would be making incremental improvements consistently, instead of a complete overhaul. The result is a better user experience for your visitors and everybody stays happy. That is why ESR is often regarded as the right website redesign approach.
The Mistakes to Avoid 
Now that you know all about things that you need to address, it is now time to know what to avoid in the website redesign strategy. These are mistakes that are more common than you would think and these mistakes can become quite costly for your website. 
Nondescript scope 
Scope of work, that is both doable and well-defined, sets the pace for any project. It is like a roadmap that will tell you what the next destination is and whether to take a right or a left turn to reach there without much hassle. Taking on a website redesign project is a huge step, so you have to clear, explicitly clear, as to what you want to do and how it would be done. 
The scope also lays emphasis on accountability, as it clearly allocates duties to be done by members of the team. So, when something doesn't happen, you would know where to point the finger. Without a well-defined scope, the smooth sailing of the redesign project is not possible.
Not emphasising on the content 
The content on your website is probably one of its most important aspects. Think of it like the voice of your website, since it clearly speaks for you and your brand. So, ensuring that the content is well-written, engaging, simplified and SEO friendly at the same time should be a priority. You can hire professionals to write it for you. The thing is a high quality content would need time from your end, so not getting a head start on it is not the way to go.
Biting off more than you can chew 
Another mistake that often happens in a redesign project is that the owners overreach. They try to do everything possible to make the website better than the existing. Although this should not be a mistake, the timeline of the project may disagree. The completion of a project in its designated time is what makes it worthwhile. So, when you keep on adding additional tasks on an ongoing scope, you will just be stretching yourself for time and the project would only get delayed. 
This does not mean that you cannot add too many features in your website, you certainly can, but you should try adding those in phases. Doing everything at  once and doing one thing at a time is different and let me tell you, the latter almost always succeeds.
Compromising on one aspect for the other 
Another pitfall that is experienced in the redesigning projects is the compromise. In the race to finish a project, the developers start compromising on one aspect of the website for the other, and this disrupts the overall redesign. For instance, you cannot just focus on the aesthetics of your website, its functionality and technical aspects need equal consideration. The user might come to your website and even stay awhile because of the aesthetics, but if your website won't deliver in terms of functionality no one would stay longer than awhile and conversions would seem far fetched.
The Right Partner for Website Redesign
Like I have already mentioned a few times, website redesigning is a colossal undertaking, so it needs the support of a team to make it successful. Many websites have taken up the redesigning endeavour on their own, but only because they have a comprehensive team that can perform all the redesigning duties including a developer, a designer, a marketing strategist, an SEO expert, copywriters, to name a few. If you have such a team, take up the redesigning yourself. If not, you should consider a website redesign agency. 
Here are a few pointers to help you;
What is its niche?
Before checking anything else, you have to find out which area does the organisation excel at. Is it an ad agency, marketing agency or does it specialise in technical aspects? Knowing all of this will help narrow down your search for the right partner, since the speciality of the agency has to be in accordance with your business. A high-profile public enterprise can go for an ad agency that deals with celebrities.
What approach does the agency use?
The agency's approach towards tackling redesigning is very crucial, because that will set the pace for the website's future growth. So, if an agency is focusing on enhancing  the user experience as its core, you should hire it without a second thought.
How good is it performance-wise?
Ensuring that the redesigning agency has had a good track-record in its past projects is also necessary. To do so, you can simply check the testimonials on their website. This way you can predict how well it would tackle your redesigning.
Can it perform an audit?
An audit is very valuable when taking up redesigning a website. So, you must go for an agency that would perform a thorough audit, both for the content and the architecture of the website, before working on the changes. 
Do they know your target audience?
A website redesign won't do you much good, if it is not targeted at your potential customers and compelling them to buy from you. So, an agency that has knowledge or will acquire the knowledge about your target customers is going to be the right fit for you.
How extensive are its services?
Lastly, the range of services a redesign agency provides will be the last stepping stone in your decision. It cannot just provide a marketing strategy or just implement the SEO techniques, the services have to be all inclusive. 
All of these questions need to be addressed before you take up a partnership with a redesigning agency. 
Website Redesigning- Not a One-Time Gig 
Now, you are all set to make the redesigning decision. However, I would like you to know one more thing. Website redesign never ends, it is a perpetual project that would keep returning every few years or as early as your resources allow. Trends keep changing in the virtual world, and your website must change with them, barring the fact that it is responsive or not. If you have a bigger establishment with resources in abundance, you can redesign at least once a year. On the other hand, if resources are scarce, you can wait as long as half a decade, provided that your website is responsive.
Redesigning is similar to changing your car, you have to do it every few years. Driving the same car for a decade would not seem appealing or a sign or growth, what do you think?
blog image