Exploring Content driven Commerce with Drupal
Gurpreet Kaur
Mon, 03/15/2021 – 23:00
'Retail therapy,' an extremely common phrase in today's era, can work wonders on lightening a person's mood. The new 1000-thread count Egyption sheets, when wrapped around you, can make the gloominess seem distant. The new Clavin Klein perfume can actually make your day seem more fragrant. And the new smart watch you just saw on Amazon has the potential of making you as fit as you want.
So, retail therapy is quite up there on the pedestal of making people feel great about themselves. And retail therapy, if done from the comfort of your couch while watching a Friends' episode is all the more beneficial. And that is what we are going to be talking about today, the online retail market or ecommerce, if you prefer. 
Buying things with a few clicks on your computer screen used to seem like a novel idea close to a decade ago, but now it is an everyday occurrence. The ecommerce industry has boomed exponentially and these numbers are proof of that.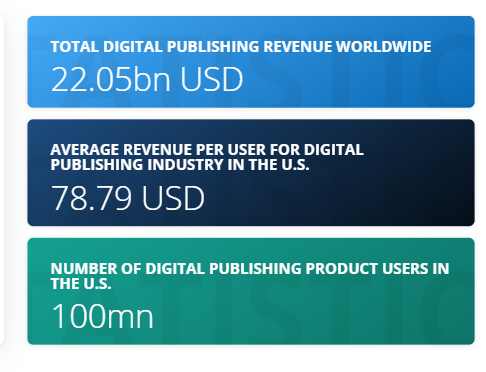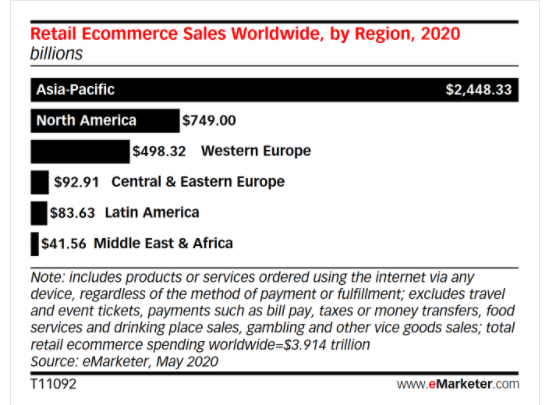 3.53 trillion USD is an exorbitant amount and that is the value of online retail sales globally. If a pandemic couldn't stop ecommerce from flourishing, I am certain nothing can. 
Now let's come to matter at hand. The point of this blog isn't to tell you the value of ecommerce per say, rather I am going to be focusing on one emerging aspect of ecommerce that has made it quite different from the past, and maybe even a little intriguing and that is content. How content has played a role in ecommerce, why it's important, how it is being used, does it actually have an effect on sales, and finally how does Drupal come into the equation? We'll find answers to all of these questions. All you have to do is continue reading.
Content and Commerce: Understanding the Dynamic 
Words are a powerful thing. It's words that can make a person the wisest and the most stupid. The right words can have such a profound effect on its reader that it might even change their way of thinking. With such a profound effect, it was only a matter of time that the power of words was being utilised in commerce in the truest sense. This is essentially the meaning of Content-driven Commerce. 
If you look at the traditional sense of advertising, you would find it flawed to a great deal. Those TV commercials, the cleaning ads and those ludicrous weight-loss adverts, all of them have hardly any truth to them and the viewers know it. Perhaps that is why they no longer resonate with their target audience. People have become far more difficult to please now than the past.
Cut to the emergence of Content-driven Commerce, with its realistic outlook and clutter-less approach. If I talk about myself personally, I find the incorporation of content in marketing strategies, the best kind of, well, marketing strategy. 
Look at this screenshot for instance.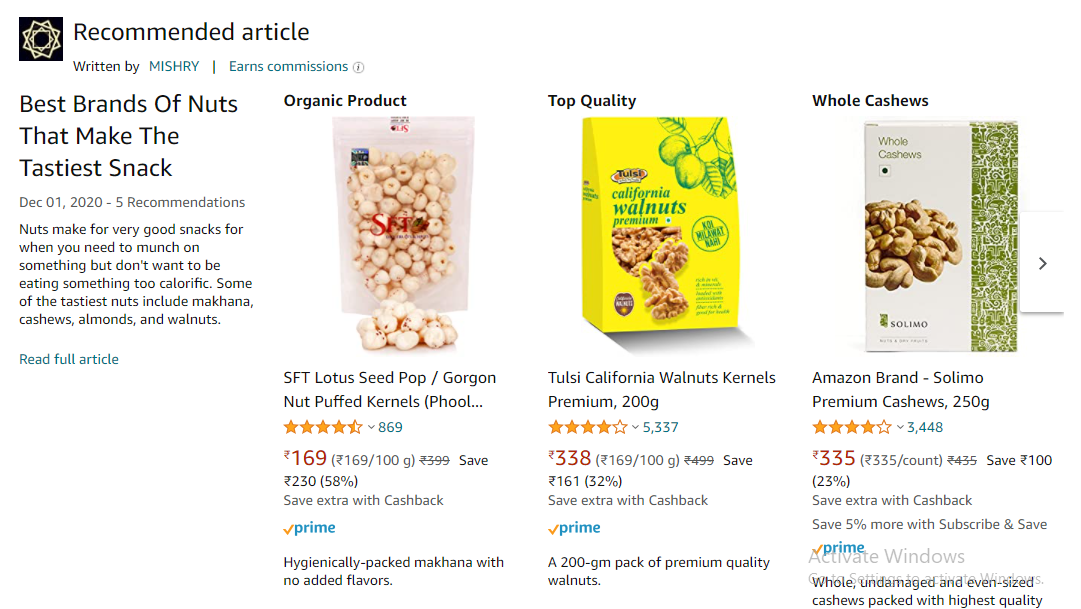 Upon searching for nuts on Amazon, you will probably end up on this piece of article in the screenshot above. Now, not only is this article advertising Amazon products, but it is also informative and enlightening. And the latter fact is what makes it a masterstroke of marketing. Someone reading it would have learnt something new and that knowledge is going to spark a craving that would require satiation upon every purchase journey. 
Content commerce isn't just related to writing blogs and articles. You might have thought so, since that is the only thing we go to when we hear the word 'content.' This concept is broader than that. It includes everything from infographics to videos, from podcasts to webinars, anything that can instill interest in the buyer and be informative can be considered as content.
The Science of Content Commerce 
Content commerce has a lot of thought put inside it. You can just bombard the buyer with one piece of content after the other and expect that he'll admire them all and be ready to click on that buy now button with a massive cart waiting to be delivered. Nope, that's not even close. 
Consumer data; 
Consumer shopping behaviour and patterns; 
And industry trends; 
These are the three aspects that sum up the science of content commerce. When you know what your customers want, what patterns of behaviour they follow and how your competitors are taking action on that, you will have the most sound content commerce strategy; that would be  personalised to the T.
For instance, 
At present, being a minimalist is in vogue, with a subtle emphasis on the key features of the products that would be enough to inform, educate and inspire the visitor. With a touch of personalisation, a splash of fun through quizzes and a hint of what's more to encounter through catalogues, the visitor is more or less hooked. This coupled with customer testimonials and case studies pushes the visitor one step closer to the purchase. 
This is how content commerce is being done today and it's working. The result is better and more interactive and informative consumer experiences.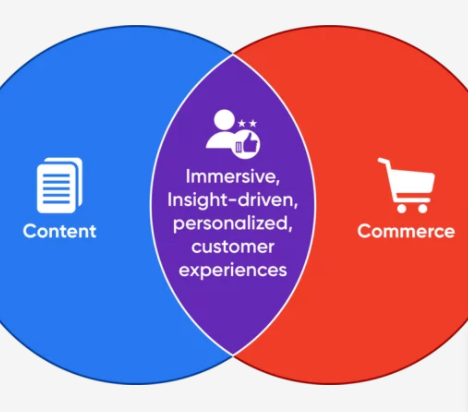 So, you tell me is Content-driven Commerce a trend that would make people fall in love with advertising and make their buying experience something to remember. If you ask me, I'd most definitely say yes. There are many like me who believe that content driven marketing is going to pick scale and boom in the future.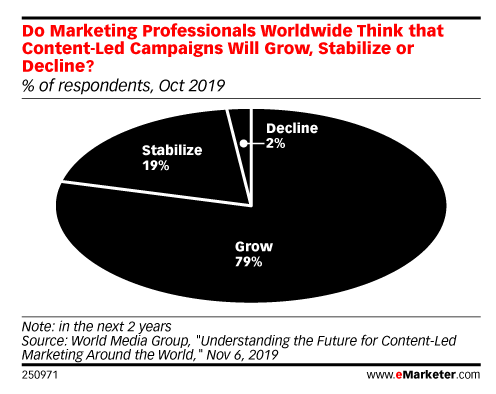 Why champion Content driven Commerce?
At the end of day, the consumer would only come to your business only when he'll find you different from the others, when he thinks that you have more to offer than the rest. And content commerce is the best way to make that happen. You can build your brand's identity based on the kind of content you deliver on your site and outside it. When people would actually associate you with providing meaningful and rich contextual experience, would your goodwill not enhance? I think it will and that is why Content Commerce has become such a big deal. It allows brands and businesses to leave a strong impression on the audience. 
A travelling documentary that was posted on a tour and travel site as a testimonial on its home page could actually make many wish to experience the happiness and exhilaration that the video boasts on and on about, much more than any TV commercial or newspaper ad would ever be able to. That's the power of content combined with commerce.
In Comes Drupal: The Perfect Blend of Content and Commerce 
So now you know the power content has, but how do you leverage it? Having resonating content and having the ability to showcase it are two different things. The former is all you, while the latter mandates the decision of making a choice amongst the varying options. Having worked with Drupal, I know the answer to the leveraging dilemma is Drupal itself. 
You must wonder why?
Drupal is a powerful CMS, which is renowned for its ability to handle any kind of content without any glitches. Drupal has a solution for every kind of content type you can imagine, making your experience of content authoring easy and flexible.
Easy Content Authoring: Intuitive tools for content creation, workflow and publishing make it easy for content creators. User permissions, authentication help manage the editorial workflows efficiently. Previews help the editors access how the content will look on any device before the users approve and publish.
Mobile Editing: Team members can review, edit and approve content from mobile devices, to keep content and campaigns flowing, regardless of where they are and what device they're on.
In-place Authoring: The WYSIWYG editor in Drupal to create and edit content in-place. 
Content Revisioning and Workflows: For a distributed team Drupal enables a quick and easy way to track changes, revisions, and stage. It tells you who did what, when, out of the box. Also, it lets you manage custom, editorial workflows for all your content processes. Content staging allows you to track the status of the content – from creation to review to publication – while managing user roles and actions, automatically. 
Content Tagging and Taxonomy: Beyond creating content, Drupal's strength lies in creating structured content. This comes when you define content elements, tag content based on their attributes, create relevant taxonomy so it can be searched, found, used, and reused in ways that satisfy the visitors.
Modules for Multimedia Content: Entity browser, paragraphs, pathauto, admin toolbar, linkit, blog, meta tag, and other content editing modules give the extra lease of life by extending and customizing content features and capabilities. They allow you to choose what features you want for your site.  
Yes, Drupal is great for content, but it is equally great with commerce. It's because Drupal has the innate ability to to integrate content and commerce. It can manage every single aspect of a commerce site, be it its products, carts or financial transactions and then integrate all of it with content and media. What's even more fascinating is the fact that Drupal helps you build an application that is a perfect fit for your needs today and tomorrow because when times change, Drupal changes too and its third-party integrations are the reason for that.
Let's now look at Drupal's commerce centric features to understand its compatibility even more.
Drupal Commerce 
When we talk about Drupal and ecommerce, the conversation cannot begin or end without the mention of Drupal Commerce. It is one feature that makes Drupal outshine all other CMSs in the market because it promotes innovation and growth through standards that make you take advantage of everything Drupal has to offer. 
With Drupal Commerce, the possibilities are limitless because that is how it is designed; to help you build what you want not be confined to what it can do.
From product types and descriptions to diversified product pages; 
From payment gateways to tax calculations; 
From organising promotions to managing orders; 
Drupal Commerce can do it all for your ecommerce business digital channel. 
Decoupled Drupal Commerce
Decoupling works by separating your commerce site's front end from its backend. You can take up JavaScript for the presentation layer to make it more interactive, while all the backend aspects would be handled by Drupal. All of the benefits of decoupling would be enjoyed without parting with Drupal Commerce.
You will end up with a site;
that is faster and more engaging;
that is richer and more interactive;
that is easier to update and modify, without one end affecting the other; 
All of this because you won't be confined to Drupal to build your frontend, you can take up any of the available frontend technologies. More on decoupled Drupal Commerce here.
Drupal APIs
Where there is Decoupled Drupal, there are APIs, which streamline the separation of frontend and backend as well as provide the connective thread. With the robust Drupal APIs, it becomes all the more easy to integrate Drupal with other services.
Again Drupal Commerce plays an imperative role here, by providing additional modules that extend REST APIs in Drupal. These are; 
These result in better functionality for your retail site as well as make it work with far more tools than otherwise would have been possible. More on different Drupal web services implementations here.
SEO Benefits 
When we think about content-driven commerce, we have to consider content as much as commerce. Writing blogs and articles is all good and fine, but how do you make them shine on the search engines, that is where SEO friendliness pops in and Drupal is best friends with SEO. There are numerous SEO modules in Drupal that will help in everything you might need, from keywords to tagging, Drupal will have you sorted and ensure that the educational pieces you wrote do just what they were intended for.
Out-of-the-box Benefits
And there is more. Drupal has several other out-of-the-box features that make it totally compatible with ecommerce sites, especially handy, if you are going to be running your site in multiple states or even nations. 
Be it multilingual support and translations; 
Be it handling multiple currencies;
Or be it the management of multiple stores from one place; 
Drupal will have you sorted by providing the right module for the right need. Plus, the superabundance of themes available in Drupal will ensure you get the desired modern look and feel for your ecommerce website.
 
On top of these, the fact that Drupal helps you deploy your ecommerce site built with Drupal Commerce within hours is the only silver lining left to make you cave in to Drupal.
For a comprehensive guide on Drupal's offerings for an enterprise-scale ecommerce site, read here.
Drupal at Work in the Ecommerce Industry
Now that you know all that Drupal can accomplish, let's look at some of the e-commerce businesses that have successfully been able to leverage the prowess of Drupal in this domain.
Timex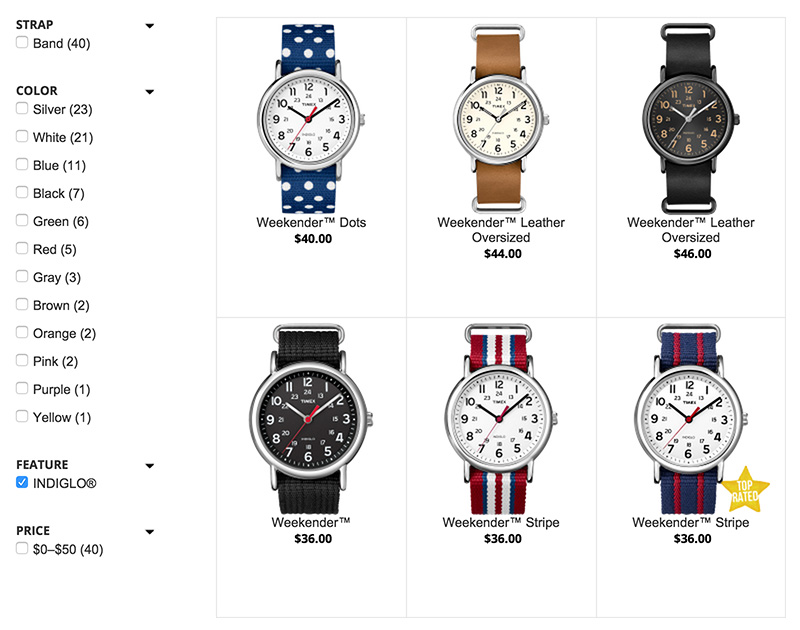 Timex is an American watchmaker, you most likely have heard of it. It wanted two things out of its retail site and these were; 
A unique site for personifying what the brand identifies itself as, its own style had to be incorporated into the site's design. This also meant that product, social and editorial content had to be combined to deliver an impressive visitor experience.
Secondly, the Timex team wanted independence, meaning they wanted to be able to create, manage and update content as and when required without a developer. 
Drupal effectively checked both these requirements and helped create the perfect Timex site.
Cannabis Yukon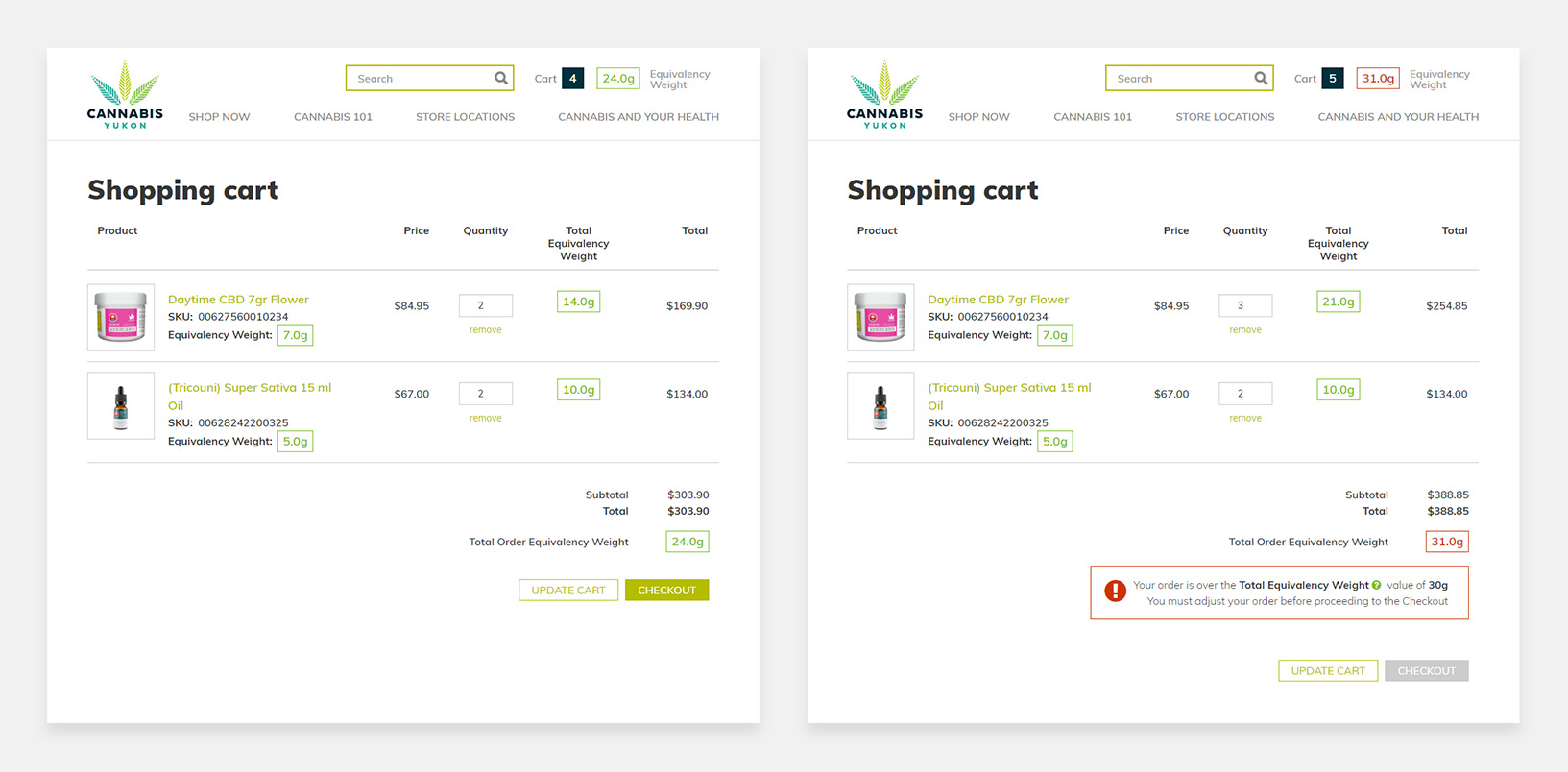 The legality of cannabis is still a contentious issue all over the globe. Therefore, when the Government of Yukon had to build their cannabis retail, their paramount concern was to protect the privacy of its users. That is why Drupal was chosen, to have total and complete control over the consumer data. This along with Drupal Commerce and the fact the Government of Yukon website was already on Drupal, the decision was final.
LUSH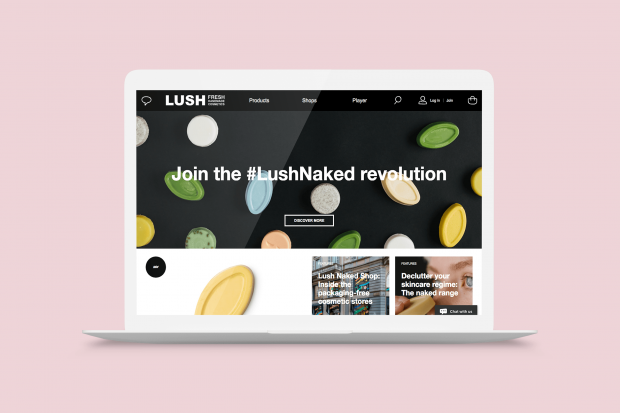 Being a popular cosmetics company in Britain, LUSH had a massive following of users. That meant when it delved into the digital space, there were a lot of clicks per minute, especially during its Boxing Day sale. When its site ended up crashing with such a load of users, it decided to switch to Drupal, which can handle any amount of traffic thrown at it. With Drupal, the code and architecture was rethought and the site made impressively scalable. 
King Arthur Baking Company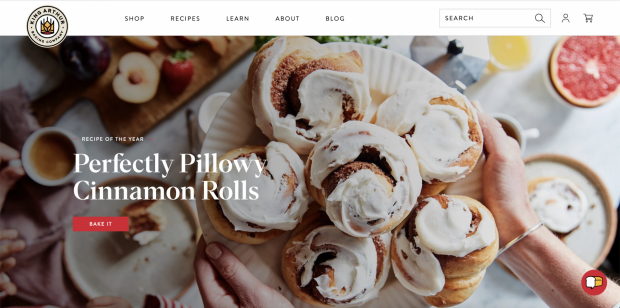 King Arthur Baking Company is known for its mouthwatering recipes. It switched to Drupal for its transition to the digital space and was able to provide personalised experiences to its audiences, be they pro bakers, first-time novices or climbing the ladder of baking. With the additional support of experts available through expert bakers the site was indeed a success.
Conclusion 
Every site that is built has a purpose behind it, for e-commerce sites that purpose is deriving sales. Today, achieving that is no longer a walk in the park. You have to leave a mark on the user's mind and personalised and informative content is the way to do that. 
With Drupal Commerce and Drupal's impeccable content management system, that aim of higher conversions and better brand loyalty is no longer distant. That's the Drupal factor in content-driven commerce.
blog image