The web personalisation checklist
Akanksha Mehta
Wed, 05/26/2021 – 15:43
Owing to the numerous aspects and applications of web personalization, it might be a confusing term for many despite its omnipresence across the virtual world today. Web personalization is best understood as individualization of a website customised in a manner to cater to an individual's unique requirements. The importance of this concept can be realised from the fact that the founder and CEO of Amazon, Jeff Bezos, prophetically mentioned something along the lines of personalization almost 2 decades ago.
"If we have 4.5 million customers, we shouldn't have one store, we should have 4.5 million stores."

Jeff Bezos in 1998
Why do you need website personalisation?
There are numerous statistics and numbers that point towards better business relationships with customers when personalisation is adopted, as when a user feels a personal connection with a piece of content or a layout, he is more likely to invest in the product or service. This is substantiated by the fact that Invesp's survey points out that around 56% of online shoppers are likely to return to a website when they see product recommendations customised according to their interests. Running a cross check from the other end as well, it has also been noted by MarketingProfs that 66% of marketers said that a chance of an improved business performance was their main reason for going forward with personalization. Listed below are some additional statistics that showcase the benefits of web personalization.


On the other hand, if data and numbers don't speak to you to dig deeper into the human value of building relationships and don't just care about the turnover, web personalization is still your best friend. Apart from the very obvious benefits of increased conversions and sales, DSR duniya prasad the ways in which web personalization helps a business.
Meeting customer expectations
From customers' point of view, in this age of integrated tools and technologies, web personalization is not something out of the blue – rather, they expect a degree of customisation from the businesses that they associate with. As backed by sufficient research and data, custom recommendations and suggestions work better in attracting and retaining customers in the longer run.
As a subsequent side effect of having invested more into the research and the choices made by the customers, you would garner greater brand loyalty. Tailored marketing strategies, no doubt, speak more to the user than the generic ones. 
User relationships are nurtured and allowed to grow with your website creating relevant offers, content and CTAs (Call To Action). Once you have done the job of gaining their attention right, the purchase can be accelerated even further by using personalization.
When you give to the customer, you are bound to receive back. For the smooth User experience ranging across the site and getting recommendations for products that they actually like and value, customers are bound to trust your website more than the others and are likely to rely more on your data.
Types of website personalisation 
User controlled
User-controlled personalization is where the entire website is controlled by a custom criteria set by the user himself. It is usually explicitly asked what the user's specifics related to geography, gender, languages spoken etc. are. These kinds of websites rely on the fact that the user will  take out the time to tell them they are in order to be directed towards personalized products and services based on their own inputs.
The most common method of initiating user-controlled personalization is by asking the consumer to create an account and hence provide a bunch of details about themselves in the process.
For the geographical location of the user, more often than not, their IP(Internet Protocol) addresses are tracked to see what part of the globe they belong to.
Behavioral
In the other kind of personalization, it is not explicitly asked from the user about what they want and who they are. Personalization here is placed more on the user's website browsing history and also based on their interactions with the website content. The data so gathered is then utilized to understand their deeper interests and gauge out their persona. For example, Netflix first observes what are shows one watches and then recommends newer shows based on their history. Considering how much data this process involves, the research can be a pretty daunting task, but works in a magical way once conducted properly.
Contextual
Contextual personalisation is when the activities that you do in the day are analysed and used as a context to provide further recommendations to you. Perhaps the best example of this is a fitness tracking software – it recommends activities to you based on how much you've walked or exercised in a day. 
Personalisation can also range from varying degrees and levels depending on where you want your user to find you . 
Email personalisation
Consumers that identify themselves to a business by giving out their email address for some form of notifications or newsletters are sent targeted emails that form a part of an essential communication based on the data that the consumer has provided. Addresses are utilised for targeted email campaigns and differ from other generic ones as they have greater chance of lead to user conversion.
Campaigns
Custom landing pages might be created from time to time to support the cause of a campaign if it is relevant to the organisation's ethical cause. Usually CTA is placed in these landing pages to donate or contribute in some manner. 
Implementing web personalisation
Where to start?
With research, of course! Research regarding personalization will vary greatly depending on the kind of industry and business vertical you are looking to create content for. It should also go along well with your other goals and objectives should fall in line with the rest of your tools in use. While collecting data ensure that it is factually  correct and not outdated, that you are adhering to all regulations while collecting it, and that you have a virtual silo for storing all of this data and extracting it whenever it is required.
Identifying your audience
Once all the data is within your arms' reach, used to identify your target audience and also create the personas of your visitors. These personas should be vividly detailed and should contain all relevant information needed to create custom experiences. Here's an example of a detailed user persona.


Details like this will save essential time and effort while going through the data of thousands of users as you'll know exactly what to look for. This will help you immensely in the process of identifying your target audience. Learn more about the importance of audience segmentation in web personalisation here.
Setting your goals
Assuming that the research and segmentation part is done and dusted with, it is now time to get realistic and think about what is achievable and how much resources are required to complete the exercise – also whether the allocation is in line with the bigger picture. Once the data is studied and understood, you can now create an actionable plan that demonstrates how you plan to achieve your goals by using personalization and what your monthly or quarterly targets should be. 
Also always keep in mind that personalization is an incremental process and as you get more data with each interaction, the metrics need to be updated – that is, if you want to stay updated.
Mapping out the approach
But where does the plan of action start with? Do you create a separate landing page based on the data, or should it be incorporated in the home page itself? Now is the time to lay out a plan for personalizing the navigation and examining the touch points where the data needs to be delivered. You should not lose focus of the main goal, which is to generate maximum returns from this exercise. The right or wrong placement of a single line has the capacity to make or break your efforts.
Content and Design
This is the step where all of the research done is put into practice. The actual elements of a page that a customer interacts with are its content and design, and these should be highly reflective of what the user wants. The teams dealing with these two elements should be given access to the data and should be briefed comprehensively about what their work should comprise. Everything from the colour palette, the layout, to the kinds of images used are dynamic – but should also be intrinsically connected to your brand image. You should not be struggling to maintain your identity in the face of all of this personalization.
The header is your hero. Rightly said, the first impression is extremely important and it is important to put forward a good one. If you can personalize the header using an IP address to create a personal greeting to the customer, there would be nothing like it. The sub heading underneath every header and the image in the backdrop can also be personalized for each category of consumer that you are targeting. 
Add elements like featured blogs and other content based on the interactions that the user has had – like recommending ebooks or product related educational pieces. 
Highlight specific features of a product or solutions that you offer which are sure to resonate with the kind of audience that you are trying to attract. You could also try experimenting with motion UI to ensure that attention is attracted towards that part of the page.
A huge driver can also be customer testimonials, hence be sure to include some at a prominent spot in the homepage. Logos of brands that are associated with you, are partners with you or have invested in your company also add to the trustworthiness factor.
To know more, read about the significance of UX in the age of personalisation.
But is it working?
Early trends in metrics should not be ignored. Keep some analytics tools handy for examining the early trends in data after everything has been implemented. Have a clear analysis of 'before' so that you can compare the 'after'. Take into account the things like
Time spent on the site
Frequency of visitors
Content interacted with
Volume of new and returning visitors in comparison to the previous volumes recorded
Dive into the statistics and use it for the initial A/B testing. Analyse the data from different perspectives by keeping into account any seasonal or contextual effects that might have impacted the user behaviour during the said period of time. 
In mid stage metrics, points of data should be deduced from
Number of actions taken on the site
User feedbacks, if any
Quality of visitors – are they a part of your target audience?
Trends in lead to user conversion
Lastly, these metrics should be utilized to provide better iterations in the future.
Web personalisation in the near future
Less physical, more digital.
A miniscule number of companies have been deploying personalisation  beyond their digital presence. It has been predicted that all the places of interaction that have been largely physical till now will gradually be digitised, like food chains or clothing stores. Several clothing stores that have digitally transformed themselves to adhere to the present times allow 'online trials' using augmented reality to provide a personalized experience to the consumer. AI (Artificial Intelligence) enabled tools are utilised to improve the services – for example, it has been noted that food since Macy's and Starbucks use GPS (Global Positioning System) to trigger relevant in app push notifications to the consumer when they are near one of their stores. To know more, read how machine learning enhances personalisation at scale and in what different ways machine learning can be utilised for effective web personalisation.
Hence, in upcoming years we can expect the digitisation of presently predominantly physical spaces.
Scaling empathy
What makes AI stand out in this world surrounded by technology is its ability to incrementally improve after every interaction. Recently, McKinsey noted that smart speakers like Alexa and Google home for getting smarter over time and adding more to the skill set day by day.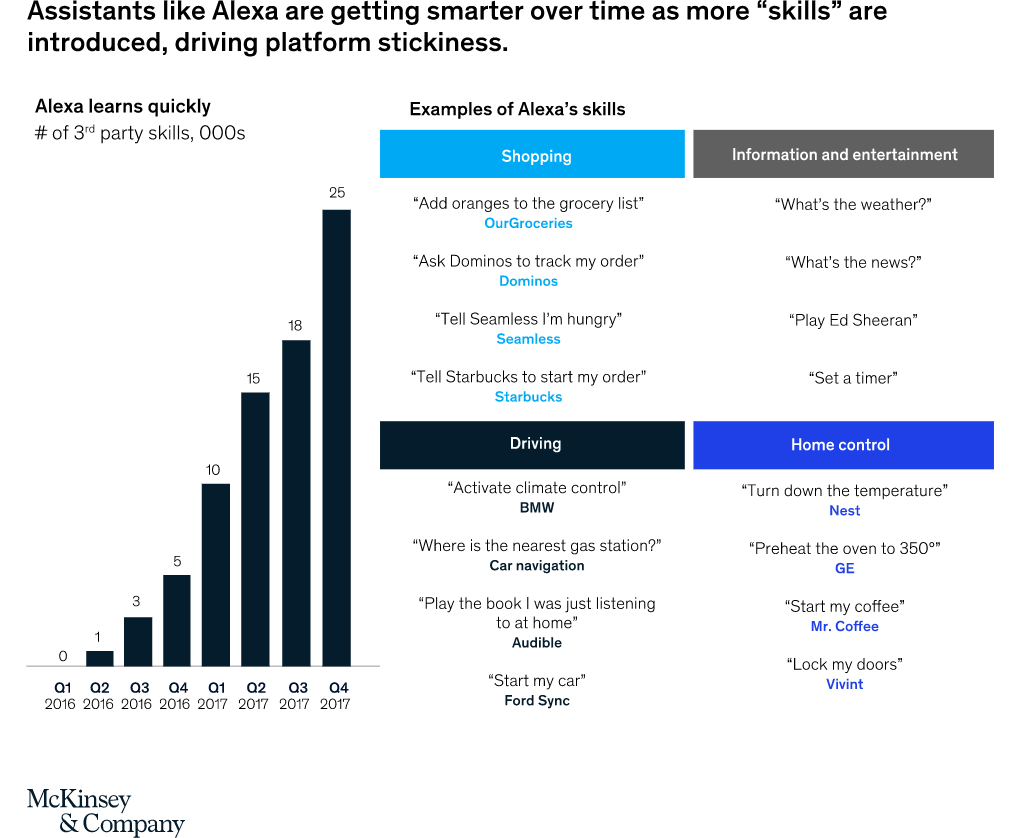 The relationship of humans with technology and personalization is at a somewhat peculiar junction where we want the machines to understand us and not be completely mechanical – rather, a slight emotional, human touch is preferred. Thus, the concept of empathy will scale and devices will be expected to be more understanding of human behaviour in different times and contexts.
Formation of ecosystems
It is well known by now that a shopper's buying experience cycle – starting right from the introduction to a product till the end result of finally buying it is a cumulation of several touchpoints both offline and online that contributed to the overall buying experience. For example, an ad seen online, a promotional phone call, an offline retail store all might have contributed to the experience but at different timelines and regions. The next step towards personalization as it expands further would be to create a connection between all of these points and create an entire ecosystem to get personalized products and services delivered to the customer. It does not seem to be that far away, with smart home devices working towards integrating the entire place together and using shared experiences to render personalized offerings. For a complete guide on web personalisation, read here.
Taking the future as a reference
It is always better to live in the future as compared to the present. If you want to future proof your strategies it would be wise to roll out bigger investments on customer data and analytics. You can also make investments in finding and training translators so that you can personalize your brand's experience even further for the global crowd. The future of personalisation is agile and cross disciplinary, and traditional marketing efforts could go futile. Therefore, it would be best to refer to the upcoming trends and strategize your efforts accordingly – in order to remain a step forward than the others. 
blog image
Go to Source
Author: