The Ultimate Guide To Open Source Strategy
Meenakshi
Sat, 09/25/2021 – 19:00
In this growing era of technology, it is very important to have a smooth and trouble-free working environment. Today, all companies are enhancing their workflow and management in different ways. Keeping everything in line with the innovations, most of the tech companies are adopting open-source software strategies. Open-source software not only makes your work easier but cost-effective and adaptable for business growth. 
Open-source software is released under an open-source license so that anyone can use it. Popular companies like Github host many open source projects, Linux, Ansible, and Kubernetes are examples of open source projects.  
Likewise, thousands of companies using open source platforms experience a sustainable approach with a large user base. These companies use open-source software tremendously, and it is increasingly shaping enterprise software architectures. The use of open-source software has become imperative for their business growth. In this article, you will discover why companies are using open-source software strategies for their development. 
Why do companies go open source  
Knowledge is meant to be shared and the best way to learn is to teach. Open-source software is a free platform that allows its users to share experiences with others. Sharing your work can lead to better quality and helps to get constructive feedback. One of the best qualities of open source software is that the source code of a piece of software is kept open and free to download, also you can modify and incorporate it into third-party projects which helps to enhance the software itself. And that is why many companies are choosing open-source software strategies. 
Every company either VMware, Dell, Nordstrom, or Home depot, relies on open-source software. It all started with Red Hat, who was an initiator in the open-source software market and investors always had this doubt whether other companies would be significant for open source or not. But we have seen rapid growth in the open-source software market and now an open-source has a good presence in the industry. A lot of big companies have now been putting a lot of emphasis on open source strategies.
Talking about the up-gradation in the field of the open-source software environment, in 2019, Red Hat was taken by IBM for $32 billion, Mulesoft for $6.5 billion after going public, and MongoDB for worth $4 billion. In addition, there was a growing unit of remarkable open-source software companies working their way through the growth stages of their evolution like Confluent, HashiCorp, DataBricks, Kong, Cockroach Labs, and many more in the business world. These changes in the tech industry towards open space have given a lot of preference to open source software strategies and improved its occupancy in the industry.
Business use of open-source software is rising at a rapid speed. With an increase in the number of users, we can now see a magnificent development in the open-source market. Open Source has become a community where people from different backgrounds work together and it gives companies the flexibility to choose the right staff and save money. Some of the very important reasons for choosing open-source software strategies of these companies are: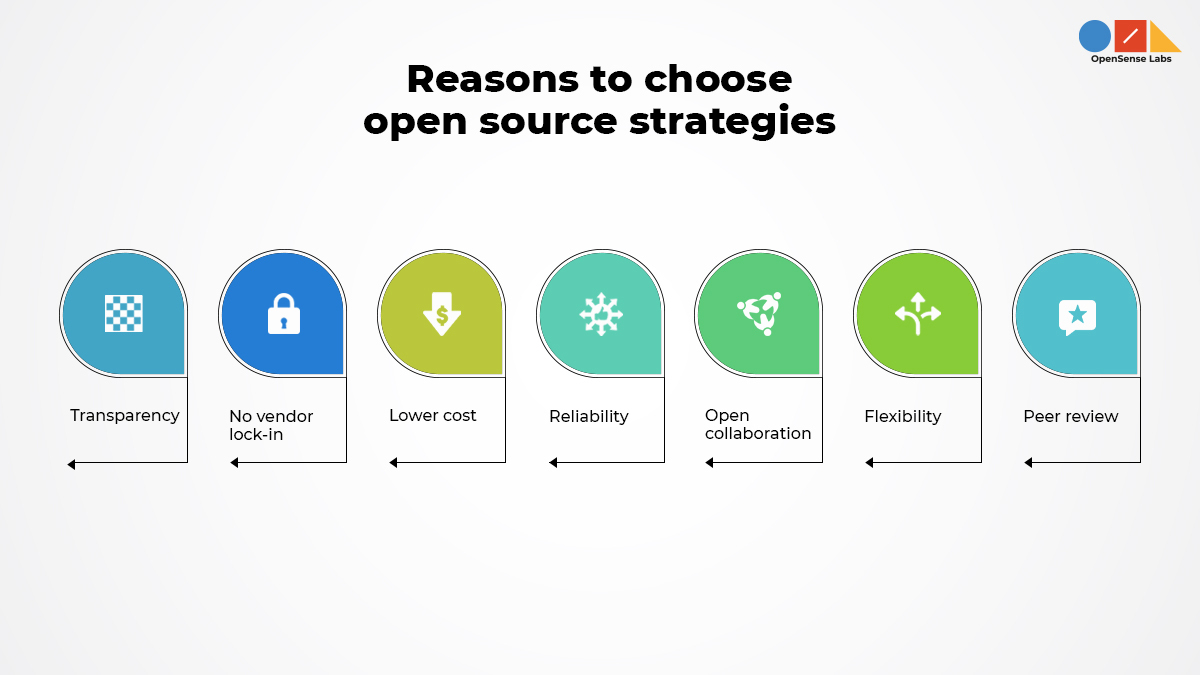 With open-source software, one of the major advantages is that you can check and track your code without having to rely on vendors. Which creates a sense of flexibility in workflow. Peer programmers can also help to improve the source code and you can have an open collaboration with them on a project basis. With no vendor lock-in system, you can take your open source code anywhere and use it accordingly. All these perks of open source software give an upper hand to companies to choose open source software strategies. 
Open Source in numbers
Compared to proprietary software where businesses must pay for them, open-source software is available for free in the market. Moreover, in proprietary software, vendors keep source code confidential but in open source software, it is developed publicly. These vendors rely a great deal on the open community. And not only vendors but employees, freelancers, and hobbyist programmers associated with open-source workspace participate in open source projects to get acknowledged for their technical skills. Because this platform gives global recognition as their work is accessible to all. 
Contribution of big companies, vendors, developers, and freelancing programmers helped the global market of open-source software services to increase at an exponential rate. Its flexibility to modify code and free availability is the topmost advantages to widen up its use.


The tremendous growth in the graph of the open-source software market indicates that companies are ready to invest more and more in the open-source space. These researches depict that open source adoption in organizations is expected to grow across all IT segments to accelerate business growth.
Merits and caveats of open source 
The demand for open source software services in the market has seen tremendous growth to accelerate businesses. There are many reasons why the open-source software strategy has become so popular. Let's have a look: 
One of the important features of open-source software systems is that their code can be fully customized and vendors can change portions of the code or add components to alter it for different business needs.
Latest technologies like AI and ML use open-source software. Its proficiency and vitality provide an edge, with the community ensuring that applications are developed rapidly.
The community utilizes a collaborative approach to software development, which helps drive development. Enterprise-grade open source software faces a lower risk of inactivity because of the community's involvement.
Finding developers is easier in an open-source system as it is supported by a large number of developers of diverse backgrounds. More on diversity, inclusion and equity in open source here.
Nothing is black and white there are greys in everything. For instance, licensing from commercial open source vendors may sometimes be pretty difficult to comprehend. If you see MIT and Apache licenses, they comprise only the barest of requirements vis a vis software redistribution. Hardly anything detailed can be seen in MIT license and apache license puts forth elaborative terms which means that the latter is most often seen with open source projects designed for enterprise-grade deployment. More on open source licensing here. Sometimes organisations find themselves on the crossroads when they have to strike the right chord between reaping the benefits of OSS and recognising the importance of bearing legal liability when anything goes downhill. Also, Open source security has the reputation of being the best in the business but under-funded open source projects can have serious repercussions.
Why create an open source strategy for your business?
An open-source software strategy is a collective approach towards innovation. It requires systematic flow and management to achieve its goals. According to Ibrahim Haddad at Samsung, hiring top-tier development talent that already has working knowledge in the area of open-source environments helps businesses to achieve their goals and also guides existing developers. An experienced person can easily supervise newcomers. 
Lee Congdon, former CIO of Red Hat, also echoes the same thought stating that "Open source is a pool of space for businesses to attract new talent."
The business imperative
So far we have understood the importance of open-source software strategy in business growth but we need to figure out how to set these strategies to boost efficiency and minimize risk. To start with an idea, the very initial step is to create a plan and here in open source software strategy, one has to start documenting a strategy document. This will help in keeping you out of trouble that can arise from picking up wrong decisions. 
Strategizing your document will benefit you in many ways:
It will clearly explain your company's approach to open source and its use. 
Helps in making decisions for multi-departmental organizations and builds a healthy community around inventions. 
The strategy document will give a clear-cut idea about the company's investment and let more leaders and stakeholders be involved. Read more about open source leadership here.
What's in it for stakeholders
Engaging stakeholders in your strategy is a crucial task. The goal of a company is to produce high-quality, secure, and reliable products. Open source platforms help each and everyone in the organization to grow and achieve their goals with high productivity and with a vision to achieve the desired result. What stakeholders look for is the best output for the business and sustainability in the market. 
One of the best features of open source is its high flexibility in modifying source code. Since it is an open platform, it gives you ample space to make changes in code from anywhere. It encourages developing new features along with replacing or improving existing features.  
Adding further to this, modification and development in source code becomes easy in open source software because you can take help and augment engineering resources from anywhere. Besides its contribution to code modification, the open-source platform is a great asset for cost reduction. It helps with consulting, training, and support costs because there is no exclusive access to the technology. And this helps in attracting third-party developers and contributors to your business. Learn more about open source being recession-free and how it thrives during economic slumps here.
Whether your organization chooses open source software for its high-quality source code, lower costs, flexibility, or because it lets you embrace digital innovation by making you try out disruptive technologies keeps you on the leading edge of technology, it provides a competitive advantage. Therefore, an open-source software strategy requires the collaboration of every member of the organization with the same vision to build an effective open-source environment. 
From the vantage point of Amazon Web Services
Amazon, one of the leading companies in the world today, heads more than 1,200 open source projects on Github. Like many other companies, Amazon Web Services is also making a significant contribution in open-source space and funding open source development specific to customer needs. Why have they invested so much in open source software strategy when it is not an open-source company like Red Hat? Matt Assay, head of open source strategy and marketing at AWS explained self-servicing is their main objective. As well as using a lot of open-source software in its own products, AWS provides promotional credits to open source developers to entice them to use AWS products. 
Their most recent open-source project is Babelfish for Aurora PostgreSQL. It is an open-source translation layer that makes it easy to migrate from Microsoft SQL Server to Amazon Aurora PostgreSQL.  
What to know before forming an open source strategy
We have gathered a lot about open-source software space in numbers and how to initiate the strategy. Now, two important aspects need to be kept in mind. These concepts will help businesses to determine a program framework and you can maximize your open source strategy. Let's have a look,

Putting forth a standardised governance in place: A set of norms and guidelines is necessary while working on a project. As open-source software projects grow, contributions from different areas become more complex, if you do not have proper policies and procedures. Proper governance helps in setting up the same guidelines for everyone working on a particular project and reduces security and legal risks. It smoothes the transition when an internal project is open-sourced because then all the developers will work under a certain governance code. 
Putting forth a strategy for long-term, sustainable projects: For any business, it is important to have a sustainable approach for long-term relationships. A key driver to measure the success of open source software is that it builds a strategy around companies to take interest in your open source projects. Building a long-term relationship with contributors and partners in open source arises from feature-rich developer communities whose code is productized to get business profit and governance. The ultimate goal is to reinvest back into the project community lifecycle. More on open source sustainability here.
How to create an open source strategy

Do you think your words are sufficient enough to portray your idea? Obviously not, because everything can't be remembered just by words. You need something handy to recall things. Similarly in an open-source software strategy, a written document will help you to align your goals and objectives. The documented strategy assists everybody in the team to work in sync and helps them to understand the business objectives behind your open source project.
Document your goals and objectives
The most important step is documenting your goals and objectives in a way that can be understood by everyone. At a minimum, your document should explain the company's approach and what's the role of open-source software strategy in that. And to determine an approach it is vital to understand your vision towards any project, whether you are ready for open source strategy or not, which open source strategy is helpful for your company and many people you need to contribute to your project. 
Ian Varley, Software Architect at Salesforce shared his thoughts on open source strategy documentation, stating that "at Salesforce, we have internal documents that we circulate to our engineering team, providing strategic guidance and encouragement around open source."
Determine how your employees can contribute to open source
The key element of any project is the workforce behind it. Determining the right amount of people and talent to shape your strategy is necessary for all businesses. Guiding your employees about how they can consume open source code and what contribution they can make in that. What acceptance, rejection, and exception policies should developers follow? How to manage if code comes into one of your products from a project with a different licensing setup? All these queries need to be kept in mind while producing an open-source strategy document. Learn more about the perks of contributing to open source here.
Decide upon the number of people you need and the skills required
The next step is to decide the strength for your project with the right amount of skills required. You might need to put in a lot of effort to gather the right workforce because in open source software strategy projects a developer has to be comfortable with an ambiguous ecosystem and should have the ability to take criticism and feedback. Not everybody is comfortable working under a public spotlight and that is why it becomes very important for any company to hire only those who have an intent to work in an open-source environment. 
External resources:
Open-source software strategy depends on many external and internal resources and these resources help you to determine the criteria to set your strategy. Talking about the external factors there are a lot of resources that help you flesh out your open source strategy and the majority of them are free. Have a look at some of them: 
Linux Foundation offers educational resources
Talk Openly Develop Openly practices on running open source strategy programs
Open Source Guide by GitHub helps on building open source community
Open source policy documentation by Google
InnerSource Commons founded by Paypal helps companies to pursue an open-source strategy in exchange 
Their approach can differ according to their needs but a common agenda to contribute towards an open-source environment is the same. You can choose and adapt their practices and strategies that fit your business needs. 
The surprising fact is that Netflix, which is the biggest OTT platform, is a true standout in open source. They have an Open Source Software Centre that contributed many tools and applications to the open-source community
Internal resources:
While these kinds of external resources can give basic direction and fill in as a benchmark for your strategy, internal resources are key in setting your open source business system. Your open-source methodology ought to be custom-made to your interesting plan of action, and individuals inside your own organization are the best wellspring of data. Moreover, you need to incorporate every one of the stakeholders to arrive at an agreement to guarantee that everybody is in total agreement and put resources into seeing the endeavors succeed.
Chalk out policies and guidelines
Now once you understand goals, objectives, and employee contribution, you have to set some policies and guidelines before working on an open-source software strategy project. These bullet points need to be written down properly in your strategy document. 

Incorporate open source program offices
It is important to have a center of all sources so that information becomes easily accessible to all. Companies and corporations mostly set up program offices that act as one-stop shops for open source-related activities. It helps to manage the process and to be a resource for your contributors to get help and guidance. An open-source program office can provide your contributors with a platform to share ideas, collaborate with other developers and spark innovation as well. Coordination between internal activities such as legal, technical, and marketing becomes with the program office. 
Companies with poor open-source software strategies will never find a way to execute a project in an open ecosystem. For them, it becomes very important to foster the workforce with the right governance and supervision to achieve their goals. And that is where open source plays an important role. It helps in finding out the contributors for your project and improves the company's reputation for both marketing and recruiting purposes. Most importantly it helps to support employees on a great level because of the fact that source code is open and they can ask for help anytime anywhere. 
Measure your success

To summarize, by having a clear strategy you can justify your open-source projects and will be able to achieve the desired goals. Measuring metrics will go a long way to understand the success rates. But the bigger part is you need to understand how you are going to analyze which metrics to use? Eventually, you need to look at your strategies and plans to come up with criteria that will help you measure whether or not you are successful.
At last, If your open source strategy is not giving you results, consider restructuring your strategy. Develop a strategic plan and set your goal, this will help in making your project sustainable. If you're ignoring changes in the industry and not getting aware of the current software trend then it would create chaos for your business. It becomes very important to understand what this project will do and how it's going to solve a problem, so just open that README file and look for solutions. Appreciable feedback will help you to analyze the problems and give better solutions. 
Building a culture of psychological safety is necessary for an open-source ecosystem as developers can feel a sense of comfort while working and would not get worried about the results. All these points make open-source software strategy an important element to your business.
blog image
Go to Source
Author: