As the world goes digital, marketers and entrepreneurs are searching for ways to increase their online presence.  One of the best ways to go about this is having a website that stands out from the crowd.  After all, it is the first thing that visitors notice about your brand before doing business with you. 
Even though you can never run out of options whenever you want to build and maintain websites, not many outdo Drupal.  Open-source software made available under the GNU Public License, Drupal will come in handy when looking forward to building and maintaining your website globally.
There is a huge chance you have used Drupal before without your knowledge. That is because many top businesses, Fortune 500 companies, nonprofits, and government organizations leverage Drupal.  But before you join the bandwagon and give it a try, it is in your best interest that you know what Drupal is and why you should give it a try. 
Fortunately, that is what this guide will help you unearth today. Continue reading to find out more about Drupal and why you should consider giving it a try!
What is Drupal?
First things first, what is Drupal?  This is one of the questions you need to ask yourself to understand the system and unleash its potential.  In a nutshell, Drupal is a free and Open Source Content Management System (CMS) that allows users to create and manage content over one or multiple websites. 
Being open-source software, anyone can download Drupal, work on it, and share it with others hassle-free.  Furthermore, it boasts of numerous inherent benefits including, accountability, security, and flexibility. No wonder it is among the most popular CMS' currently available at your disposal.
You might wonder what makes Drupal way more superior compared to other content management systems out there.  In a nutshell, many users find Drupal easy to use when creating a more customized website, unlike other free CMS systems like WordPress.  Better, Drupal tends to be versatile, giving you the freedom you need to build and maintain your website.
What makes Drupal worth leveraging as opposed to other CMS' is that almost anyone can contribute to the site with no HTML experience. Things are not any different for editors, writers, and website administrators without any coding experience.  That is possible thanks to the What You See is What You Get (WYSIWYG) feature that enables writing, editing, and adding content without the hassle. 
Why Drupal Shines as CMS
Now that you know what it entails, you need to understand what is Drupal used for and what makes it shine as a CMS.  With Drupal, you no longer have to go through a lot to create and publish your content. That's because it allows users the chance of pulling this off without the hassle. 
But how is this even possible in the first place?  The CMS platform is popular for accommodating unlimited content types.  Some of the most popular ones include media and text available in highly customizable forms.  To ensure users have a remarkable digital experience, Drupal retrieves, filters, and presents the content in powerful, but simple-to-use tools. 
Furthermore, Drupal contains intuitive content creation tools and powerful in-place editing tools that ensure you get things done without the hassle. To give you the tip of the iceberg, Drupal is full of features and highly customizable, unlike other CMS systems out there.  Either way, you should be aware of what is Drupal used for before you finally give it a try.  
Top Advantages of Drupal over Other Content Management Systems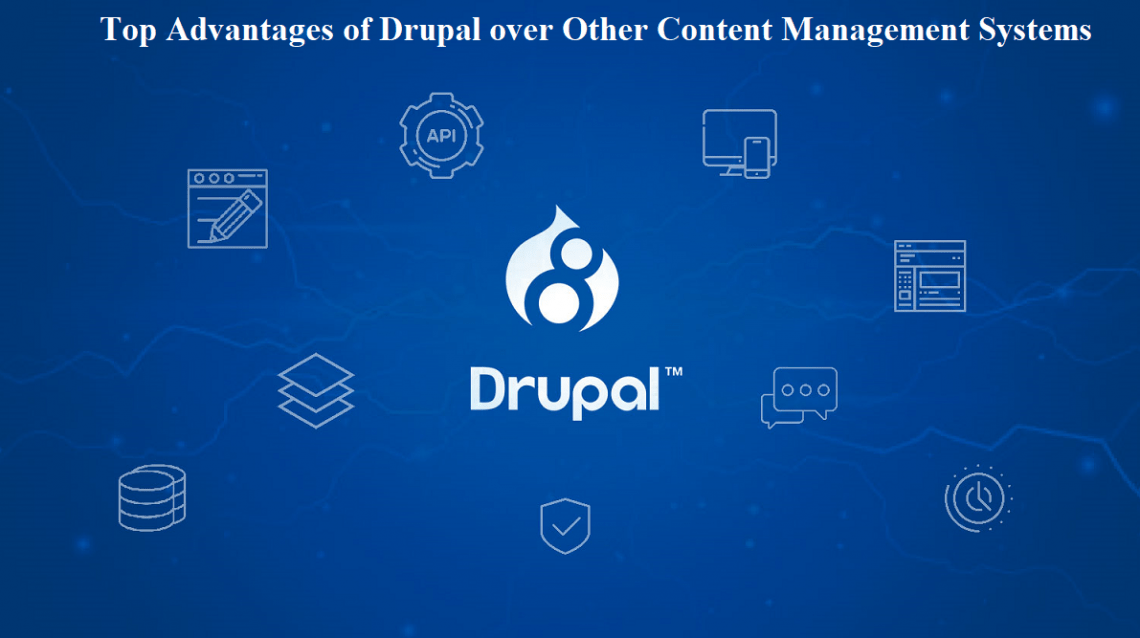 Before we dive deeper into what does Drupal do, it is essential that you know about the advantages it boasts over other Content Management Systems. After all, this is the only way you stand a good chance of reaping maximum benefits from the system.  With that in mind, below are some of the most notable benefits Drupal brings to your business or organization.
Flexible Integration  
One of the biggest selling points of Drupal is the ability to help users create and manage a host of content types.  Some of the most popular content types include statistics, podcasts, blogs, videos, and many more. For this reason, you will have an easy ride when looking forward to creating content-rich websites for different markets such as commerce and media. 
Security 
CMS security is something that you can't risk skimping at any given time. Drupal does not disappoint in this regard as it offers unshakable security to all users.  To guarantee maximum user satisfaction, Drupal is highly secure and provides regular patches.  That explains why it works wonders for enterprise clients.
However, you need to implement and maintain it properly to serve you as the most secure CMS. The good news is that Drupal happens to have the best security team you can count on, not forgetting advanced hosting providers.  For this reason, it is common to come across large organizations that leverage Drupal as the main CMS for powering their web applications or websites. 
Scalability 
Scalability is undeniably one of the tremendous strengths of Drupal over other Content Management Systems out there. As long as you have an idea of what does Drupal do, you will have an easy time growing the number of your web pages without the need to change anything.  Better, it serves you perfectly whenever you want to alternate between periods of high traffic spikes. 
Current Version Features 
Drupal 9 provides a host of features that make it way easier to use than was the case with its predecessors.  For instance, users can now take advantage of the new field locations and new fields.  If this is not enough, it relies on the CKeditor to make posting content similar to editing a document on Word.  Other popular features that will make you fall in love with Drupal 9 include the Quick Edit feature, helpful Tour button, and additional four key modules. 
Ways Marketers Can Leverage Drupal
Drupal 9 has undeniably turned into a marketer's dream thanks to the new features and core enhancements it offers. And this doesn't come as a surprise as it allows marketers the chance of personalizing content based on their target audience, device type, and language.  Keep in mind content is king when looking forward to improving SEO, driving organic traffic to your website, and creating leads.
If you have done your homework on what is Drupal used for, you probably know that it draws on the innovations of thousands of marketers, designers, and developers.  With that in mind, below are some of the ways marketers can leverage Drupal to their advantage.
Mobile Responsiveness  
The responsiveness of your website or web applications on mobile devices speaks volumes on whether or not you'll attain your digital marketing goals.  Not only does it impact Google rankings, but it also helps drive immense traffic to your website. That does not come as a surprise since more and more people now use smartphones for almost everything in their personal lives. 

Fortunately, this is something that won't give you sleepless nights since Drupal takes mobile seriously.  You might be wondering what does Drupal do when it comes to mobile responsiveness?  In a nutshell, Drupal comes with built-in themes that are mobile responsive together with web services built into the core. Thanks to these new features, users can access content from any device of choice. 
Creative Freedom 
Business competition will always exist regardless of the industry you choose.  To win over a huge share of the market and drive business growth, you must make an effort to stand out from the crowd.  And this not only implies how you do business, but it also refers to the way you run your marketing campaigns.
With Drupal, you won't worry about giving your competition a run for their money.  That is because it seamlessly incorporates the existing marketing and sales technologies of your venture.  That's possible since the cutting-edge Drupal modules give your marketing team creative freedom to handle tasks at their desired pace and convenience. 
As long as you have a good understanding of Drupal's architecture, you can launch your website with ease when compared to other CMS' out there.  That's what your marketing team needs to lay the foundation of a strong digital marketing strategy. Before you know it, your business is a force to be reckoned with in the industry.
Makes Your Website Faster 
The vast majority of businesses lose visitors to their website due to speed. Keep in mind many web users expect your website to load in 2 seconds. If your website takes longer than this to load, be rest assured you will lose conversions from visitors to your website. In short, faster pages make money for your business. 
That's where Drupal proves beneficial to marketers as it makes websites faster. Of course, this is without the need to bring in a lot of technical expertise.  If you only know what is Drupal but have no idea about its working mechanism, then it might prove difficult to understand this. 
To help clear some of the doubts in your mind, Drupal makes use of Cache Tags to make caching way more efficient. Furthermore, it allows for context-based caching thanks to its Cache Content API feature.  For this reason, your website will load faster while making sure visitors only make do with the latest version of your site. 
Cost of Drupal
Now that you know what does Drupal do and the numerous benefits it will bring to your organization, it is time to give it a try.  But before you make the switch, it is also essential that you find out the average cost of the structure. After all, you don't want to take a toll on your business finances just because you want to use Drupal.
The good news is that you don't have to break the bank to take advantage of Drupal. Either way, it depends on the type and size of the business you're running.  For large enterprise sites, you will have to spend way more when compared to medium-sized websites.  Remember, the average cost structure of a Drupal build include strategy, design, and implementation. 

The Bottom Line 

There you have it; some of the things that touch on what is Drupal used for.  Keep in mind there is more to Drupal than meets the eye. That's why you should never make the mistake of creating a Drupal website without having the slightest idea of what it entails. Most business leaders and marketers who do that end up regretting their decision in the long run. 
But what if you're struggling to build pages on your Drupal Site? In this case, there is nothing to worry about since you're not alone. Most marketers have no idea on whether to wait for a developer to help them out or try to build with Drupal single-handedly. Luckily, you don't have to assign that webpage to a busy designer since some service providers allow users to unleash their creativity instantly.
Before you build whatever you want, ensure you know what is Drupal and how it can help change your company or organization for the better. That way, you can build sites faster and easier without leaving any room for mistakes. So, what are you waiting for before you finally leverage Drupal!