Better lives with Drupal-powered healthcare technologies
Shankar
Thu, 10/18/2018 – 21:53
You run, you fall and you rise again with your ambitious endeavours of attaining supreme fitness. With so much going around in your own life, when you have to take care of your grandmother and monitor whether her insulin intake is right on track or not, it can prove to be a formidable task. Healthcare technologies have advanced to a whole new level and something like a smart wearable equipped to perform automated monitoring of diabetes can be of immense help.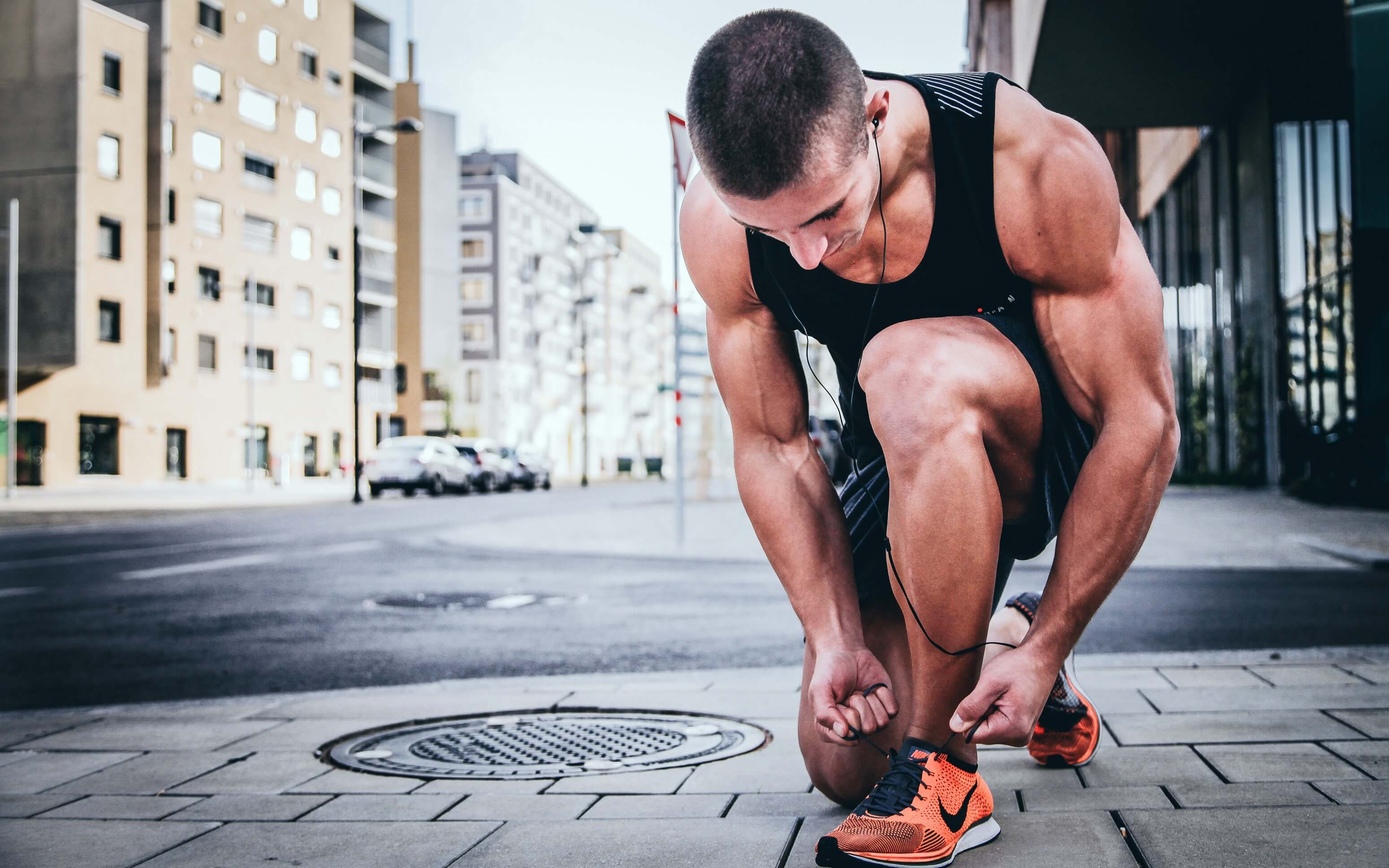 As the pace of change accelerates, how can the healthcare industry move ahead and stay relevant with the changing demands? No matter what their size is, healthcare organisations find it a strategic imperative to answer this question. The velocity and scope of technological advancements are blurring the lines between healthcare and technology thereby redefining traditional MedTech and fundamentally altering business models.
With more healthcare technologies offering a new perspective for the organisations, Drupal's stupendous web content management and its flexibility in integrating with healthcare technologies make it a remarkably meritorious choice for your digital innovation plans. So, what are some of the healthcare technologies doing rounds in recent times?
Healthcare technology trends
Technological innovation is giving different dimensions to what healthcare organisations can achieve
Whether it is the business and administrative side of things or the direct patient care, technological innovation is giving different dimensions to what healthcare organisations can achieve. Here are some of the trends in the healthcare industry that are making a humungous impact:
IT security
Healthcare enterprises are often the targets of sophisticated, well-coordinated cyber attacks because of the depth of information stored by healthcare providers. A study by Beazley Group states that 45% of the ransomware attacks in 2017 targeted healthcare organisations.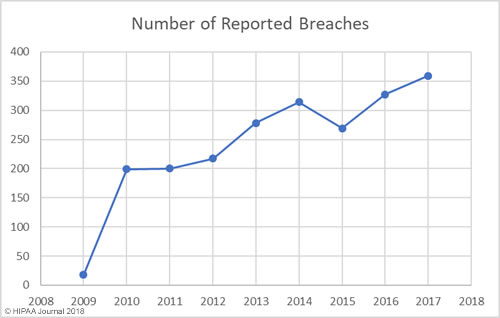 This has created a pressing need for better IT security. Healthcare enterprises are responding by investing in advanced security technologies like advanced data encryption, better data backups, and real-time security platforms leveraging Artificial Intelligence (AI) to detect and curb threats before they start posing serious issues.
Advanced Training Tools
Advanced healthcare training supplies are fast spreading in the marketplace to prepare students, residents and other inexperienced healthcare professionals with safe and efficacious environments to learn. These comprise of things like ECG simulators, live AED units, and bleeding control training kits.
Telehealth
Telehealth and telemedicine are becoming a significant part of the digital health transformation. For instance, Digital health lets the elderly to age and live in their own homes using technology like fall-detection monitors. Tele-mental and Tele-behavioural health services are another healthcare technology innovations that are blooming.
Artificial Intelligence
AI has the ability to completely metamorphose the healthcare industry in the coming years. It can streamline tasks like scheduling, timesheet entry, paperwork, Electronic Health Records (EHR), accounting and the diagnosis of patients.
 
For instance, chatbots can prove to be a great application point. These AI-powered software mechanisms can assist healthcare providers to cut down on the time-intensive nature of patient communication and simplify any tasks that do not require direct human intervention. Advanced chatbots, which are also referred to as conversational chatbots, can discuss in-depth health issues with patients to offer the best possible treatments that are available. For example, IBM Watson is helping doctors in providing advanced treatments.
Internet of things
A study by Rock Health states that a staggering amount of $3.5 billion was invested into 188 digital health enterprises in the first quarter of 2017 and the number of smart wearables is going to reach 34 million by 2022.
Medical wearable devices are one of the most promising IoT devices that have the potential of offering healthcare teams with valuable data around the clock no matter if the patient is at home or outside of the practitioner's direct care. Some of the exciting application constitutes cardiac monitoring, infant monitoring, fitness tracking, and pain management.
Big data and EHR
One of the most vital things in recent times is an Electronic Health Record which leverages the merits of Big Data. EHR stores all the health information of the patients electronically in the digital format that can be used by other information systems. It provides an option to the customer and the physician to have a permanent access to client data like cardiac waveforms, chronic diseases, diagnostic and previous prescriptions.
 
An EHR can improve the interaction between doctor and patient for more productive delivery of care. EHR minimises the number of papers that would be needed when visiting physicians.
Augmented reality and Virtual reality
The arrival of virtual reality and augmented reality solutions have also benefitted the healthcare technologies. From educating new students to planning procedures, the field of AR and VR has a lot to offer.
 
For instance, AR can allow medical students to interact in a really intuitive way with a 3D representation of the body. Another example is the AR app which was developed by Pixelbug that gave a better understanding of medical devices and their mechanisms for the physicians.
 
Also, Maplewood Senior Living in Connecticut has utilised VR headsets to work with individuals to address concerns ranging from dementia to cognitive impairments.
Coming together of Drupal and Healthcare technologies
Drupal, being an open source CMS, powers healthcare organisations in controlling costs and provides deeper patient and consumer engagement with information thereby improving people's lives.
Drupal helps in safeguarding patient data with its security-focused framework
Drupal gives the extensibility to healthcare organisations by enabling them to integrate platforms and also help in the addition of new functionality with third-party technology. It helps in safeguarding patient data with its security-focused framework. You can customise the user experience to deepen patient engagement and alleviate provider satisfaction.
Some of the applications that show the capabilities of Drupal integration with healthcare technologies are given below:
Smart Wearables
DrupalCon Nashville 2018: Driesnote had a conversational session between Rebecca Pilcher / RyeBurd (Director of Marketing at Drupal Association) and Dries Buytaert (Project lead of Drupal). Rebecca shared an interesting story that threw light on how a smart wearable powered by Drupal helped to control Diabetes and track the intake of insulin levels.
When Rebecca was being diagnosed with Type 1 Diabetes, an Omnipod insulin pump and a CGM (Continuous Glucose Monitor) helped her handling diabetes. A CGM tracks blood sugar patterns and an Omnipod insulin pump gives more flexibility in her insulin intake routine.
So how does Drupal come into play here? Dexcom, which is the brand of CGM, has one of its platforms powered by Drupal and Omnipod's website is built on Drupal as well.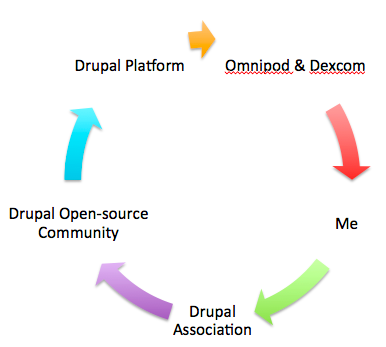 Drupal and EHR Integration
Integration of Drupal with the EHR system can help in creating an excellent system with an astounding web content management capabilities coupled with the innate strength of EHR for patients' documents management.
A digital agency showed that Drupal has the capabilities to layer on top of several EHR systems within a medical group and compile the data into one physician portal. Drupal's extensibility enables it to take on sophisticated integrations through numerous feeds from API calls, XML or JSON feeds and RESTful APIs.
Most current EHRs output data in HL7 (Health Level 7) delimited text files. HL7 has upgraded to a new protocol Fast Healthcare Interoperability Resources (FHIR) which leverages RESTful APIs and can make clinical modelling and system integrations less intricate.
Through integration between Drupal data-layer and an EHR via RESTful API connection, interoperability can be improved thereby empowering your staff to make use of critical data. Breaking down the data silos lets the healthcare delivery systems to evolve from a reactive diagnostic model to a proactive preventative model.
With the help of secure access management, Drupal can be configured at granular levels to data security and simultaneously access can be provided to a user based on role. Leveraging role-based provisioning, Drupal can surface a focussed view of critical data that dwells behind a firewall in a HIPAA secure environment.
Using specific EHR authorisation requirement, Drupal can be configured to tap into the database through web services integration and at the same following strict user access permission controls. Thus, this helps in protecting the data at all the times.
Genetic Information Management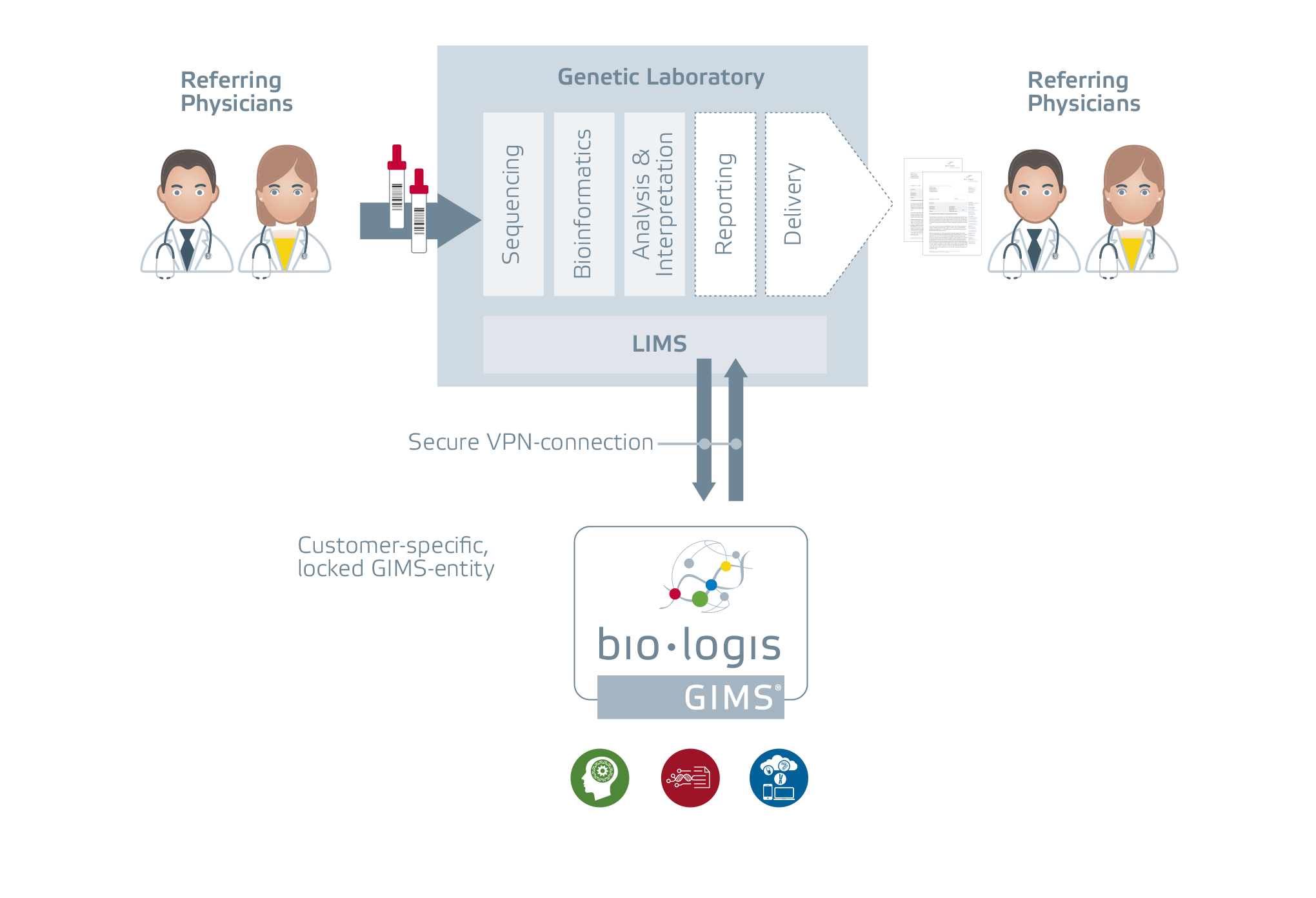 Bio.logis offers Genetic Information Management Suite (GIMS) which helps in managing human genetics information for making genetic code accessible and usable. It gives genetic data to allow decision making with a medical value. GIMS comprises of a web-based authoring and content management system based on Drupal which is globally connecting expert knowledge in addition to genetic reports engine.
GIMS is based on Drupal and is globally connecting expert knowledge in addition to genetic reports engine
A multilingual portal and mobile applications offer access to medial-ready knowledge for physicians, patients and healthy clients for supporting distribution and scaling of genetics advice. The 'pharma.sensor' online application offers notions about adjusting drug therapies to individual genetic makeup.
Conclusion
With technological advances, healthcare technologies have had a massive makeover. Digital health services are leveraging emerging technologies and this has benefitted healthcare industries. Drupal has been pioneering digital innovation strategies in the healthcare with its enormous capabilities to integrate with disrupting technologies.
Providing ambitious digital experiences to the partners has always been the objective of the Drupal experts at Opensense Labs and we have been doing that through a suite of services that we offer.
Ping us at hello@opensenselabs.com to build great digital solutions through the integration of Drupal and the healthcare technologies.
blog image