Most products cycle through the infamous Innovation S-curve, which maps a product's value and growth over time.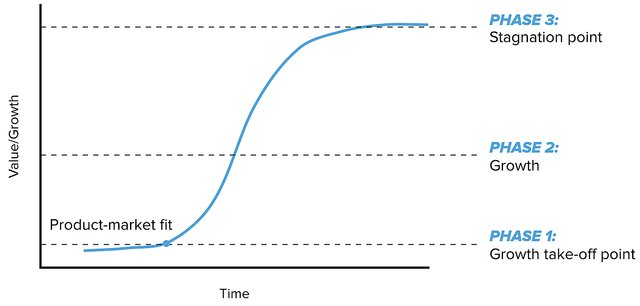 Startups are eager to find product-market fit, the inflection point in which the product takes off and experiences hockey-stick growth (the transition from phase one to phase two).
Just as important, however, is the stagnation point, or the point later in the S-curve when a product experiences growth stagnation (the transition from phase two to phase three). Many startups don't think about their stagnation point, but I believe they should, because it determines how big the product can become.
Ten years ago, a couple years after Acquia's founding, large organizations were struggling with scaling Drupal. I was absolutely convinced that Drupal could scale, but I also recognized that too few people knew how to scale Drupal successfully.
Furthermore, there was a lot of skepticism around Open Source scalability and security. People questioned whether a community of volunteers could create software as secure and scalable as their proprietary counterparts.
These struggles and concerns were holding back Drupal. To solve both problems, we built and launched Acquia Cloud, a platform to build, host, and manage Drupal sites.
After we launched Acquia Cloud, Acquia grew from $1.4 million in bookings in 2009 to $8.7 million in bookings in 2010 (600% year-over-year growth), and to $22 million in bookings by 2011 (250% year-over-year growth). We had clearly found product-market fit!
Not only did it launch Acquia in rocket-ship growth, it also extended our stagnation point. We on-boarded many large organizations and showed that Drupal can scale very large. This helped unlock a lot of growth for both Drupal and Acquia. I can say with certainty that many large organization that now use Drupal would not have adopted Drupal without Acquia.
Helping to grow Drupal — or extending Drupal's stagnation point — was always part of Acquia's mission. From day one, we understood that for Acquia to grow, Drupal had to grow.
Launching Acquia Cloud was a great business decision for Acquia; it gave us product market fit, launched us in hockey-stick growth, but also extended our S-curve.
As I think about how Acquia has approached the Innovation S-curve, a few important lessons stand out. My recommendation is to focus on opportunities that accomplish two things:
Focus on business opportunities that serve a burning customer need that can launch or accelerate your organization.
Focus on business opportunities that remove long-term barriers to growth and push out the stagnation point.