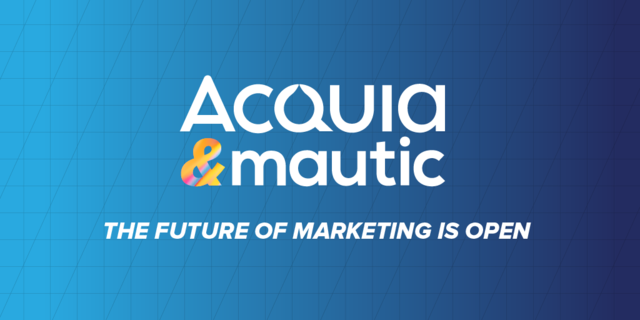 I'm happy to announce today that Acquia acquired Mautic, an open source marketing automation and campaign management platform.
A couple of decades ago, I was convinced that every organization required a website — a thought that sounds rather obvious now. Today, I am convinced that every organization will need a Digital Experience Platform (DXP).
Having a website is no longer enough: customers expect to interact with brands through their websites, email, chat and more. They also expect these interactions to be relevant and personalized.
If you don't know Mautic, think of it as an alternative to Adobe's Marketo or Salesforce's Marketing Cloud. Just like these solutions, Mautic provides marketing automation and campaign management capabilities. It's differentiated in that it is easier to use, supports one-to-one customer experiences across many channels, integrates more easily with other tools, and is less expensive.
The flowchart style visual campaign builder you saw in the beginning of the Mautic demo video above is one of my favorite features. I love how it allows marketers to combine content, user profiles, events and a decision engine to deliver the best-next action to customers.
Mautic is a relatively young company, but has quickly grown into the largest open source player in the marketing automation space, with more than 200,000 installations. Its ease of use, flexibility and feature completeness has won over many marketers in a very short time: the company's top-line grew almost 400 percent year-over-year, its number of customers tripled, and Mautic won multiple awards for product innovation and customer service.
The acquisition of Mautic accelerates Acquia's product strategy to deliver the only Open Digital Experience Platform: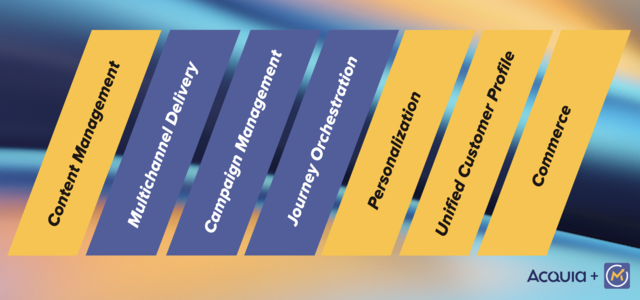 There are many reasons why we like Mautic, but here are my top 3:
Reason 1: Disrupting the market with "open"
Open Source will disrupt every component of the modern technology stack. It's not a matter of if, it's when.
Just as Drupal disrupted web content management with Open Source, we believe Mautic disrupts marketing automation.
With Mautic, Acquia is now the only open and open source alternative to the expensive, closed, and stagnant marketing clouds.
I'm both proud and excited that Acquia is doubling down on Open Source. Given our extensive open source experience, we believe we can help grow Mautic even faster.
Reason 2: Innovating through integrations
To build an optimal customer experience, marketers need to integrate with different data sources, customer technologies, and bespoke in-house platforms. Instead of buying a suite from a single vendor, most marketers want an open platform that allows for open innovation and unlimited integrations.
Only an open architecture can connect any technology in the marketing stack, and only an open source innovation model can evolve fast enough to offer integrations with thousands of marketing technologies (to date, there are 7,000 vendors in the martech landscape).
Because developers are largely responsible for creating and customizing marketing platforms, marketing technology should meet the needs of both business users and technology architects. Unlike other companies in the space, Mautic is loved by both marketers and developers. With Mautic, Acquia continues to focus on both personas.
Reason 3: The same technology stack and business model
Like Drupal, Mautic is built in PHP and Symfony, and like Drupal, Mautic uses the GNU GPL license. Having the same technology stack has many benefits.
Digital agencies or in-house teams need to deliver integrated marketing solutions. Because both Drupal and Mautic use the same technology stack, a single team of developers can work on both.
The similarities also make it possible for both open source communities to collaborate — while it is not something you can force to happen, it will be interesting to see how that dynamic naturally plays out over time.
Last but not least, our business models are also very aligned. Both Acquia and Mautic were "born in the cloud" and make money by offering subscription- and cloud-based delivery options. This means you pay for only what you need and that you can focus on using the products rather than running and maintaining them.
Mautic offers several commercial solutions:
Mautic Cloud, a fully managed SaaS version of Mautic with premium features not available in Open Source.
For larger organizations, Mautic has a proprietary product called Maestro. Large organizations operate in many regions or territories, and have teams dedicated to each territory. With Maestro, each territory can get its own Mautic instance, but they can still share campaign best-practices, and repeat successful campaigns across territories. It's a unique capability, which is very aligned with the Acquia Cloud Site Factory.
Try Mautic
If you want to try Mautic, you can either install the community version yourself or check out the demo or sandbox environment of Mautic Open Marketing Cloud.
Conclusion
We're very excited to join forces with Mautic. It is such a strategic step for Acquia. Together we'll provide our customers with more freedom, faster innovation, and more flexibility. Open digital experiences are the way of the future.
I've got a lot more to share about the Mautic acquisition, how we plan to integrate Mautic in Acquia's solutions, how we could build bridges between the Drupal and Mautic community, how it impacts the marketplace, and more.
In time, I'll write more about these topics on this blog. In the meantime, please feel free to join DB Hurley, Mautic's founder and CTO, and me in a live Q&A session on Thursday, May 9 at 10am ET. We'll try to answer your questions about Acquia and Mautic.