For the sixth year in a row, Acquia has been recognized as a leader in the Gartner Magic Quadrant for Web Content Management. Acquia first entered the Web Content Management Magic Quadrant back in 2012 as a Visionary, and since then we've moved further than any other vendor to cement our leadership position.
As I've written before, analyst reports like the Gartner Magic Quadrant are important because they introduce organizations to Acquia and Drupal. As I've put if before If you want to find a good coffee place, you use Yelp. If you want to find a nice hotel in New York, you use TripAdvisor. Similarly, if a CIO or CMO wants to spend $250,000 or more on enterprise software, they often consult an analyst firm like Gartner..
In 2012, Gartner didn't fully understand the benefits of Acquia being the only WCM company who embraced both Open Source and cloud. Just seven years later, our unique approach has forever changed web content management. This year, Acquia moved up again in both of the dimensions that Gartner uses to rank vendors: Completeness of Vision and Ability to Execute. You'll see in the Magic Quadrant graphic that Acquia has tied Sitecore for the first time: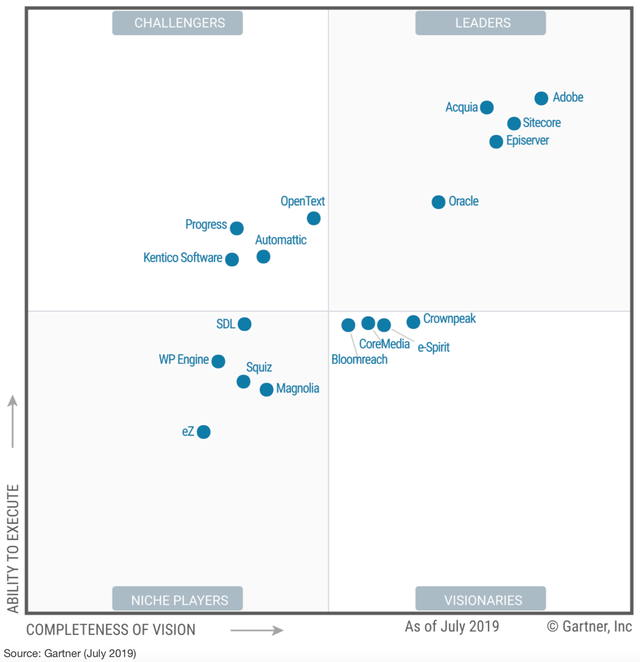 I believe we would have placed even higher had our Mautic acquisition completed a bit earlier.
In mature markets like Web Content Management, there is almost always a single proprietary leader and a single Open Source leader. There is Oracle and MongoDB. Splunk and Elastic. VMWare and Docker. Gitlab and Github. That is why I believe that next year it will be Acquia and Adobe at the very top of the WCM Magic Quadrant. Sitecore and Episerver will continue to fight for third place among companies who prefer a Microsoft-centric approach. I was not surprised to see Sitecore move down this year as they work to overcome technical product debt and cloud transition, leading to strange decisions like acquiring a services company.
You can read the complete report on Acquia.com. Thank you to everyone who contributed to this result!