Wow, what a year 2019 was for Acquia!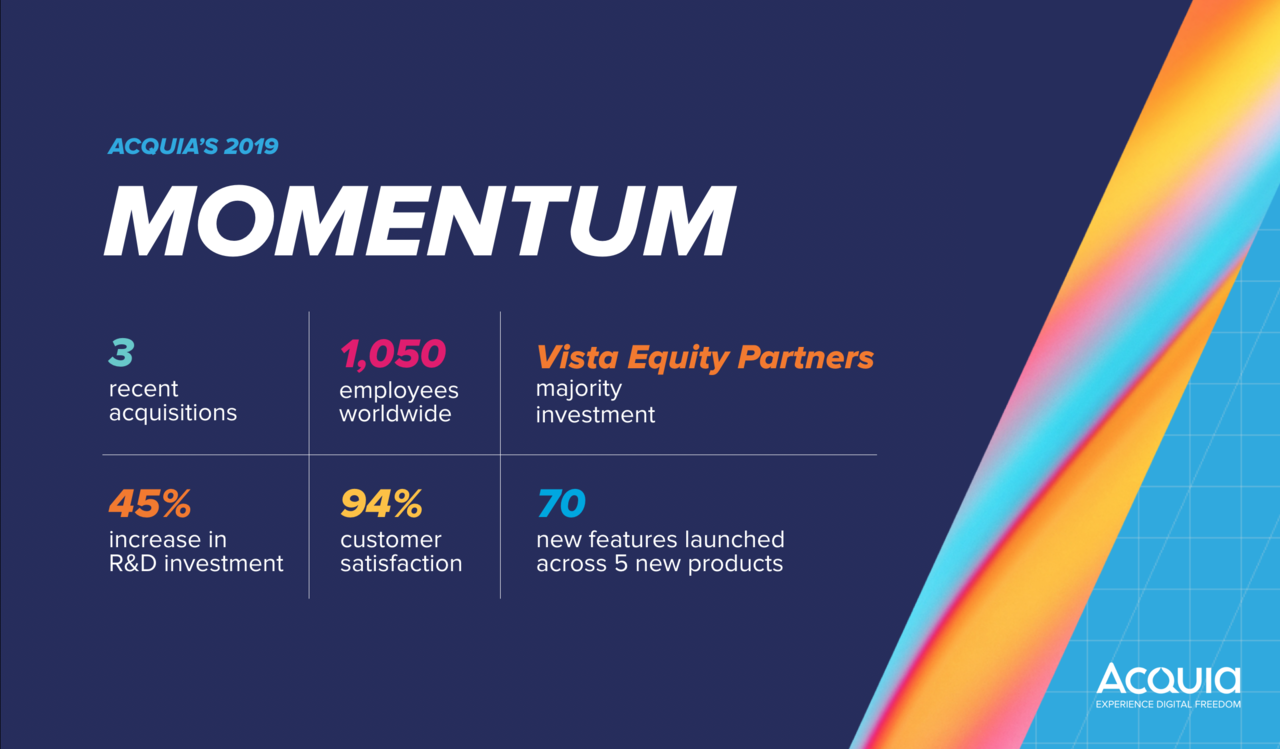 At the beginning of every year, I like to publish a retrospective to look back and take stock of how far Acquia has come over the past 12 months. I take the time to write these retrospectives because I want to keep a record of the changes we've gone through as a company and how my personal thinking is evolving from year to year.
If you'd like to read my previous retrospectives, they can be found here: 2018, 2017, 2016, 2015, 2014, 2013, 2012, 2011, 2010, 2009. This year marks the publishing of my eleventh retrospective. When read together, these posts provide a comprehensive overview of Acquia's growth and trajectory.
Our product strategy remained steady in 2019. We continued to invest heavily in (1) our Web Content Management solutions, while (2) accelerating our move into the broader Digital Experience Platform market. Let's talk about both.
Acquia's continued focus on Web Content Management
In 2019, for the sixth year in a row, Acquia was recognized as a Leader in the Gartner Magic Quadrant for Web Content Management. Our tenure as a top vendor is a strong endorsement for the "Web Content Management in the Cloud" part of our strategy.
We continued to invest heavily in Acquia Cloud in 2019. As a result, Acquia Cloud remains the most secure, scalable and compliant cloud for Drupal. An example and highlight was the successful delivery of Special Counsel Robert Mueller's long-awaited report. According to Federal Computer Week, by 5pm on the day of the report's release, there had already been 587 million site visits, with 247 million happening within the first hour — a 7,000% increase in traffic. I'm proud of Acquia's ability to deliver at a very critical moment.
Time-to-value and costs are big drivers for our customers; people don't want to spend a lot of time installing, building or upgrading their websites. Throughout 2019, this trend has been the primary driver for our investments in Acquia Cloud and Drupal.
We have more than 15 employees who contribute to Drupal full-time; the majority of them focused on making Drupal easier to use and maintain. As a result of that, Acquia remained the largest contributor to Drupal in 2019.
In September, we announced that Acquia acquired Cohesion, a Software-as-a-Service visual Drupal website builder. Cohesion empowers marketers, content authors and designers to build Drupal websites faster and cheaper than ever before.
We launched a multitude of new features for Acquia Cloud which enabled our customers to make their sites faster and more secure. To make our customer's sites faster, we added a free CDN for all Cloud customers. All our customers also got a New Relic Pro subscription for application performance management (APM). We released Acquia Cloud API v2 with double the number of endpoints to maximize customer productivity, added single-sign on capabilities, obtained FIPS compliance, and much more.
We rolled out many "under the hood" improvements; for example, thanks to various infrastructure improvements our customers' sites saw performance improvements anywhere from 30% to 60% at no cost to them.
Making Acquia Cloud easier to buy and use by enhancing our self-service capabilities has been a major focus throughout all of 2019. The fruits of these efforts will start to become more publicly visible in 2020. I'm excited to share more with you in future blog posts.
At the end of 2019, Gartner announced it is ending their Magic Quadrant for Web Content Management. We're proud of our six year leadership streak, right up to this Magic Quadrant's end. Instead, Gartner is going to focus on the broader scope of Digital Experience Platforms, leaving stand-alone Web Content Management platforms behind.
Gartner's decision to drop the Web Content Management Magic Quadrant is consistent with the second part of our product strategy; a transition from Web Content Management to Digital Experience Management.
Acquia's expansion into Digital Experience Management
We started our expansion from Web Content Management to the Digital Experience Platform market five years ago, in 2014. We believed, and still believe, that just having a website is no longer sufficient: customers expect to interact with brands through their websites, email, chat and more. The real challenge for most organizations is to drive personalized customer experiences across all these different channels and to make those customer experiences highly relevant.
For five years now, we've been patient investors and builders, delivering products like Acquia Lift, our web personalization tool. In June, we released a completely new version of Acquia Lift. We redesigned the user interface and workflows from scratch, added various new capabilities to make it easier for marketers to run website personalization campaigns, added multi-lingual support and much more. Hands down, the new Acquia Lift offers the best web personalization for Drupal.
In addition to organic growth, we also made two strategic acquisitions to accelerate our investment in becoming a full-blown Digital Experience Platform:
In May, Acquia acquired Mautic, an open marketing automation platform. Mautic helps open up more channels for Acquia: email, push notifications, and more. Like Drupal, Mautic is Open Source, which helps us deliver the only Open Digital Experience Platform as an alternative to the expensive, closed, and stagnant marketing clouds.
In December, we announced that Acquia acquired AgilOne, a leading Customer Data Platform (CDP). To make customer experiences more relevant, organizations need to better understand their customers: what they are interested in, what they purchased, when they last interacted with the support organization, how they prefer to consume information, etc. Without a doubt, organizations want to better understand their customers and use data-driven decisions to accelerate growth.
We have a clear vision for how to redefine a Digital Experience Platform such that it is free of any silos.
In 2020, expect us to integrate Lift, Mautic and AgilOne, as well as make them the best solution for Drupal. We believe that this will benefit not only our customers, but also our agency partners.
Momentum
Demand for our Open Digital Experience Platform continued to grow among the world's most well-known brands. New customers include Liverpool Football Club, NEC Corporation, TDK Corporation, L'Oreal Group, Jewelers Mutual Insurance, Chevron Phillips Chemical, Lonely Planet, and GOL Airlines among hundreds of others.
We ended the year with more than 1,050 Acquians working around the globe with offices in 14 locations. The three acquisitions we made during the year added an additional 150 new Acquians to the team. We celebrated the move to our new and bigger India office in Pune, and ended the year with 80 employees in India. We celebrated over 200 promotions or role changes showing great development and progression within our team.
We continued to introduce Acquia to more people in 2019. Our takeover of the Kendall Square subway station near MIT in Cambridge, Massachusetts, in April, for instance, helped introduce more than 272,000 daily commuters to our company. In addition to posters on every wall of the station, the campaign — in which photographs of fellow Acquians were prominently featured — included Acquia branding on entry turnstiles, 75 digital live boards, and geo-targeted mobile ads.
Last but not least, we continued our tradition of "Giving back more", a core part of our DNA or values. We sponsored 250 kids in the Wonderfund Gift Drive (an increase of 50 from 2018), raised money to help 1,000 kids in India to get back to school after the floods in Kolhapur, raised more than $10,000 for Girls Who Code, $10,000 for Cancer Research UK, and more.
Some personal reflections
With such a strong focus on product and engineering, 2019 was one of the busiest years for me personally. We grew our R&D organization by about 100 employees in 2019. This meant I spent a lot of time restructuring, improving and scaling the R&D organization to make sure we could handle the increased capacity, and to help make sure all our different initiatives remain on track.
On top of that, Acquia received a substantial majority investment from Vista Equity Partners. Attracting a world-class partner like Vista involved a lot of work, and was a huge milestone for the company.
It feels a bit surreal that we crossed 1,000 employees in 2019.
There were also some low-lights in 2019. On Christmas, Acquia's SVP of Engineering Mike Aeschliman, unexpectedly passed away. Mike was one of the three people I worked most closely with and his passing is a big loss for Acquia. I miss Mike greatly.
If I have one regret for 2019, it is that I was almost entirely internally focused. I missed hitting the road — either to visit employees, customers or Drupal and Mautic community members around the world. I hope to find a better balance in 2020.
Thank you
2019 was a busy year, but also a very rewarding year. I remain very excited about Acquia's long-term opportunity, and believe we've steered the company to be positioned at the right place at the right time. All of this is not to say 2020 will be easy. Quite the contrary, as we have a lot of work ahead of us in 2020, including the release of Drupal 9. 2020 should be another exciting year for us!
Thank you for your support in 2019!