Perks of being an open source contributor
Tuba Ayyubi
Fri, 04/24/2020 – 17:32
We are all looking for online learning platforms to enhance our skills. We are also sometimes confused if it is ok to be investing online. Well, that's where open source projects come in.
Open source enables us to innovate and grow with the digital pace.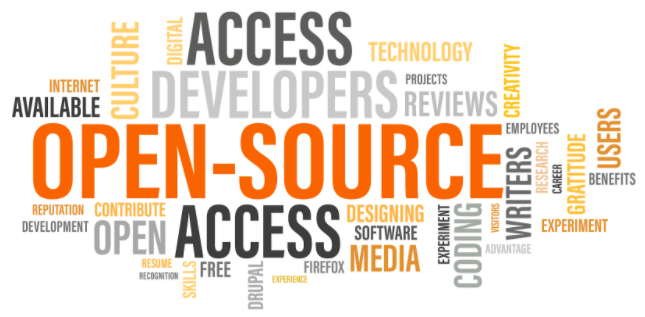 Companies don't just seem to be using it but also contributing to open source projects to steer growth and revenue. Contributing to an open source can be a rewarding way to build your experience and skills.
According to Red Hat's the State of Enterprise Open Source survey, which was published in April 2019, 99 percent of IT leaders believe that open source software is important to their enterprise IT strategy.
As outlined in his influential essay on the subject, Why Open Source (which itself draws from David Wheeler's seminal paper, Why Open Source Software), Ben Balter states: "Open source isn't a fad, or a bunch of hippies get in California passing around tie-dye laptops like they'd illicit substances. Open source is how modern organisations and increasingly more traditional organisations build software."
Contributing to an open-source project
To see what it means to contribute to an open-source project, let's take a look at the Firefox project. There are many fun and impactful ways to get involved with Firefox.
You can make both technical and non-technical contributions to Firefox. Technical contribution includes coding, documentation and designing whereas the non-technical contributions include helping in the user forums, replying to queries and also reviewing contributions.
The Firefox browser has thousands and thousands of lines of source code and information on how to use those codes, for example into a web browser. Anyone who wants to contribute to Firefox can make changes to the source code and then build a customised version of it. They can then send the customised version back to the main project maintainers.
There is so much more in an open-source project than coding, which includes the user interface, user experience (UX), usability.
The open source community needs you
The open-source community needs contributions from diverse set of people.
Developers
There are a lot of developers who believe that coding should be open. The code will be exposed to everyone naturally and makes them focus on making it readable.
Lots of open source contributors start by being users of software they contribute to. After you find a bug in an open source software you use, you'll want to have a look at the source to work out if you'll patch it yourself. If that's the case, then contributing the patch back is the best way to make sure that your friends (and yourself after you update to the subsequent release) are going to be ready to enjoy it.
Designing
A Designer's perspective to look at a project is completely different from others.
They make sure that everybody performing on the project understands users' needs and stays focused on them because the community makes decisions. Open source projects need designers as much as any other contributor.
If your niche lies under designing, you can always contribute to user experience and help a lot of projects who need help.
It is very important for a designer to find a project whose goals they really support and understand.
Writing
Writers are very valuable to the open-source community. Because, the members have to contribute and communicate remotely and more often than not, in a non-native language.
Documentation, especially on open source projects, is never up-to-date.
Although, it is one of the easy ways to contribute to any open source project.
It is a part of the open-source projects which is often overlooked. The topics should be very easy for the writers. Text assets and translations also present an easy entry.
For instance, Drupal provides all sorts of writing and editing of documentation including community documentation, help pages within the core Drupal software, blog posts and more.
Contributing to Drupal as a writer will help you gain experience in technical writing and editing.
It's ok to not code
Whatever your reason is to avoid coding, there are always plenty of other contributions you can make!
There's a lot of administrative work too. So, coding is optional. For the coders, who don't want to code, they can help users on forums, reply to issues, translate tutorials, review contributions and much more which is as important in the open source community as coding. You can always write a blog post or publish your designs which is as important as any other contribution if you find the right project. You can also get involved in marketing, which is often lacking in open source projects. If you are able to contribute to it, you benefit the complete project and the community behind it.
Then there is the legal part which majorly concerns the large projects. There are many lawyers who have volunteered their time for open source projects, primarily.
You do not have to be worried or scared if you're not capable of doing the above-mentioned things, the least you can do is report errors that you find in a project. And remember, every contribution is valuable.
Now that we know that contributing to an open source can be a great way to augment your skills, let's talk about the benefits of being an open source contributor.
Benefits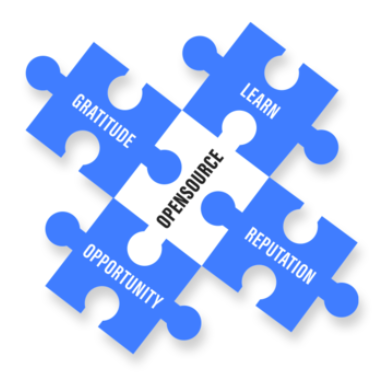 Contributing is fun
It will be a project that you have chosen, so you can enjoy it a bit more. When you contribute to an open source project, you get to know new people who are working on the same project. You can learn from them, and exchange ideas with them. You might also get to use stuff that you probably can't in your day job.
You increase your proficiency
It might be challenging at first, but you will slowly be able to identify and contribute to creating working solutions.
Contributing to an open source project can be a great exercise for someone looking for a career change. In an open source project, it doesn't matter if you are a senior developer or a doctor or even a gardener. All that matters is the quality of your contribution. You will gain some valuable experience, once you prove yourself in an open source project. And once you prove yourself in an Open Source project, you will have gained some valuable experience. You will be an established member of a community with a track record that anyone can check.
Contributing builds reputation
Behind every great open source software, there is a community that aims to make it even more popular. The advantage here is that you can improve your skills and get inspiration and support from like-minded people. If you are a freelancer, you can also increase your chance of being hired by professionals. Contributing to an open source project also increases the visibility of your other channels.
The visitors on the project that you contribute to can learn about your youtube channel or find your LinkedIn profile and offer you a job.
By contributing to an open source project, you are actually creating a real-life resume that anyone can verify. You don't have to contact your former employer or client.
You might also get a paid offer if you're really good at what you do.
You find new employees
If you do something creative, publish it as an open-source project and there might also be a chance that someone would want to work for you.
Helping them is helping yourself
Another advantage is that you gain gratitude when you contribute to a project.
The thank-you notes and the reviews you receive are always worth your time and efforts. And it feels great when you see your name appearing in a project. And let's not forget, the experience is the best CV.
Conclusion
Contributing to open source projects is free, it can be distributed and it can be modified.
You can always get out of your comfort zone and experiment with your skills. If you are a doctor and want to code, do it. If you're a coder and you want to design, the open source world is your canvas!
And if you value the idea of contributing to open source, you are worthy of earning recognition, and being a respected member of the community.
To learn about contributing to Drupal, one of the largest and popular open-source projects, read the follow-up article which mentions all the perks of being a Drupal contributor. Ping us at hello@opensenselabs.com to know how you can be a part of a growing open source community.
blog image