The definitive guide to Drupal 9
Shankar
Mon, 07/06/2020 – 15:42
Technology is changing at the speed of light. Fuelled by the democratisation of innovation, the tempo of change and adoption is multiplying. Today, 5G is a major talking point in the industry. IoT is changing at scale. Data is becoming the centre of the IT universe with digital twins, spatial computing, artificial intelligence, deep analytics and new applied versions of technology all being dependent on data platforms. And, Hyperloop is leveraging magnetic levitation and big vacuum pumps to let those bus-sized vehicles zip along at speeds approaching Mach 1. In a world, where disruptive technologies are changing the ways we see everything around us, what happens to the existing technological solutions? Continuous innovation is the biggest mantra that can help them sustain in the long run and evolve with changing technological landscape. This is exactly how Drupal, one of the leading open-source content management systems, has remained powerful after almost two decades of existence. Introducing Drupal 9!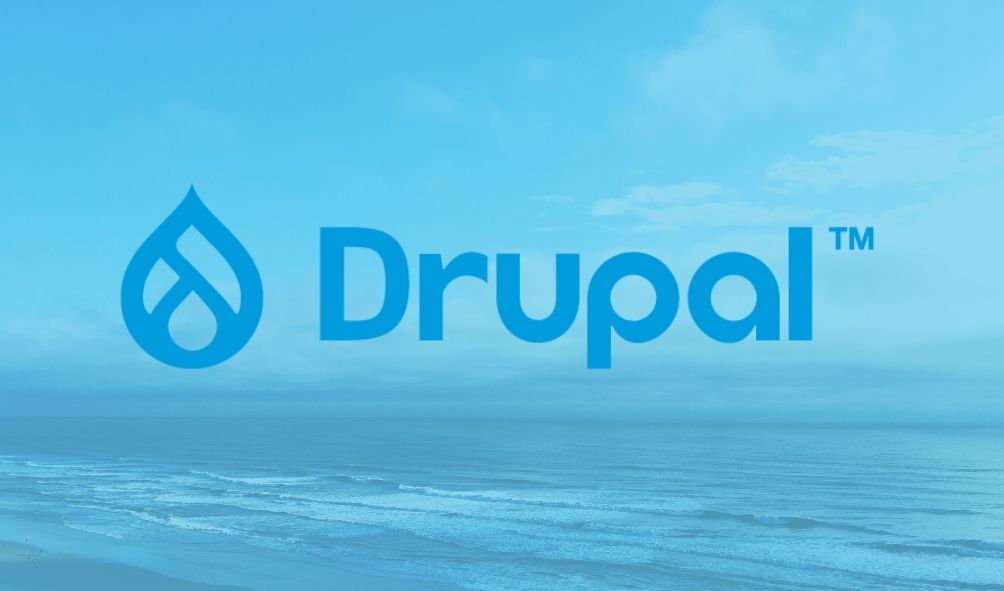 Since Dries Buytaert open-sourced the software behind Drop.org and released Drupal 1.0.0 on 15th January 2001, it has come a long way. It has weathered headwinds. It has grown rapidly. It has powered small and medium businesses to large enterprises around the world. Supported by an open-source community, which is made up of people from different parts of the globe, it has kept on becoming better and better with time. Drupal 9, the new avatar of Drupal, with intuitive solutions for empowering business users, cutting-edge new features that help dive into new digital channels, and easy upgrades, is the future-ready CMS. Amidst all the changes that are happening in the digital landscape, Drupal is here to thrive! Websites and web applications, built using Drupal 9, will be much more elegant!
The excitement in the air: Launch of Drupal 9
When the Drupal 8 was released back in 2015, it was a totally different world altogether. The celebrations were in full swing. But, as a matter of fact, Drupal 9 launch in 2020 wasn't a low-key affair either. In spite of the Covid-19 pandemic, the Drupal Community and the Drupal Association made sure that the virtual celebrations were right on top. The community built CelebrateDrupal.org as a central hub for virtual celebrations and enabling the Drupal aficionados to share their excitement.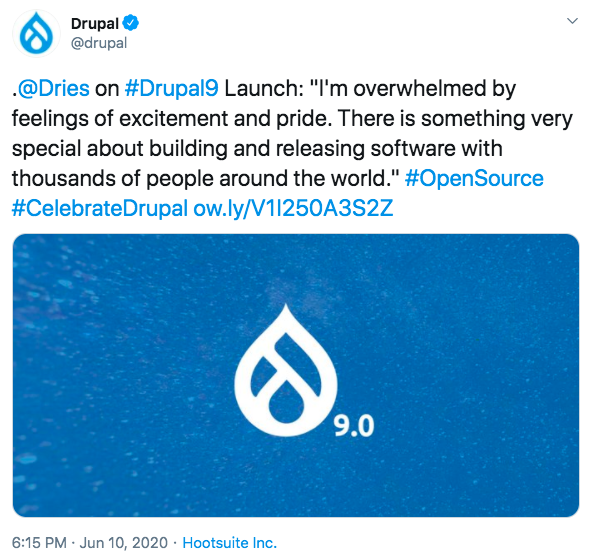 Even since Drupal 9.0.0-beta1 was released, which included all the dependency updates, updated platform requirements, stable APIs, and the features that will be shipped with Drupal 9, it raised the excitement levels to the sky-high. The beta release marked Drupal 9 as API-complete. Eventually, on June 3, 2020, the world saw the simultaneous release of Drupal 9.0.0 and Drupal 8.9.0.
Drupal 8.9 is a long-term support version, or the final minor version of Drupal 8, which will receive bug fixes and security coverage until November 2021 with no feature development. On the contrary, Drupal 9 development and support will keep on continuing beyond 2021. Drupal 8.9 includes most of the changes that Drupal 9 does and retains backwards compatibility layers added via Drupal 8's release. The only difference is in the Drupal 9's updated dependencies and removal of deprecated code.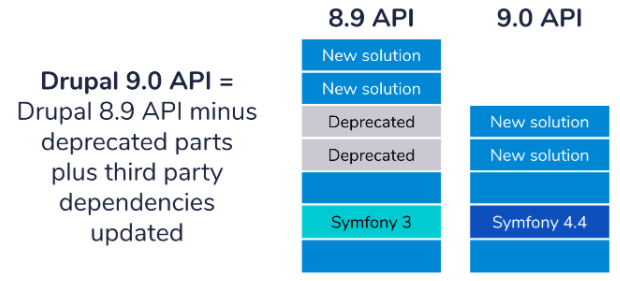 If you have an existing Drupal site, opting to update to Drupal 8.9 is a perfect option. This will make sure maximum compatibility and the least possible alterations required for the Drupal 9 update. Or, if you are creating a new Drupal website, it gives you the option of choosing between Drupal 8.9 and Drupal 9. Going for Drupal 9 would be the most logical option as it gives you forward compatibility with later releases.
Traversing the world of Drupal 9
First things first – with the onset of Drupal 9, a rebranding has taken place as well. The new Drupal brand represents the fluidity and modularity of Drupal in addition to the Drupal Community's strong belief system of coming together to build the best of the web.

If one asks what exactly is Drupal 9, all you can say is that it is not a reinvention of Drupal. It is a cleaned-up version of Drupal 8. So, what's new in Drupal 9?
Drupal 9 has not only removed deprecated code but updated third-party dependencies for ensuring longer security support for your website's building blocks and leverage new capabilities.
Since the adoption of semantic versioning in Drupal 8, adding new features in minor releases of Drupal has been possible instead of waiting for major version releases. To keep the Drupal platform safe and up to date, Drupal 9 has revised some third-party dependencies:
Symfony: Drupal 9 uses Symfony 4.4. But, Drupal 8 uses Symfony 3 and the update to Symfony 4 breaks backwards compatibility with Symfony 4. Even though Symfony 3's end of life is November 2021, Drupal 8 users get enough time to strategise, plan and update to Drupal 9.
Twig: Drupal 9 will also move from Twig 1 to Twig 2.
Environment requirements: Drupal 9 will need at least PHP 7.3 for enhanced security and stability. If Drupal 9 is being run on Apache, it will require at least version 2.4.7.
Database backend: For all supported database backends within Drupal 9, database version requirements will be increased.
CKEditor: Soon, CKEditor 5 will be added in Drupal 9.x and CKEditor 4 will be deprecated for removal in Drupal 10.
jQuery and jQuery UI: While Drupal 9 still relies on jQuery, most of the jQuery UI components are removed from core.
PHPUnit: Drupal 8 requires PHPUnit 8.
Drupal 9 comes with the same structured content-based system that all the Drupalers love about it. Layout Builder in core enables you to reuse blocks and customise every part of the page. Built-in JSON:API support helps you develop progressively and fully decoupled applications. BigPipe in core ensures fantastic web performance and scalability. Bult-in media library helps you manage reusable media. There is multilingual support as well. You get better keyboard navigation and accessibility. Its mobile-first UI would change your mobile experience forever. The integrated configuration management system could be used with development and staging environment support.
Therefore, other than those provided by the updated dependencies, Drupal 9.0 does not include new features. It has the same features as Drupal 8.9. Drupal 9.x releases will continue to see new backwards-compatible features being added every six months after Drupal 9.0.
Migration to Drupal 9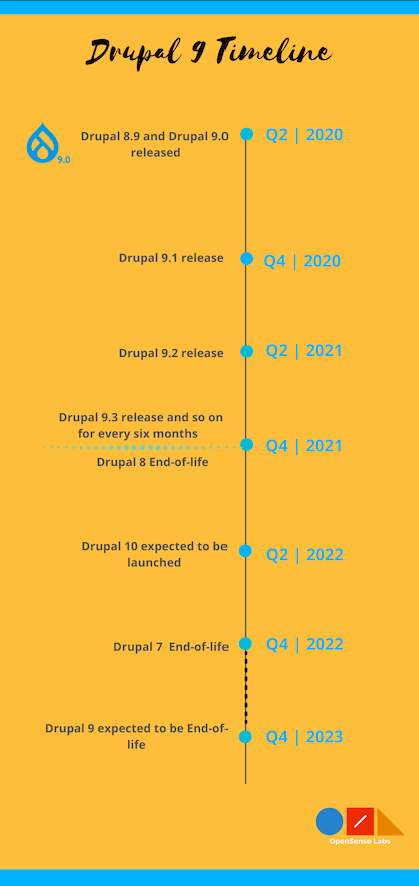 While Drupal 9 is definitely the way to go, one needs to know certain things before upgrading from Drupal 7 or Drupal 8 to Drupal 9. Drupal 7 and Drupal 8 are not completely lost yet. They are here to stay for a while.
Drupal 7, which was slated to be end-of-life in November 2021, will now be getting community support till November 28, 2022. The decision comes after considering the impact of the Coronavirus outbreak and that a large number of sites are still using Drupal 7 in 2020. On the other hand, Drupal 8, which is dependent on Symfony 3 and since Symfony 3 will be end-of-life in November 2021, will, as a result, see the end of community support on November 2, 2021.
Symfony 4 will be end-of-life in November 2023. With Drupal 9 using Symfony 4.4, it is bound to stop receiving support at the end of 2023. (There is no official confirmation on dates yet for Drupal 9 EOL.) If that happens, Drupal 10 will be released in 2022 which means it will be released before Drupal 9 becomes end-of-life.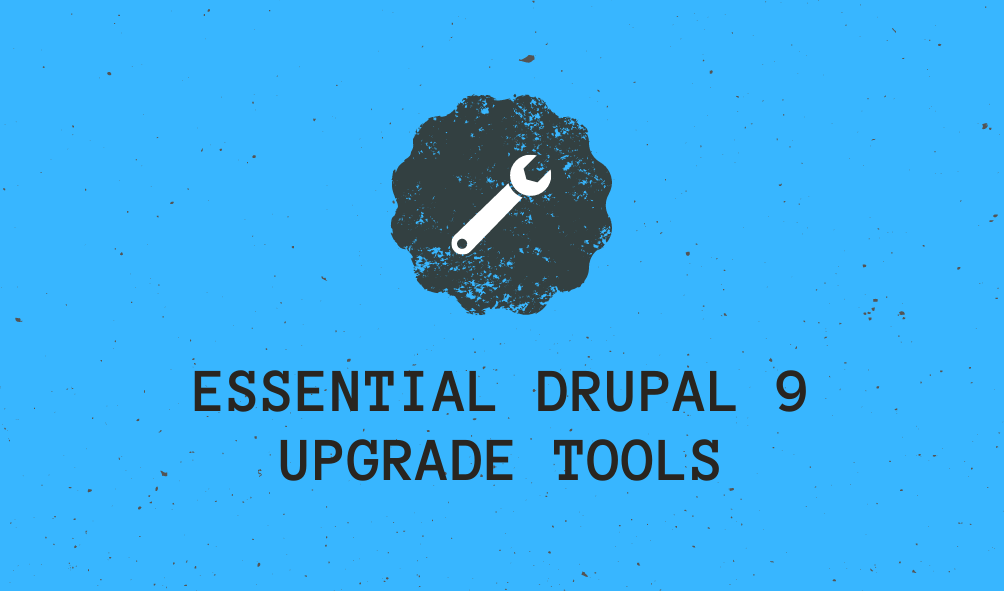 To upgrade to Drupal 9, the know-how of upgrade tools is essential:
For migrating your content and site configuration, Core Migrate module suite is perfect.
The Upgrade Status Module would give your details on contributed project availability.
In case of Drupal 8 websites, the Upgrade Rector module would automate updates of several common deprecated code to the latest Drupal 9 compatible code.
In case of Drupal 7, the process of scanning and converting outdated code on your site can be handled by Drupal Module Upgrader.
Using drupal-check and/or the Drupal 8 version of Upgrade Status in your development environment helps you ensure whether or not a Drupal 8 update is also compatible with Drupal 9. You can also make use of phpstan-drupal from the command line or as part of a continuous integration system to check for deprecations and bugs.
You can use IDEs or code editors that understand '@deprecated' annotations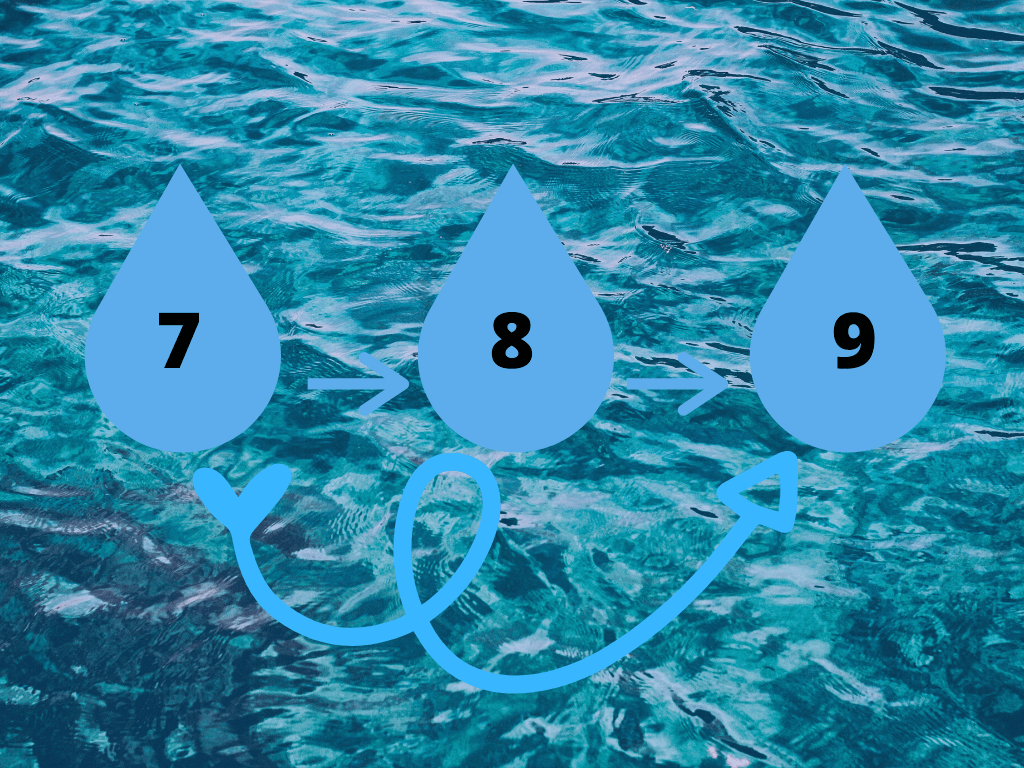 The best option is to upgrade directly from Drupal 7 to Drupal 9 as this ensures that your upgraded site has maximum expected life. When your site requires a functionality provided by modules that are available in Drupal 8 but not yet in a Drupal 9 compatible release, you can also migrate to Drupal 8 first (Drupal 8.8 or 8.9) and then eventually move to Drupal 9.
While updating from Drupal 8 to Drupal 9, it is important to ensure that the hosting environment matches the platform requirements of Drupal 9. You need to update to Drupal 8.8.x or 8.9.x, update all the contributed projects and make sure that they are Drupal 9 compatible. Also, you need to make the custom code Drupal 9 compatible. Once set, all you need to do is update the core codebase to Drupal 9 and run update.php.
Future of Drupal 9
It's very important to make Drupal more and more intuitive for all the users in the coming years. One of the foremost achievements of Drupal 9 is the streamlined upgrade experience. Upgrading from Drupal 8 to Drupal 9 is a lot easier than moving from Drupal 7 to 8. And, it will continue to be a smoother process when the time comes to migrate from Drupal 9 to Drupal 10.
Drupal 9 will continue to receive feature updates twice a year just like Drupal 8 did. For instance, the experimental Claro administration theme is being stabilised. The new Olivero frontend theme is already being developed and is being optimised for accessibility and tailored to frontend experiences. It is specifically being designed for marketers, site designers and content editors with a lot of emphasis on responsive design. Automated Updates Initiative, which began in Drupal 8, is also in the works.
There's an awful lot of development going on behind-the-scenes. The upcoming releases of Drupal 9.x would definitely come packed with exciting new features. We are waiting!
Conclusion
Drupal is awesome because it's always on the cutting edge. It has always been a CMS that provides extensibility, flexibility and freedom. Drupal's foundation has always been in structured data which works really well in today's demand for multichannel interactions. Having one of the biggest open source communities, it has the support of thousands and thousands of people adding more features to it, enhancing security and creating new extensions.
The large community of Drupal embraces change right away as the big developments happen. That is exactly why Drupal has been able to offer fantastic web experiences all these years. Drupal 9 is the result of its community's commitment to enabling innovation and building something great.
Undoubtedly, Drupal 9 is the best and most modern version of Drupal yet. It marks another big milestone in the realm of web content management and digital experience. It's time for you to start planning a migration path if you are still on Drupal 7 or Drupal 8. If you are starting out a new website project in Drupal, there shouldn't be any ambiguities over choosing Drupal 9. Contact us at hello@opensenselabs.com to build the most innovative, creative and magnificent website ever using Drupal 9 or to migrate from Drupal 7 or 8 to Drupal 9.
blog image