Planning for accessibility: Ultimate guide
Shalini Rawat
Thu, 08/06/2020 – 16:59
"The power of the web is in its universality. Access by everyone regardless of disability is an essential aspect." – Tim Burners-Lee, W3C Director and inventor of the World Wide Web''
Are you planning to start a new business and probably looking to have a great web presence to go along with it? If that's the case then you have landed at the right place. In the current age of web development, there are markets that are flooded with customers that would prefer to research and buy online. Today the word 'web' has become an indispensable resource that covers just about every aspect of our lives. Further, there are various modern ways to design effective and irresistible web solutions to captivate the attention of online buyers. However, the main question here is – is your website accessible to everyone, including people with disabilities? Does everyone around you share the same level of accessibility that they should have?
Unfortunately, many websites are inaccessible to people with disabilities, making it difficult for them to find information online. However, web accessibility for people with disabilities is becoming a greater priority, and as a matter of fact, accessible websites are no longer optional, rather they are a must-have. It has become important for websites to implement web accessibility to make sure that all the users are able to surf the web and easily browse content at the best possible.
A quick overview of the term 'Disability'
According to Centers for Disease Control and Prevention (CDC), "a disability is any condition of the body or mind (impairment) that makes it more difficult for the person with the condition to do certain activities (activity limitation) and interact with the world around them (participation restrictions)."
It is important to note that while referring to the people with disabilities, it is preferable to use language that focuses on their abilities rather than their disabilities. Terms like 'handicapped', 'able-bodied', 'physically challenged', and 'differently abled' discourage the disabled. Therefore, it is important to keep the language in mind when communicating with or about people with disabilities.
Types of Disabilities
There are numerous types of disabilities that can affect a human being. Some of these conditions are more common than others. However, disability is not black and white, which means that two people with the same type of disability may not have the same experiences. Following are the disabilities that may affect different people in different manners.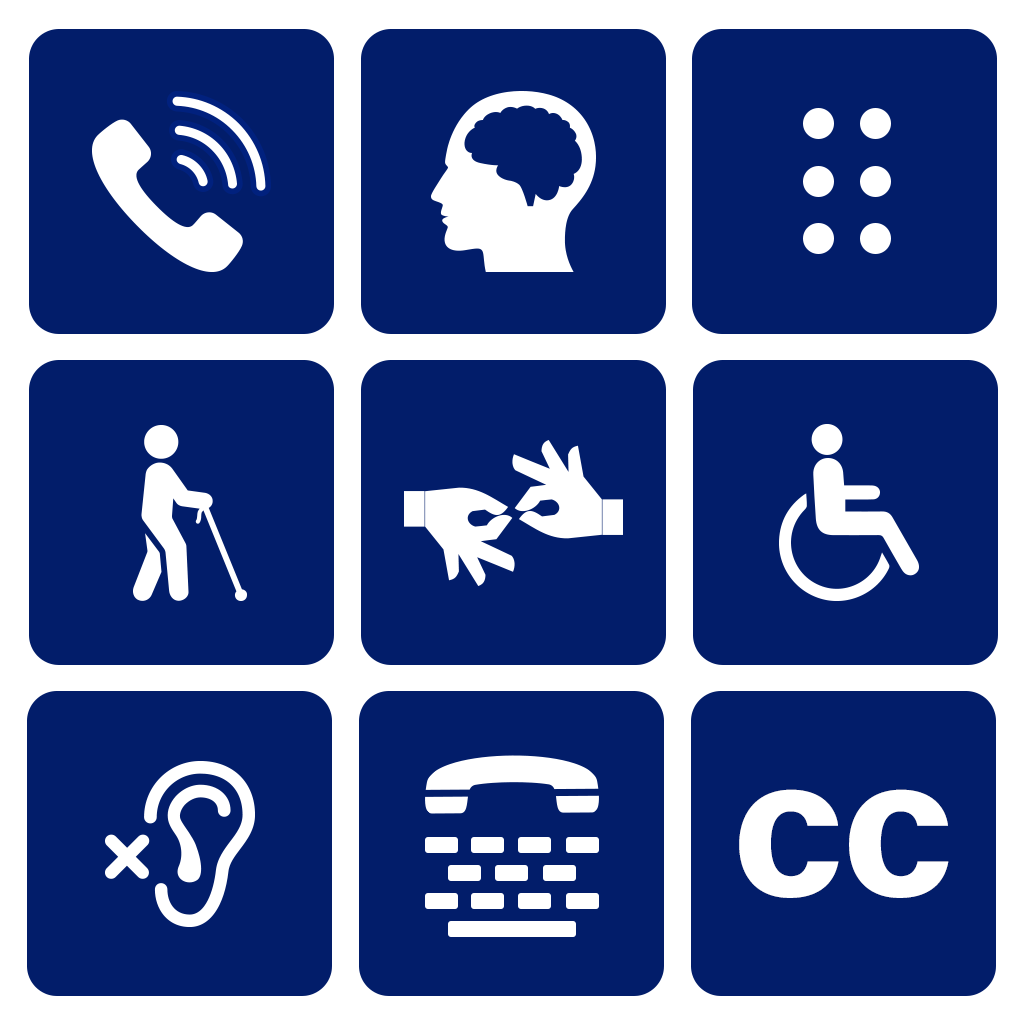 Visual – Visual disabilities include mild or moderate vision loss in one or both eyes to complete loss of vision in both eyes. It involves a lack of sensitivity to certain colors, color blindness, and sensitivity to brightness. For example, color blindness, low vision, and blindness.
Cognitive, learning, and neurological – Cognitive, learning, and neurological disabilities encompass neurological, behavioral as well as mental health disorders. For example, attention deficit hyperactivity disorder (ADHD), autism spectrum disorder, mental health disabilities, memory impairments, perceptual disabilities, and seizure disorders.
Auditory – Auditory disabilities can range from mild to moderate hearing impairment in one or both ears. Even partial loss or difficulty can contribute to auditory disabilities. For example, hard of hearing and deafness.
Physical – Physical also known as motor disabilities are weaknesses and limitations related to muscular control. These include involuntary movements that you cannot control. For example, amputation, arthritis, paralysis, and repetitive stress injury.
Speech – This disability includes the inability to produce speech that is recognizable by other people or software. Generally, the volume or clarity of speech makes the recognition difficult. For example, muteness, dysarthria, and stuttering.
Common Web Accessibility Myths
In simple terms, web accessibility implies that the websites, tools, and technologies are designed and developed so that people with disabilities can use them. More specifically, web accessibility helps people to perceive, understand, navigate, and interact with the web.
However, in this contemporary era, website accessibility is just a buzzword and not everyone in the present times has a firm grasp on what that term means. There exist web developers with little or no experience in terms of accessibility and the lack of accurate information about the best ways to quickly and easily identify accessibility problems. As a result, there are still a lot of myths and misconceptions about accessible websites and the people who use them.
Here are some of the most common myths that run around web accessibility. Let's burst them and face reality.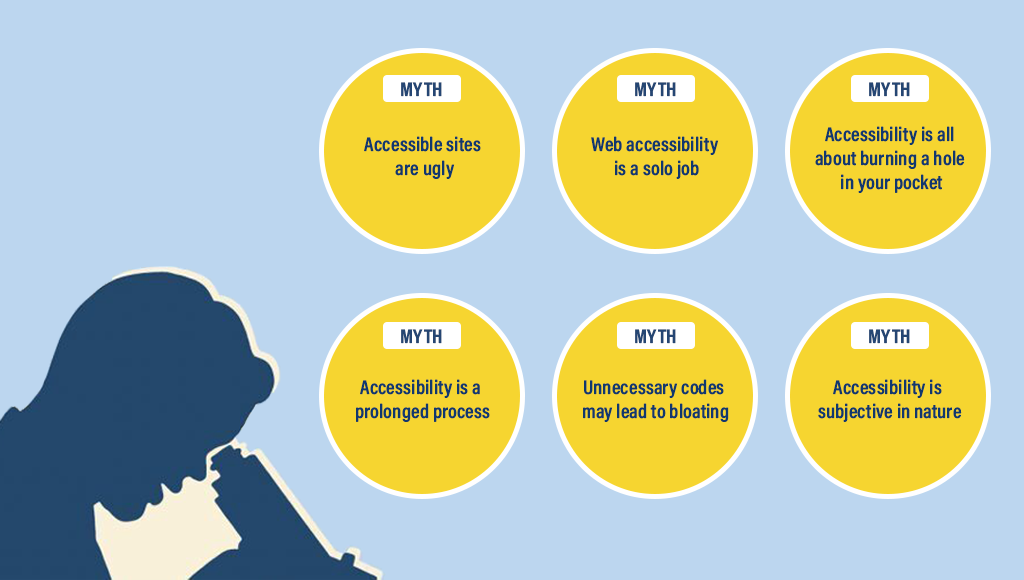 Myth #1: Accessible sites are ugly
The first and foremost myth which prevails over all the other benefits of web accessibility is the mindset that accessible sites are ugly. There are people who still believe that accessibility places too many restrictions on the look and feel of the website. However, times have moved on and so has technology. In other words, internet space holds a collection of websites that are beautiful, media-rich, interactive, and accessible websites.
Myth #2: Web accessibility is a solo job
A lot of people think that web accessibility is a solo job that needs to be performed by the Developer. However, falling all the accessibility duties into the remit of a developer is not right. Every individual who is associated with the website has to be responsible for accessibility. Whether it is a content writer, a project manager, or even the CEO; everyone is required to be on-board to deliver accessibility effectively.
Myth #3: Accessibility is all about burning a hole in your pocket
Well, the response to this myth is quite difficult to answer. There are basically two instances if you consider accessibility in your website. The first instance is if you are building a website from scratch, accessibility should not be expensive to implement. On the contrary, if you are implementing accessibility on a pre-existing site, it may take more people, and as a result, cost more in terms of 'man-hours.' Therefore, it is highly essential to think about accessibility at the very beginning of a project so as to reduce labor work and time in the future.
Myth #4: Accessibility is a prolonged process
Most of the websites dodge accessibility because they think accessibility holds nothing but a time disadvantage that they cannot afford to bear. However, considering accessibility at the very beginning of the project can help websites save their time and they don't have to lose hours to fix their websites. Another way to help yourself with time crunch is to conduct an audit to identify key areas for improvement.
Myth #5: Unnecessary codes may lead to bloating
Websites are often afraid of the harm that the website may incur due to accessibility. There is a misconception that extensive code additions or unnecessary codes may harm the site and can lead to bloating. This is wrong as accessibility is all about developing a website in the right way and it can actually improve the SEO when produced correctly.
Myth #6: Accessibility is subjective in nature
This is one of the biggest and unfortunate myths. No, accessibility is not subjective and by no means, any website is allowed to create discrimination against anyone with a disability. There are more than 650 million disabled people around the world and denying each of those people access to your website could be holding you back. Further, if you are a public sector organization, you are bound to follow the guidelines regulated by the new Public Sector Bodies (Websites and Mobile Applications) (No. 2) Accessibility Regulations 2018. And if you're anyone else, you need to adhere to the Equality Act 2010.
Convincing Reasons to Implement Accessibility
Apparently, the web has become an important part of our lives in such a short span of time. Accessing the web can help people to participate in a more active manner, thereby improving the life experience for all. Besides this, there is also the fact that the web offers one of the easiest ways to communicate and do business with people who suffer from a disability. However, the advantages of web accessibility aren't limited to their immediate impact on people with disabilities, and some of them can even surprise you.
Following are the many business and technical benefits that will help the website when you adopt web accessibility.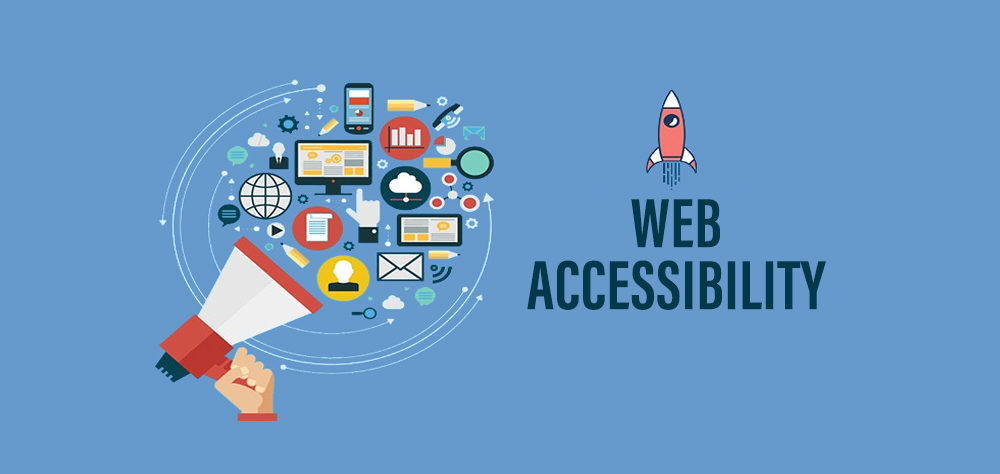 1. Better User Experience
User experience is more important than anything to ensure the success of the website. The concept of web accessibility is not limited to the successful access of the website, but it also means that the website offers a good user experience to the users. Accessible web design leads to better user experience regardless of the user's physical impairments. Therefore, approaching the website with accessibility in mind ensures that you are offering a good user experience across the board and are not causing friction for a portion of your audience.
2. Avoid discrimination and legal complaints
Apart from making sure that the website provides a good user experience to all users, make sure that the website is accessible to ensure that the site stays within legal requirements. The American Disabilities Act (ADA) was passed in 1990 with a view to protecting people living with disabilities from discrimination. The law is applicable to public and private spaces, building codes, transportation, telecommunication, government, and employment. Not to mention, the U.S. Department of Justice has concluded that the lack of accessibility for websites may be a violation of the ADA.
3. Wider Audience
Improving your website's accessibility is the best thing to invest in. In other words, web accessibility represents an opportunity for businesses to design a website that's accessible to everyone on the planet. As a matter of fact, the implementation of accessible web design can minimize the rate at which users abandon a site and can further increase the revenue. Moreover, web accessibility can help the organizations to reach more and more customers, increase customer satisfaction, and eventually gain a competitive edge over those organizations that don't include accessibility features.
4. Improves SEO
Accessible sites and search engines go hand-in-hand. There are certain SEO best practices that can make the website even more accessible. For example, creating easy navigation, adding image alt tags, providing captions and/or transcripts for video, offers better functionality and usability that can easily be crawled by search engines, and offers a better user experience overall. In addition, web accessibility can help your site be more relevant, authoritative, and competitive in the SERPs (search engine results pages).
5. Increases usability
Usability is closely related to web accessibility. The objective of web accessibility is to make products, services, and environments more usable by people who suffer from a disability. Accessibility is often considered as an overlapping concept of accessibility which aims to improve a product or service's ease of use and user experience. Subsequently, making your website navigable with a keyboard also benefits your broader user base. To be clear, fulfilling this requirement allows all users to easily locate the content they need.
Roadmap to Web Accessibility
After an organization makes a commitment to make it's website accessible, it is important to follow a roadmap for the implementation of accessibility. Fortunately, web accessibility is not difficult to implement. We have put together a list of steps that will help your website to implement accessibility with ease.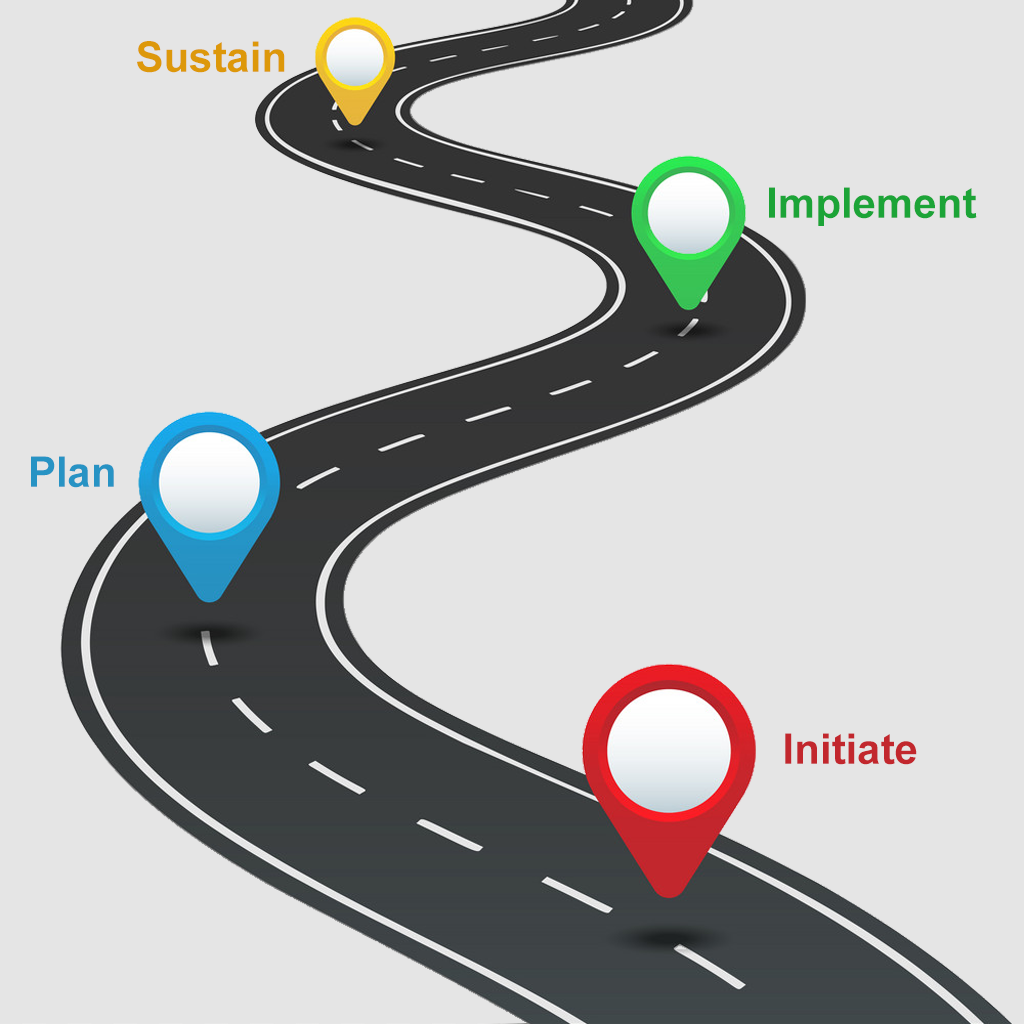 Initiate
First things first, the organization must align accessibility with the existing organizational approaches and communicate clear and measurable objectives with a view to engage stakeholders to support the plan. Further, discover and learn the current state of accessibility in your organization to discuss with the management. Set objectives in response to the problems identified with accessibility and organizational goals. Also, develop measurable objectives to address and fill the accessibility gaps within the organization's web content, processes, and policies. It is often observed that lack of awareness is a frequent reason for lack of accessibility adoption. In other words, there are many people that may know little or nothing about accessibility and some may not appreciate that their role has an impact on website accessibility. Therefore, a general introduction to accessibility is required to create awareness and building enthusiasm for the task. Key stakeholder and management support will help with prioritization clashes, access to resources, and communication activities. Make sure to use the business case to help secure support from these groups.
Plan
Planning is the beginning of the implementation of the idea that was initially put in writing. It is highly essential to carefully plan the web accessibility policy to capture the goals and targets. A policy may be a compendium of roles and responsibilities, content preparation processes, quality assurance, infrastructure, and reporting. Budgeting and planning go hand-in-hand and it is equally important to create a budget for implementing accessibility. As a matter of fact, accessible sites don't necessarily cost more money or time than inaccessible sites. However, there does exist a difference in cost. That is to say, accessible sites require money to train the team or build alternative materials like transcripts or translations. Therefore, it is a wise move to consider all potential costs from the beginning and factor them into the production budget. In case you have a very small budget, then consider the least expensive options that will allow the widest possible audience to access your site.
Implement
Create accessibility implementation throughout the process to minimize overhead and improve the overall quality of the final outcome. Organizations need to develop the accessibility skills of everyone involved in the implementation process, including designers, developers, content creators, and managers. It is highly essential to integrate the goals from your accessibility policy within other organizational procedures and policies. This not only helps to spread the responsibility but also ensures that accessibility is considered as an integral part of everyday activities. Convey the assignments to the team members and ensure that the later knows what is expected of them. Also, make sure that everyone has the resources to aid them with their respective tasks. Organizations can prioritize the accessibility objectives so that you can achieve them more effectively. Examples of prioritization include:
Begin with the issues that can be fixed easily to help build motivation in the team.
Prioritize the development of accessible templates and components to support the creation of accessible content.
Prioritize visual design to synchronize with an on-going re-branding activity within the organization.
Prioritize recruitment or procurement policies to support anticipated hiring and acquisitions.
De-prioritize issues that are related to tools or systems, such as a content management system (CMS). The reason being, they are expected to be changed soon anyway.
Sustain
Regular reviews of content, organizational processes, and resources will help in identifying the issues, thereby ensuring that accessibility remains a priority. It is important to coordinate closely with website owners to identify if there is room for improvement. This may include daily content publishing and maintenance activities, as well as broader redesign and development efforts. Since the content of the website is dynamic, make sure that regular accessibility reviews are performed. Accessibility checks can be included in the publishing process in order to reduce the risk of issues occurring. Besides this, consider the technologies that your organization aims to support and ensure to track functionality that changes each version. This may include the baseline browsers and assistive technologies you support and also the authoring tools such as the content management system (CMS). The improvements related to accessibility should be communicated on the website in the Accessibility Statement. Lastly, make your website user-friendly so that the user doesn't find it difficult to submit the feedback on accessibility which can be used by the organization when considering future improvements.
Evaluating Web Accessibility
It is always a good practice to implement web accessibility, however, it is equally important to evaluate accessibility to ensure that the websites and applications meet accessibility requirements. The process of evaluating accessibility should be early and throughout the development process so that it is easier to address them. The process of evaluation can be done using several accessibility tools. You can further use the filters to narrow down the list to the types of tools you are interested in.
Page Titles
Page titles help users to know where they are and help them move between pages open in the browser. The very first thing a user sees when s/he moves to a different web page is the page title.
What to check for:
Examine if there exists a title that adequately and briefly describes the content of the page.
Examine that the title is distinct from other pages on the website.
Image text alternatives ("alt text")
Text alternatives ("alt text") are used to convey the purpose of an image. It may include pictures, illustrations, charts, etc. Generally, text alternatives are used by people who do not see the image. For instance, people with visual disabilities can hear the alt text readout; and people who have turned off images to speed download can also see the alt text.
What to check for:
Every image has alt with an appropriate alternative text.
Headings
Web pages contain visual headings that divide the information into different sections. Generally, the heading text is bigger and bold. To make this work for everyone, the headings are required to be marked up.
What to check for:
The page consists of a heading and there should be at least one heading on every page.
All content that looks like a heading is marked up as a heading.
Contrast ratio ("color contrast")
Contrast ratio is beneficial for people who cannot read the text if there is not sufficient contrast between the text and background. For instance, light grey text on a light background.
High contrast (dark text on a light background or bright text on dark background) is required by older people with visual impairments who lose contrast sensitivity due to aging.
On the contrary, for some people with reading disabilities such as dyslexia — bright colors are not readable. Hence, they require low luminance.
What to check for:
Web pages should also have a minimum contrast ratio of at least 4.5:1 for normal-size text.
Resize Text
Some people need the enlarged text in order to read it. Also, some need to change other aspects of text display such as font, space between lines, and more.
What to check for:
All web content gets larger.
The text doesn't disappear.
Text, images, and other web content do not overlap.
All buttons, form fields, and other controls are visible as well as usable.
Moving, Flashing, or Blinking Content
Moving, flashing, or blinking content consists of carousels, ads, videos, auto-updating stock tickers, scrolling news feeds, and more. People with attention deficit disorder or visual processing disorders require the power to control the moving content.
What to check for:
Examine if there is any moving, blinking, or scrolling information that starts automatically and lasts more than five seconds.
Examine if there is any auto-updated information.
Ensure that no content flashes or blinks more than three times in a second.
Multimedia (video, audio) alternatives
People who suffer from some kind of hearing impairment or are deaf may not be able to access the information in podcasts or other audio unless it is provided in an alternative format. For example- captions and text transcripts.
What to check for:
Transcripts are easily found near the audio/video itself.
Check if there are captions in the specific language.
Visual information is provided to people who cannot see the video.
Keyboard access and visual focus
Most people feel difficulty or simply cannot use a mouse and therefore they rely on the keyboard to interact with the web. Such people who are blind or have mobility impairments rely on the keyboard commands such as voice input.
What to check for:
Examine that you can tab to all the elements, including links, form fields, buttons, etc.
Examine that you can tab away from all elements that you can tap into.
Examine that the tab order follows the logical reading order
Examine that the focus is clearly visible as you tab through the elements.
Examine that you can do everything with the keyboard and you don't need the mouse to activate actions or any other functionality.
Examine that after you tab into a drop-down list, you can use the arrow keys to move through all the options without triggering an action.
Examine that when images are links, they have clear visual focus and can be activated using the keyboard.
Conclusion
From the article above, you should have acquired a helpful high-level overview of accessibility, incorporating why it is important, and how you can get yourself fit into the workflow. Subsequently, it is highly recommended to have web accessibility at the back of your mind when building a website to ensure that everybody has the access to your website. Recently, web accessibility has become more important as the web begins to grow, and more and more people use it in their everyday lives. Therefore, making your website accessible to everyone will not only open the door to a wider range of users but also go towards making the web accessible for everyone.
Looking for a way to start your first-ever journey to web accessibility, ping us at hello@opensenselabs.com and our industry experts will assist you.

blog image