Website themes are pre-made designs for website content management systems or "CMS" like Drupal, WordPress, and Joomla. If you are looking for a secure, flexible, and scalable Enterprise-ready CMS, Drupal is the best choice. With the 20 best Drupal 9 themes we researched for you it will be easy to get started with Drupal 9. 
Using a good Drupal theme as a starting point can give your project a head start. Some Drupal themes are highly opinionated and designed for specific use cases like e-commerce webshops or magazine style websites. Other themes in our top 20 are less opinionated and architected more like a framework. 
Here are the best Drupal 9 themes:
1. DXPR Theme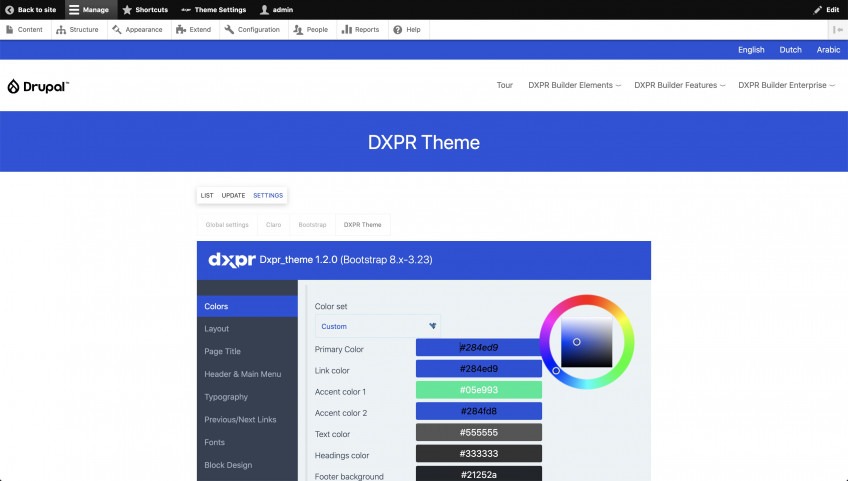 Time is of the essence. With DXPR Theme, you will build powerful marketing content faster. The DXPR Settings Dashboard gives you every customization you need to create a website that exceeds expectations. DXPR theme is installed on more than 2000 sites, and you're going to love it too.
DXPR Theme is the fastest and most easy-to-use low-code theme that Drupal site builders deserve! Furthermore, thanks to the tight integration with the DXPR Drupal Layout Builder, this theme can be part of a state-of-the-art digital experience platform. 
This theme deserves the #1 spot because it has the highest number of customization options and features, and that's how this theme will save you time and money. DXPR Theme is really more of a low-code theming platform than a theme. It's based on Bootstrap 3, but a Bootstrap 4 update is coming in Q1 of 2021. 
DXPR Theme (Free)
Framework: Bootstrap 3 (Bootstrap 4 update coming soon)
2. Wosh Theme
Wosh is a multipurpose Drupal 9 theme with e-commerce integration using Drupal commerce and featuring different product types, Product reviews, product attributes, carts, and all you need for your next online commerce shop.
This responsive e-commerce template built with bootstrap 4 will be ideal for any web developer to customize and make their own site become one of the top online shopping sites since this theme has a great combination of a clean, modern, minimalist design and many powerful features.
It has different header and footer options as well as unlimited color styles. Wosh is packed with various features and options to make a complete website, such as landing pages, sale promotion, sales product, etc. Whatever products that you are selling, it will catch your viewer's interest fromfirst sight.
Wosh Theme ($49- USD)
Framework: Bootstrap 4
3. TheMag Drupal Theme
TheMAG Drupal theme lets you create a modern magazine website with a lot of ease. It is excellent for sites that want to rake in ad revenue or profit from content. This bestseller theme is perfect for blogging, journalism, or entertainment sites.
TheMAG comes with lots of features and is fully compatible with Drupal Thunder distribution. It utilizes and extends the powerful and unique Drupal Layout Builder that lets you create complex layouts and pages with few clicks.
TheMag Theme ($54,- USD) 
Framework: Bootstrap 4
4. Jango Theme
 Jango is an ever-growing multipurpose theme for Drupal 7 and 9. It is powered by visual shortcodes and a layout builder.
Jango is a flexible theme that will simply be able to support every site. Such as portfolios, blogs, corporate, product showcase, landing pages, and many others. By utilizing 300+ components, you can mix-and-match any element together.
Jango theme was fired and designed with creative and modern web trends. It provides the most reliable, smooth, clean, and intuitive user experience. Jango is bundled with a completely responsive design and suitable with all popular internet browsers and devices. Jango is genuinely a theme prepared to launch upon buy.
Jango Theme ($59- USD)
Framework: Bootstrap 3
5. Pivot Theme
Pivot is the most sold theme on ThemeForest. Pivot is a fully featured multi-proposed, responsive, and Bootstrap based HTML5 Theme, which is suited for Business, Education, Hospitals, Corporate, and Portfolio type websites. 
Pivot includes the variant page builder through which you can build refreshing and confident appealing pages. It provides pre-build necessary pages like login, error, pages, and coming soon pages. 
Here are some best features.
MailChimp & Campaign Monitor Integration

Contact form with different variations and validation.

14 Color schemes, LESS files are included for each scheme

Social media sites feed.

Variety of pages for login, Errors, and Coming soon, etc.
Pivot Theme ($48- USD)
Framework: Bootstrap 3
6. Progressive Theme
Progressive is a visual shortcode based theme. Most suitable for those who need a content-full website. This is available for both Drupal 7 and 9 versions. It provides 200+ interactive web elements, and 50+ pre-build stunning pages, usable for a variety of businesses. Livicone and mega sliders are included for free. You can create animated layered based sliders.
The progressive theme has support for e-commerce and the best choice for online stores. It is using Ubercart for Drupal 7 and Drupal Commerce for Drupal 9. You can sell your services, products and it is also comfortable for paid membership websites.  
Progressive Theme ($59- USD)
Framework: Bootstrap 3
7. Inston Theme
Inston is a new, modern, and professional business theme. Inston is a super Drupal 9 theme specially built for freelancers, designers, artists, and all types of agencies. The template is ideal for showcasing your work or projects in the best manner possible. In the Inston package, five different homepages are available, easily customizable.
You can modify it with a few clicks to fit according to your needs. Inston is a great candidate for any kind of website. You can either use it for personal or business purposes. Inston is very easy to use and highly customizable. Designed with user-friendliness in mind. Inston supports a unique, modern look. This Drupal theme has a powerful control panel with sets of useful options and tools to manage your website. 
The Inston theme is built with Gavias content builder. This basic drag and drop builder allows you to create a professional block in just a few clicks. Besides, with over many widgets, integrated, building content is never more natural. Inston theme applies the latest web technologies Drupal 9, THML 5, CSS 3, Bootstrap 4, SASS, Font Awesome 5.
Inston Theme (43,- USD)
Framework: Bootstrap 4
8. EM Theme
 Em is a premium theme for Drupal 9, using thunder for publishing with an outstanding design and impressive features. Em is ideally suited for blogs, magazines, and news publishing websites. To make a content full website responsive for all devices is difficult. On the EM theme for Drupal 9, your site will look beautiful on every device.
You can use predefined layouts or simply drag, drop, and arrange everything to customize it down to your own taste. You can use different designs for each of your posts. Choose from 5 predefined layouts or create your own with only a few clicks. It gives a unique accent to the articles and makes them stand out with different styles. EM has support to reuse the existing media files and libraries like images and videos that you have previously used in your site. You can also start your E-shop on your website using EM. It is fully compatible with Drupal commerce.
EM Theme (59,- USD)
Framework: Bootstrap 4
9. Enar Drupal Theme
 Enar is a modern, responsive, and Multi-Purpose Drupal 9 Theme. It is Created with the Bootstrap framework. Enar has great designs for the website of Creative Corporate, corporations, company profiles, personal portfolios, and more. You can create an impressive website or blog in minutes. Everything is possible with Enar.
It includes 10+ ready-to-use homepages with awesome design, unique concepts, scalable, responsive, amazing flexibility, premium plugins, useful shortcodes & many More.
Enar Drupal theme (58,- USD)
Framework: Bootstrap 3
10. Maarif Drupal Theme
Maarif is a fully responsive, unique & modern designed Drupal 9 Theme. This theme can be used for car servicing, car repairing, car wash, auto shop, mechanic shop, batteries shop, tire/wheel shop, multipurpose businesses. The code is well commented, so one can find it very easy to customize. It also includes detailed documentation where everything is described how to customize each template with screenshots. The developer tried to give an attractive look to this theme to gather more traffic on your website.
Maarif Drupal Theme (43,- USD)
Framework: Bootstrap 4
11. Pillar Theme
 Pillar is a rugged, responsive multipurpose Drupal 9 theme build with Bootstrap. Pillar embeds reusable HTML and modular CSS first, blending modern styling with clean markup everywhere in each template in the pack. take your startup business website to the next level, show off your one-page portfolio with smooth parallax, boost your blog, and amp up your multi-page corporate or mobile app website. The paragraph builder takes the pain out of building a website. It has an exclusive page builder to save time. Pillar forms the ideal starting point to Drupal projects of any kind.
Pillar Theme (48,- USD)
Framework: Bootstrap 3
12. Kunco Theme
 Kunco is best for charity crowdfunding and fundraising websites. It is a clean, modern, super flexible, and responsive Drupal theme. It comes packed with powerful features and functions. Kunco theme is best suited for charity organizations such as NGO non-profit donation and fundraising organization websites.
Users can customize it with the facility to fit their requirements. Kunco theme is built with a famous and flexible Gavias builder. Astonishing drag and drop builder permits us to build professional blocks, pages in a few simple clicks. Furthermore, it contains over 35+ widget integrations. Preparing and writing the content is not easy work to do. Kunco theme implemented and applied the latest technologies keeping in view the latest version of Drupal, which is Drupal 8.7.x, SASS, HTML5, CSS3, Font awesome.
Kunco Theme (56,- USD)
Framework: Bootstrap 3
13. Consulta Drupal Theme
Consulta Drupal theme is Perfect for Finance, Consulting & Business. Consulta is best suited for corporate websites like financial advisors, accountants, consulting firms, etc. This is a business template that is helpful for online presence for corporate businesses and financial firms. 
Consulta is fully responsive and retina ready, having 7+ headers and mega menus. It includes 11 pre-build readymade homepages you just have to include your own content. It has great SEO support (integration with most SEO Plugins)  
Consulta Drupal Theme (50,- USD)
Framework: Bootstrap 4
14. Facdori Theme
Facdori is the most reliable Drupal 9 Theme for industrial & factory businesses and companies. The theme is also ideal for construction, industry, architecture, engineering, manufacturing, building services, and other construction or industry-related services. The theme has its own super powerful theme control panel with many useful options and tools to manage your site: Block builder, customize, sliders, etc. Facdori Theme is built with Gavias Content Builder; the amazing drag and drop builder allows you to build professional blocks in a few clicks. Facdori theme applies the latest web technologies: Drupal 9.x, Bootstrap 4, SASS, HTML5, CSS3, Font Awesome 5.  
Facdori Drupal Theme (43,- USD)
Framework: Bootstrap 4
15. Rogan Theme
 Rogan is a multipurpose Drupal 9 theme for robust, eye-catching, and high-performance websites. The theme includes 7 home pages and 66 multipurpose demos and variants. This website has been developed using feature-rich plugin ideas and designs for a modern website. In this theme, the purchaser can find striking designs that best suits his needs.If you like Drupal and seeking a modern, clean, and flexible theme then Rogan is one of the topline recommendations for you to pick. This theme is adequate for corporate-level organizations, agencies, and any type of business. To display and share their company history, services, portfolio, and projects most creatively and professionally.
Rogan Drupal Theme (48,- USD)
Framework: Bootstrap 3 and 4
16. IBlue Drupal Theme
IBlue is a Responsive Drupal 9 clean and Professional Theme. It comes with over ten homepages and many more inner pages. It is decorated with awesome slideshows and color variations. Easy-to-customize and fully featured page design. This template is created for all sorts of businesses such as corporate, business, portfolios, hosting, creative, blogs, construction, and more.
Iblue Drupal Theme (49,- USD)
Framework: Bootstrap 3 and 4
17. Stack Drupal Theme
Stack is a completed multipurpose Drupal 9 theme built with reusability and modularity at the core. Combining contemporary styling with clean markup, Stack forms a good starting point for many types of website. They are boasting over 140 demo pages, 270 customizable interface blocks, and a plethora of carefully crafted base elements. Quality and quantity in equal measure.
Using the Paragraph Builder Stack theme includes 240+ interface blocks in the huge collection of customizable elements. This modular system enables site builders to build their own blocks quickly and easily, leaving more time for layout and interface experimentation. Stack never uses inline styles, junk classes, or layout-specific stylesheets.Stack Drupal Theme (48,- USD)
Framework: Bootstrap 3
18. BizReview Directory Listing Drupal Theme 
On ThemeForest, BizReview is the best-selling theme for directories. ThemeForest review team selected it as a featured theme. There are no hidden charges, no extra fees to utilize features. All are available on the demo. You can create an interactive online directory portal with comprehensive searching, many map layers, attractive markers, and much more. A variety of tools are available for advertising. PayPal is also integrated in this theme. 
BizReview Theme (58, – USD)
Framework: Bootstrap 3
19. Tico Theme
Tico theme is a professional and modern business Drupal theme with an eye-catching look. Most suitable for any website for personal or business use. Tico is simple to use and highly customizable. It's designed with user-friendliness in mind. Tico sports a distinctly unique, modern look. It has a super powerful theme control panel with many useful options and tools to manage your site: Block builder, customize, sliders, etc. Tico theme is built with Gavias Block Builder. The significant drag and drop builder allows you to create professional blocks in just some simple clicks. Besides, with over 19 widgets integrated, building content has never been this easy. Tico theme uses the latest web technologies: Drupal 9.x, Bootstrap 3, SASS, HTML5, CSS3, Font Awesome 4
Tico theme (48,- USD)
Framework: Bootstrap 3
20. VoltBuzz Drupal Theme
VoltBuzz- is a stylish and professional Drupal 9 theme for SEO and digital marketing. All kinds of digital marketing service Websites like SEO Services, online marketing, digital agencies, Social Media Marketing, and any other marketing strategies based agency can use it.This theme is easily customizable, fully responsive, and supported in all new browsers and devices. 
VoltBuzz Drupal theme (43,- USD)
Framework: Bootstrap 4
Should you use these Drupal themes on your next Drupal 9 project?
Here are some of the advantages for using one of the below top Drupal 9 themes:
All top Drupal themes are SEO friendly

You will get a great mobile responsive design with all Drupal themes

Easily customize these themes with theme settings

Theme owners provide updates to enhance website functionality and maintain browser compatibility so you won't have to
For good measure we'll also list a few disadvantages to consider:
With feature-rich themes you are increasing the technical debt in your project

The more opinionated a theme is the harder it will be to customize the theme. For example if your theme is an ecommerce theme it might be harder to make it work for a new magazine section on your website. Choose a less opinionated theme if you plan to grow your site beyond its initial scope.