In November of 2020, shortly after launching Drupal.org's new issue forks and merge requests workflow, we announced another new feature: live deployment previews of Drupal Core issues, powered by Tugboat.qa – the same service that underlies SimplyTest.me.
Generating an automatic preview based on an open merge request is a huge boon to Drupal contributors, allowing them to preview the changes without having to set up a local dev server to deploy the changes to. It also makes it much easier to perform usability and accessibility reviews, as the visual impact of the changes is more readily visible.
Example:
This screenshot demonstrates where the previews appear in a contrib issue.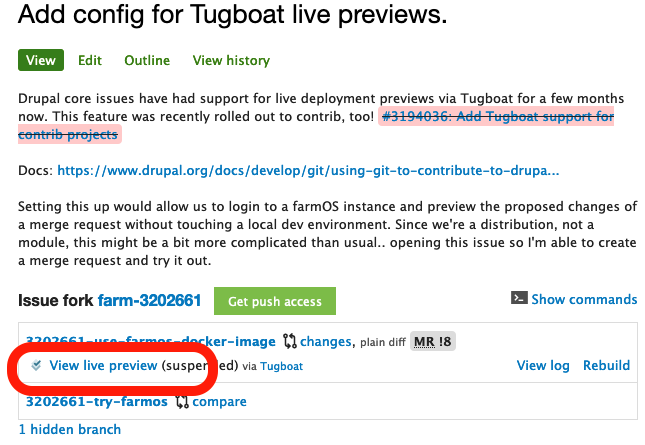 As we publish this, there are nearly 200 core issues that have preview ability to help accelerate the review process and increase the velocity of core contribution.
We're thrilled to announce that these same deployment previews are now available for contributed modules and themes on Drupal.org as well.
If you maintain a project on Drupal.org, enabling these previews is as simple as adding a tugboat.yml file to your project. Just follow the steps provided in our documentation. If you have feedback about the feature or would like to learn more, join the Tugboat Community Slack.
We hope the new feature makes contribution an even more rewarding experience.
Special request: Asking for your support for Ben Chavet
Ben Chavet is a long-time Drupal Community member part of the extended Lullabot family, and one of the leads of the Tugboat.qa project. He worked very closely with the Drupal Association team in order to bring these live deployment features to the community. Now he needs your help. Ben is in intensive care with a very serious case of COVID-19, and his family needs your support. We appreciate your giving spirit to support one of our own.