Filling your Organization's Traffic Canvas with the Colors of CRO.
Vasundhra
Sat, 02/09/2019 – 13:29
Ever attended an art gallery and witnessed how modern artists use canvas to speak their thoughts?
By looking at the art and paying attention to their creation a lot of "Ohhs" and "Ahhs" and expressions of awe with wonder tells us whether it has sufficiently aroused the engagement or not.
But at the core of this practice, the whole idea of thinking an endless number of ways in which visitors attend an art gallery always sustain in the mind of an owner. 
More visitors means more conversions, which results in better progression. 
Customer experience and engagement – 2 things thrived by every art gallery owner.
Right?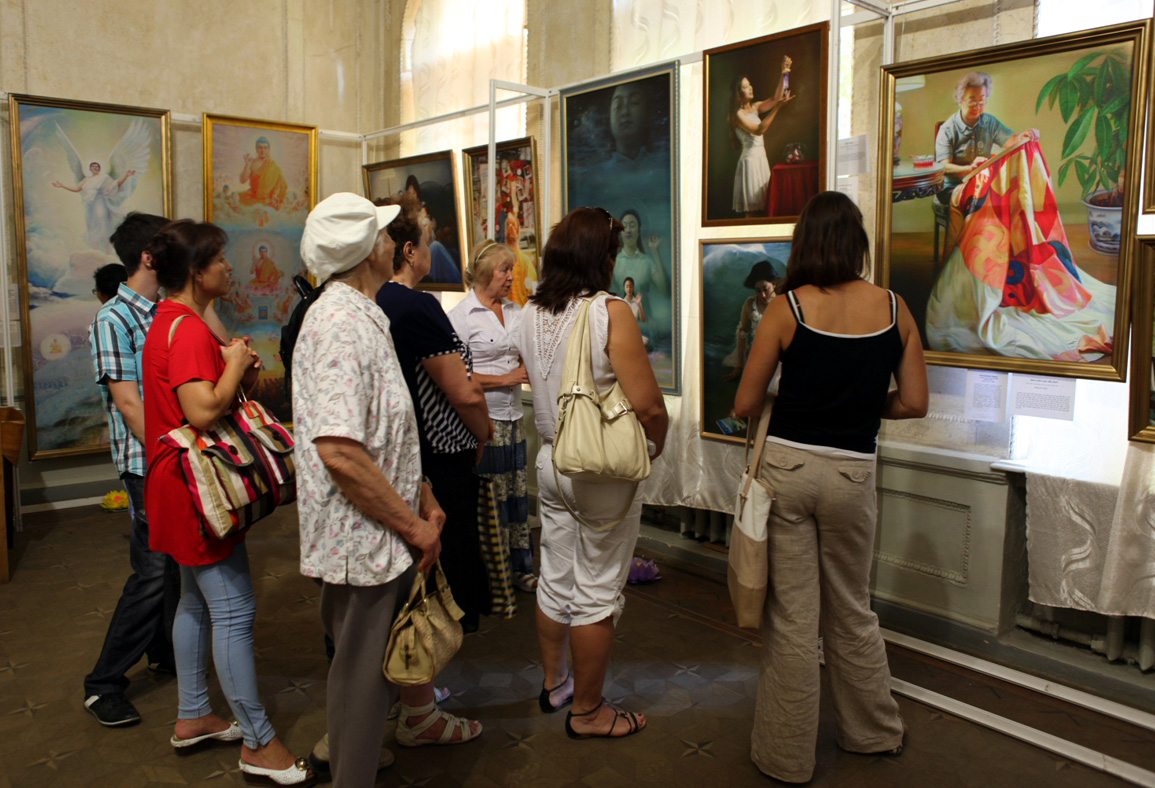 Today most marketing teams are structured to drive traffic towards websites that seek to generate traffic and hopefully even more profit. 
Yes, it might be an oversimplification of the trend, but that's the standard marketing playbook. That's where Conversion Rate Optimization (CRO) comes in. 
But, What exactly is CRO?
Let's discover. 
Everything about CRO
In internet marketing, conversion optimization, or conversion rate optimization is a system for increasing the percentage of visitors to a website that converts into customers, or more generally, takes any desired action on a webpage. The whole process involves understanding how users move through a particular website, what actions they are taking, and what's stopping them from completing their goals.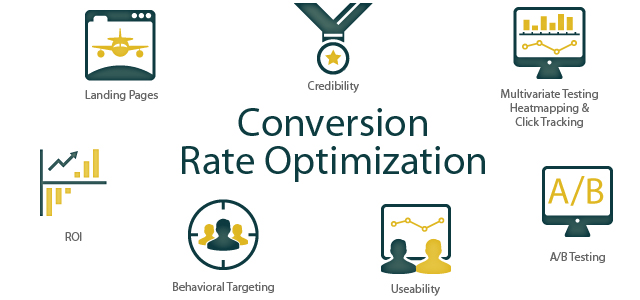 Importance of CRO 
The general idea of pay per click advertisement was that it targeted the audience fast by selecting options of what they could see. And you would agree on the fact that nowadays "pay per click" (Google Adwords) prices have hiked up to an extent where it is evident that it is directly affecting the conversions. Also with the increase in digital devices and people getting indulged in technology more businesses have become digital. 
Enhancing online competition 
Now that more people are becoming tech-savvy, competition among retailers has increased a lot. Some of them are simply eating away small retailers. That means if you want to convert your visitors into customers, you need to have a website that should be easy to use and easily customizable.  
You can take the help of Drupal as your website platform. It is one such CMS that allows you to set up your website easily and customize it as desired. 
Conversion Optimization has the benefit of allowing you to stay ahead of the curve in terms of competition, by providing you with insights on what's going on with the competitor's website.
Combating the rising cost of digital marketing
Let's face it pay-per-click isn't just the only thing which is rising in the market. Digital marketing in this area is giving good competition to any sort of "traffic source" ever known. 
The whole point of marketing is to direct the users towards your website.  But how would you make sure that most of them actually make a purchase?
This is where CRO comes to the rescue.
By increasing the number of page visitors who make purchases, CRO helps in improving the conversion rates by simply compacting the cost of digital marketing
Streamlining the business 
A website that is continuously being optimized looks more legitimate than the ones which are not doing that job. 
Why?
Well maybe due to the fact that the ones which are not being optimized are not providing a clearer path to the landing pages. Clear landing pages for an online retailer means having an inventory that can easily search or getting a clearer view of the categories. 
Saving a large amount of money 
So how can spending a large amount of money on your website result in saving money? 
You'll find that spending less money on each customer would actually produce more money. Maybe you are not necessarily saving a lot, but you are definitely making a lot more. 
Which eventually balance out both. 
Improving the efficiency and layouts 
If you are working with an affiliate organization or the marketers, you would find out that many online retailers find CRO to be a good way to get news out about their products, through a platform that already has an engaged audience, CRO makes your website more valuable to your affiliates, and to any other marketing platforms.
When a higher number of users who click-through to your webpage actually makes a purchase, your affiliates, pay per click advertisers, social media marketing campaigns, etc., make more because you are making more.  
Common misconceptions related to CRO 
There are some businesses that see CRO be an unnecessary expense, an expense that doesn't really move their business ahead.
Whereas most of them see it as a golden bolt for their marketing woes, a key for high traffic and more leads. 
Using it or not usually it is better than having misconceptions that lead to misguiding and wasting of resource and time. Among which some of them are:
One of the biggest misconceptions among business is an entrenched belief that CRO is a single skill set. In other words, CRO is a broad practice that encompasses a wide range of skills. To be effective at conversion rate optimization, you require three skill sets:
Copywriting: Whether you can write a persuasive copy or not would have a great impact on conversion rates.
Design: Starting from UI/UX to its choice in graphics depends highly on the rate of conversions.
Analytics: It is important to have someone with special and necessary skills to analyze your result. 
It is all about best practices
Running or stumbling upon blog posts and articles that tell you the best practices on boosting up your conversion rate has become standard now. 
And going ahead and implementing those practices as written on the write-ups is conventional. But do these tricks really work?
The truth is that there are no particular one-size-fit best practices that can lead you to the path of better conversions. Your focus should always be on removing barriers that hinder with the flow of conversions.  
Making small changes that lead to big and better rewards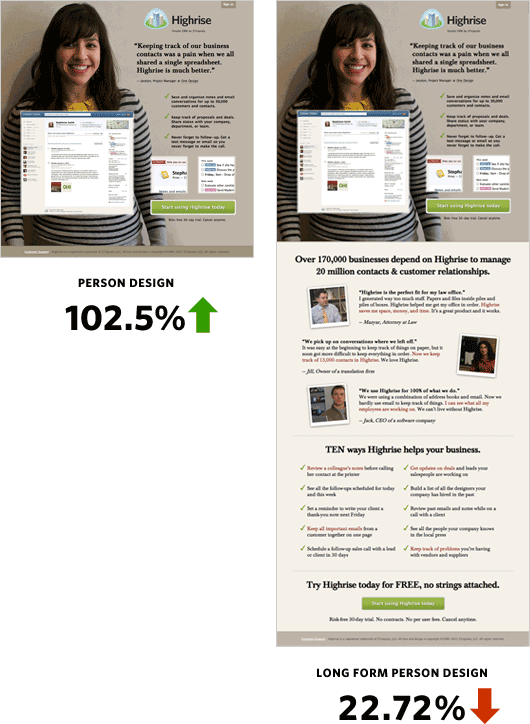 The above pictures clearly describe that how changing the content length affected the conversions and resulted in 90% more clicks. 
Going by this case study, you might be tempted to find the silver bolt where making a minor change reaped into great news. 
In truth case studies like these are entirely misleading and provides you with only partial information. They don't tell you that:
How long the tests were done?
Whether the traffic remained constant throughout the testing period?
What all changes were made on the website?
It is all about split testing 
Most people think that CRO is all about split testing site elements. 
The truth is that CRO is all about measuring your customer's actions and remove the convention barriers. 
To do this start by basic user needs and understanding the psychology of the customers. This model would help you to focus on the things that should be worked on: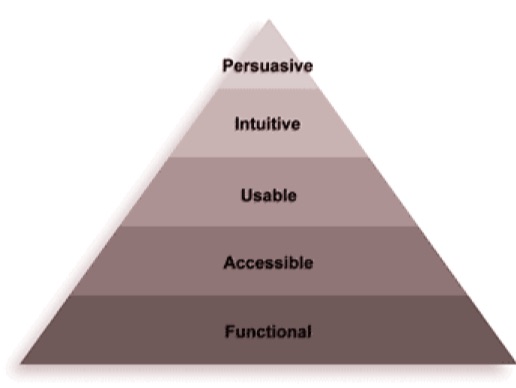 Focusing on CRO alone builds a successful business 
Due to the immense love showered on CRO and per digital marketing, it is believed by the companies that they are winning the game of online business. 
True, that CRO might increase your conversion from 1% to 2%, which yes has a great impact on sales, but to reach those heights of success you need to take a closer look on traffic, brand, and customers. 
So What is the Structured Process in CRO?
Defining your conversion actions 
The conversion actions can be defined based on the business goals and then they can be implemented on web analytics. Promoting and producing content in one of the actions which should be implemented as soon as possible. The content technique would require you to do be indulged in practices like:
Targeting email marketing
Marketing automation 
Producing demo
Live events
Case studies
The content at this stage revolves around customer-relationship management through segmentation. When you segment your audience based on age, gender, geographical position, professional role, etc., you are better equipped to offer them targeted content that interests them
A better understanding of the prospects helps in better converting of offers. This is the stage where you look for indirect customers acquisition and brand awareness.  Begin by mapping out the current situations and forming a clearer idea on your target audience, objectives, market, KPI's and the current result. Knowing in advance that where you stand and what you want to achieve provides you with more context.
Once you have the insights into your current situation and objectives, it is the time for you to analyze them. In the analysis phase, you would want to employ web analytics and the other sources of information to form a hypothesis that can then be tested. It could include the heatmaps, tests, insights etc.
This would make sure that your insights are based on the actual behavior of the users and not on the basis of superstitions.
Implementing a challenger and Testing the hypothesis 
For implementing a good challenger you need to choose a suitable testing method and then run a test. It involves the turning up of backlogs and matrix into a measurement plan. This is one of the most crucial parts of CRO. 
Examining the hypothesis on basis of multiple tests results in a good number of visitors and websites. 
After setting up and running the tests, you analyze the results. This generates insights that you then subsequently test. CRO is a continuous process of learning and refining. After setting up and running the test, you analyze the result. This then generates insights that can have a subsequent test. 
Testing for CRO 
Conversion Rate Optimization Test are the ones that refer to the various types of testing methodologies. They are used to identify the best possible version of a certain site that brings in the most valuable traffic.
Speed
Back in 2009, Google conducted experiments which described that slowing down the search results page by under half a second resulted in 0.2% to 0.6% fewer searches.
These results now might not sound like big numbers, but for Google (which processed roughly 40,000 searches every second ) the number resulted in 14,400 fewer searches every minute and according to Google itself, people have become more impatient. Thus making speed an important factor
 
Singularity 
 
A single take away "Less is more" is just about right mantra which should be followed by every website owner. 
Many landing pages contain multiple offers.
 
They shouldn't.
 
Why?
 
Having just one and improved campaign clicks help in increasing the conversion rates
Identification
Identifying your audience and their aspirations/desires mean high conversions. In other words – what they want, what matters to them, and what sources of frictions are for them all comes under the section of identification.  
To identify the people you must know them. After all the reason how sales and marketing would see those conversions is only when you identify your own customers. 
Landing Pages
Take an advise and do not clutter your pages or emails to "what if" moments. 
What if the user is to like my page?
What if more audience like the information that is being served on the page? 
What if they want to read my testimonials and case studies? 
If the goal of creating a particular page is to get likes and visitors to subscribe it, then all you should do it is focus on it. Thus, your landing pages should be as precise and simple as they could be. This gives a clearer idea to the audience and your customers on what you are selling. 
A/B testing
Businesses want visitors to take an action (conversion) on the website and the rate at which a website is able to drive, this is called its "conversion rate."
A/B testing is the practice of showing 2 variants of the same webpage to different segments of website visitors at the same time and comparing which variation drives more conversions. 
 
The one that gives higher conversions wins!
 
The metrics of conversion is different for every site. For commerce, it might be a sale product whereas for B2B it might generate qualified leads. A well planned, data-driven A/B testing makes your marketing plan more profitable by just narrowing it down to its most important elements by testing them and also by combining them. 
Note that every element on your website should influence visitor behavior and conversion rate should be A/B tested.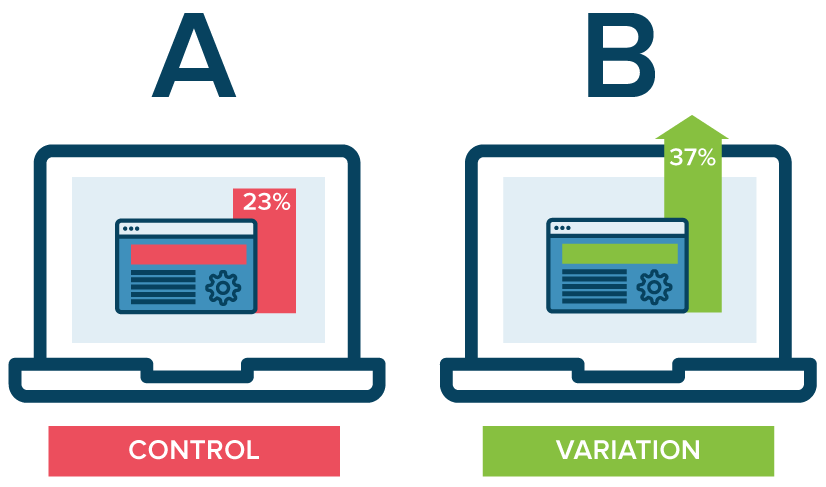 Multivariate Tests 
In a multivariate test, you identify a few key areas/sections of a page and then create variations for those sections specifically (as opposed to creating variations of the whole page in an A/B split test). So for example, in a multivariate test, you choose to create different variations for 2 different sections: headline and image. A multivariate testing software will combine all these section specific variations to generate unique versions of the page to be tested and then simply split traffic amongst those versions.
Multivariate testing looks to provide the solution. You can change a title and an image at the same time. With multivariate tests, you test a hypothesis for which several variables are modified and determine which combination from among all possible solutions performed the best. If you create 3 different versions of 2 specific variables, you then have nine combinations in total (number of variants of the first variable X number of variants of the second).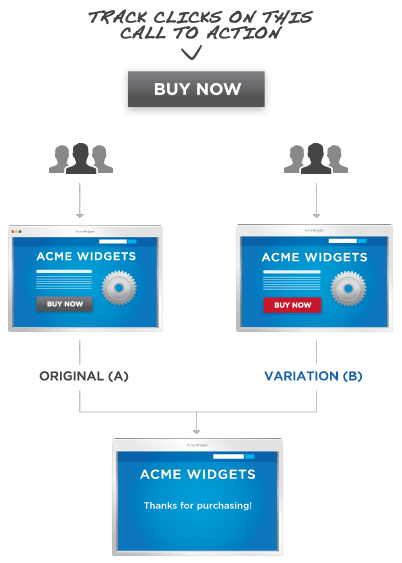 Now we know that Conversion Rate Optimization (CRO) focuses on simple tests that allow you to compare and contrast layouts, call to action, a design feature, content and even personalized marketing feature to nudge your conversion rate into new.   
Therefore here are some wicked yet sweet CRO tools that would help you with the testing.
Optimizely: Optimizely tool requires a single line of lightweight code that can be added to any website. The user would then have the power to change any on-page elements on the website.
Google Analytics: Most of the website has this tool in-built on the platform. It is one of the most popular testing tools. Google Analytics tool would help you to split your traffic into two pages that you have developed and would let you know which version is best for testing. 
  
Visual web optimizer: This tool specifically helps in figuring out how your testing windows will be after you plug in a few variables. Visual web optimizer is great for the company project and client work. 
Adobe Target: Adobe target is a popular enterprise tool that combines the taste of targeting testing and personalization. It walks you through three step workflow where you first create a variant, then target a variant base and lastly customize your goals 
Appitmize: It is the testing tool that focuses entirely on mobile optimization and is a perfect choice for mobiles and business. It offers full control over the visual editor and rapidly creates new variants and targets. 
Conclusions 
Now we know that the most important goal for an organization is to create conversions. Creating conversions is the reason how you can measure your progress and growth. 
Opensense Labs is aware of the fact that how important it is to apprehend the visitor's preferences and their interests. Therefore our services on Drupal personalization and CRO bundles us together to our clients and helps in accelerating the conversions.
Ping us on hello@opensenselabs.com and let us take that road to handle in your success and hurdles. 
blog image